OBS Studio is a fantastic live-streaming and screen-recording tool, but there are other alternatives out there. OBS is not the most user-friendly software, and if you are looking for more features, you often have to rely on 3-rd party plug-ins.
So in this article, we will list our top 9 alternatives to OBS Studio for either streaming or recording:
Best OBS Studio Alternatives for Live Streaming
Twitch Studio (free)
Streamlabs OBS (free)
XSplit Broadcaster (free & paid)
Lightstream (paid)
REcentral (paid)
vMix Live (paid)
Best OBS Studio Alternatives for Screen Recording
ShareX (free)
Camtasia (paid)
Bandicam (paid)
Why you Would Want To Switch
OBS Studio has long been the darling of live-streamers. It's not hard to see why; It's free, open-source, highly customizable, and offers robust performance.
But over the years, we have gotten many alternatives that are worth taking a look at. As we mentioned above, OBS is not the best option for everybody; It is not as beginner-friendly and does not offer as many built-in features as other alternatives.
Therefore, it might be wise to look at some of the competition to determine if you might want to switch. Many streamers are already using the more prevalent alternatives like XSplit, Twitch Studio, and Streamlabs OBS. In this article, we will focus on these alternatives as well as some that are even more unique so you can get a feel for what is out there.
We decided to split the list between streaming alternatives and recording alternatives because each requires very different capabilities. So let's jump into it!
Top OBS Studio Alternatives for Live Streaming
These are our favorite picks when it comes to streaming.

OS Compatibility: Windows
Top features:
Automatic game detection.
Built-in scenes and overlays
Built-in alerts and chat
We believe this will be a big player in the coming years as Twitch Studio is more beginner-friendly and has a polished UI; Compare that to OBS Studio that has significant learning curves for those just starting with streaming.
When you first set up Twitch Studio, you will be guided by a set-up wizard, which will help you get the best settings for your hardware and situation; Very similar to OBS. Setting up layouts and overlays is very easy but slightly more limited than OBS Studio. In addition, you get a bunch of built-in scenes, alerts, and chats that saves you a lot of time.
In summary, if you want to have more control and customization over your stream, you may prefer another option. Having said that, for beginners, this is a great streaming tool, and since it's pretty new, more features will probably be added with time.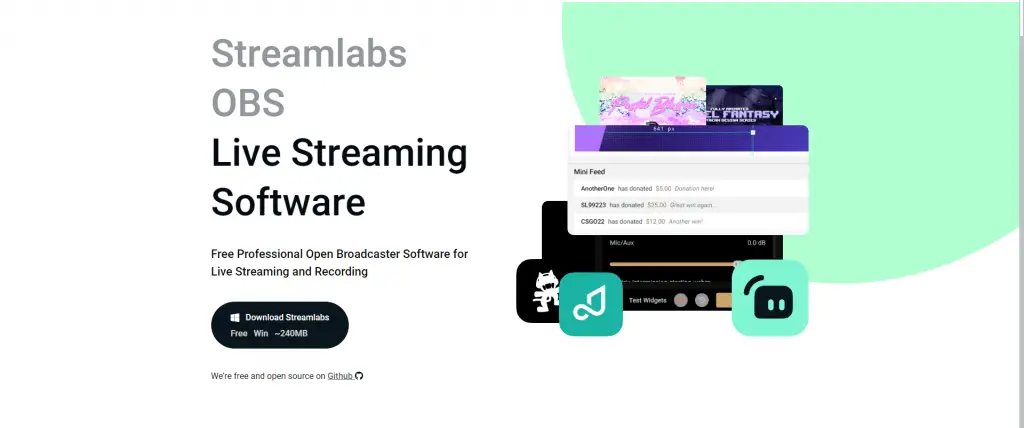 Top features:
Built-in widgets & alerts
Built-in overlays
Better user interface
OS Compatibility: Windows / macOS
If you have been using OBS Studio, you have probably heard of this streaming software before. Streamlabs OBS is a fork of OBS Studio made by Streamlabs. It is free, and a great alternative since it offers a much more polished user experience and more features for gamers.
More features equal more processing power, making SLOBS more CPU intensive than OBS Studio. We have an in-depth comparison of the two you can check out. Streamlabs OBS is very popular among gaming-streamers, and so it has a huge supporting community with tutorials, tools, and additional resources.
Like Twitch Studio, it's a lot easier to set up overlays, alerts, and chat in SLOBS. And it has been around for longer than Twitch Studio, so it's slightly more polished and has more features. At least for now.

Top features:
More polished user interface
The paid version offers more advanced tools and customization
Quick editing tools
OS Compatibility: Windows
For a while now, XSplit has been the leading commercial alternative to OBS Studio. Having funding and a team behind it, XSplit offers a better streaming experience and comes with customer support.
There is a freemium version of XSplit, but you are very limited in what you can do, and it features an annoying watermark in all your streams. The true advantage over OBS lies in the paid version, which comes with very extensive customization, great multi-cam support, and advanced settings. XSplit is used by many larger streamers today and e-sport events.
We are not saying the free version is not worth it but go with the premium version if you want an upgrade. The price plan is as follows:
Free Version: $0
3 Month-Licensing: $30.00
12 Month-Licensing: $60.00
Lifetime-Licensing: $230.00
You have a 1-month option as well that might be ideal if you want to test it out.
For those interested in diving a bit deeper, here is our complete comparison of OBS Studio vs. Xsplit. There we show you the different featured offered and pricing in detail.
Top features:
Stream from PS5, Xbox without a capture card
No download
Remote guest feature.
OS Compatibility: Windows / MacOS / Linux (Cloud-based)
Here is where it gets interesting. Lightstream is a cloud-based streaming software which means you do not need to download anything.
Cloud-based broadcasting comes with several advantages, like having the ability to have a remote streaming set-up from anywhere in the world, fewer hardware costs, and higher redundancy.
There are two tiers (to pricing plans) available; The "Gamer Tier" and "Creator Tier." Creator Tier gives you more features and functions.
The remote guest feature is really cool; It allows you to bring in a guest to your stream through a simple link you can send them. Lightstream also will enable you to set up RTMP sources, and they have partnered with many brands to create handy plug-ins for additional functionality. If you want, you can stream games from consoles like PS or Xbox without the need for a capture card.
Overall, we believe this is the most exciting alternative on this list, and while we are not there yet, cloud-based streaming might just be the future.
Top features:
Unique design
Set-up / configuration wizard
OS Compatibility: Windows / MacOS
Yet another live streaming software is REcentral. Its created by AVerMedia, which is quite experienced with streamer-oriented products. There are two unique versions for Windows and Mac systems, with the macOS version called REcentral Express.
While the software itself is actually free, you must buy hardware devices sold separately by AVerMedia. It is not as well known or tested as other software on this list. So honestly, we don't have much to say about this one. Other than that, it's an exciting option.
Top features:
Great multi-cam support
Built-in animated graphics
Advanced color correction
OS Compatibility: Windows
vMix is another paid alternative more oriented towards events, webinars, and tv broadcasting. If two words described this software, it would be; Simple and effective.
Really, vMix is an excellent alternative to OBS with a flexible layout and workflow. It has a bunch of features and more advanced settings for professional level-streamers. It just hits the sweet spot between functionality and ease of use.
Its unique pricing plan starts with the basic HD lifetime license at $60 USD all the way up to $1200 USD for the pro license. vMix is being used by many bigger broadcasters like companies and non-profits, but it can also be used for gaming.
Top OBS Studio Alternatives for Screen Recording
When it comes to screen recording, your needs and priorities will vary. This is why we are listing the best OBS alternatives for screen recording separately.
Top features:
Open-source
Scrolling / webpage capture
Custom watermark feature
OS Compatibility: Windows
This is another open-source alternative for screen capture and file sharing. ShareX offers outstanding performance and highly optimized video files. When we tested this one out, we did not notice much of an impact on the PC performance, even while playing games or using more recourse-heavy software.
Now the bad part is that its user interface is not so polished. There is a learning curve with this software, and the main menu is pretty bad. You can get around that by using keyword shortcuts as much as possible, but it's not entirely avoidable. Another con is that it does not offer a game-capture feature. Though it is still possible to record games, OBS Studio is vastly superior as ShareX is not built for that.
Don't let ShareX fool you though, while it might not look so appealing, it's incredibly powerful software, and it's entirely free! If you get familiar with it, there is no reason to pay for a screen recorder.

Top features:
Comes with a video editor
User friendly
OS Compatibility: Windows / macOS
We recently released an in-depth comparison of OBS Studio vs. TechSmith Camtasia you can check out here.
While both OBS Studio and Camtasia have robust screen recording capabilities, Camtasia also has a video editor. It's nothing too fancy, but it gets the job done. This is probably the most significant advantage it has over OBS. Other than that, the functionality is similar.
When it comes to pricing, a single-user license costs 252,86 € at the moment. A pretty hefty price for some, but then again, it comes with a video editor as well.
You've probably heard of this one before since it's been around a long time; Bandicam. And their pay-once use forever price plan is excellent in a world where everything is a subscription.

Top features:
Webcam overlay (similar to OBS)
Real-time drawing feature
Mouse effects
Chroma key
OS Compatibility: Windows
You've probably heard of this one before since it's been around a long time; Bandicam. At a much lower price tag than Camtasia (around $40), you might get some more value.
Bandicam offers higher FPS recording than OBS Studio, great chroma key controls, and game recording at 4k resolution. It is definitely an upgrade from OBS and is suitable for both games and tutorials.
In Conclusion
As you see, there is no reason to limit yourself to OBS Studio. There are a bunch of alternatives to explore.
These options are good, but remember that it's hard to beat a completely free, open-source, no-bloated-code software like OBS Studio.