Do you want to bump up the quality of your live streams? This can be easily done using LUTs to grade your webcam footage.
We have tested and listed some of the best free LUTs you can download for OBS Studio and Streamlabs Desktop. We'll also show you how to install them and some tips to get your streams to look awesome!
What are LUTs
The word LUT stands for; Lookup Table. Essentially, they are a set of color presets for grading videos. 
In OBS, you can download premade LUTs to grade your live footage. LUTs can be applied to your webcam video, screen capture, pictures, and other media. 
Many LUTs cost money, but we have done some digging and found some great LUT packages you can download entirely for free! Without further a due, let's jump into it!
Top 5 Free LUTs for OBS to Download
These are the best free LUTs we could find online. We downloaded each package and tested some to make sure we could recommend them. Finally, we have included a link to each that should take you directly to the download page.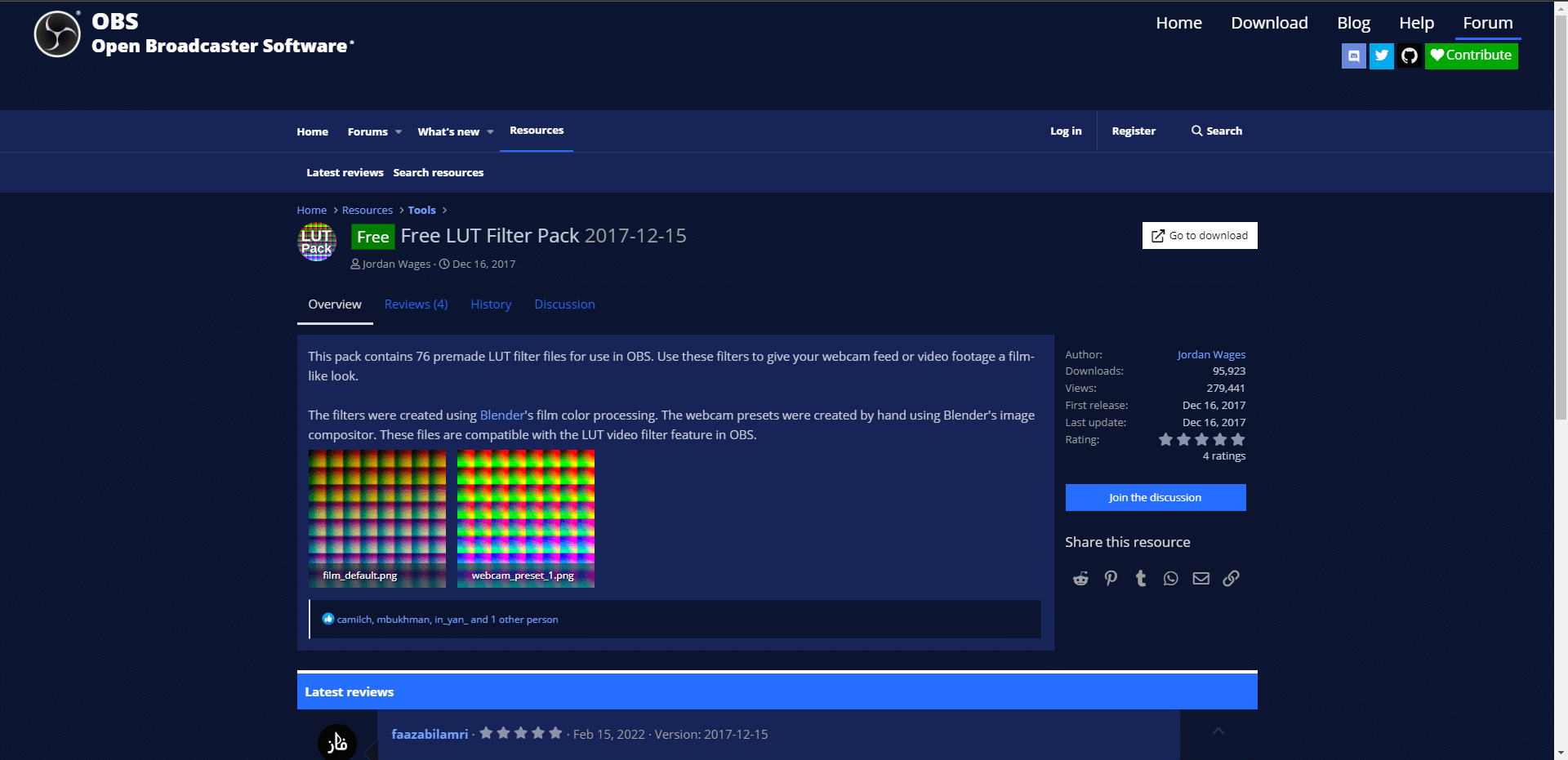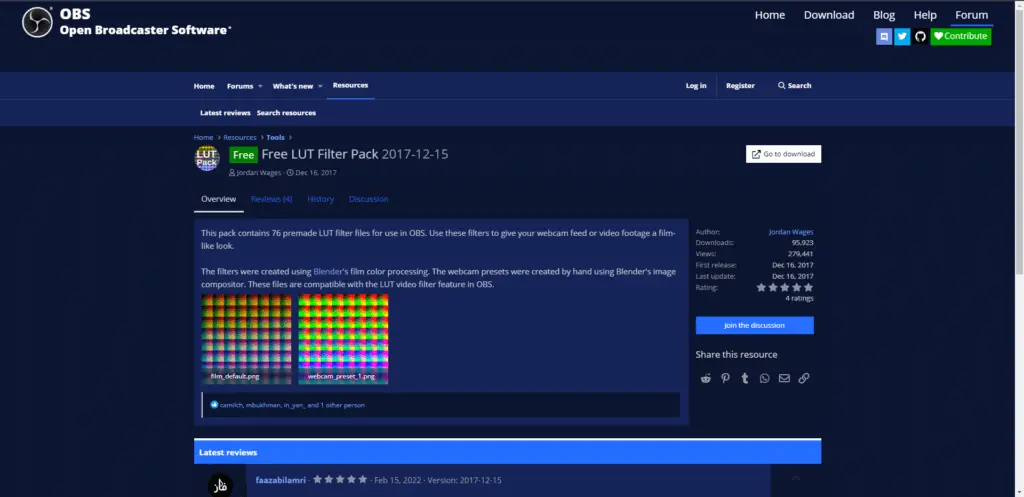 Our first choice on this list is a 76 LUT package from the resources section in the OBS forum. The LUTs are divided into 'Contrast Filters,' 'Film Presets,' and 'Webcam Filters.'
This is our top pick because you have so many LUTs included for free. With 76 to choose from, you will likely find the perfect one for your next live stream!
You can download it directly from the OBS forum page. Here is the link: https://obsproject.com/forum/resources/free-lut-filter-pack.594/
Make sure to click on download in the upper right corner to get the files and not the files in the post, as they are just a demo. It can be a bit confusing. 
Next up is a 40 LUT package from Exiled Gaming. Each LUT filter has a color theme, for example, 'Biscuit Brown,' 'Cold,' or 'Deep red.' These make for exciting and creative LUTs that you can play around with!
You can find the download in the description of his YouTube video going through the LUTs in the package and explaining how to install them. Link to video: https://www.youtube.com/watchv=vWFfLzTs9Lk&ab_channel=ExiledGaming.
This LUT package is created by Gaming Careers, bringing you 30 free webcam filters you can use on your webcam video. 
Similar to Exiled Gaming, you can find the link to the download page in the description of this video. Here is the link to the video going through the package: https://www.youtube.com/watch?v=MFoThD8CfsM&ab_channel=GamingCareers.
It's a bit annoying that it requires you to sign up to the email list to get the package, but overall it is worth it.  Each LUT is very well made and fits all kinds of scenes and live streams.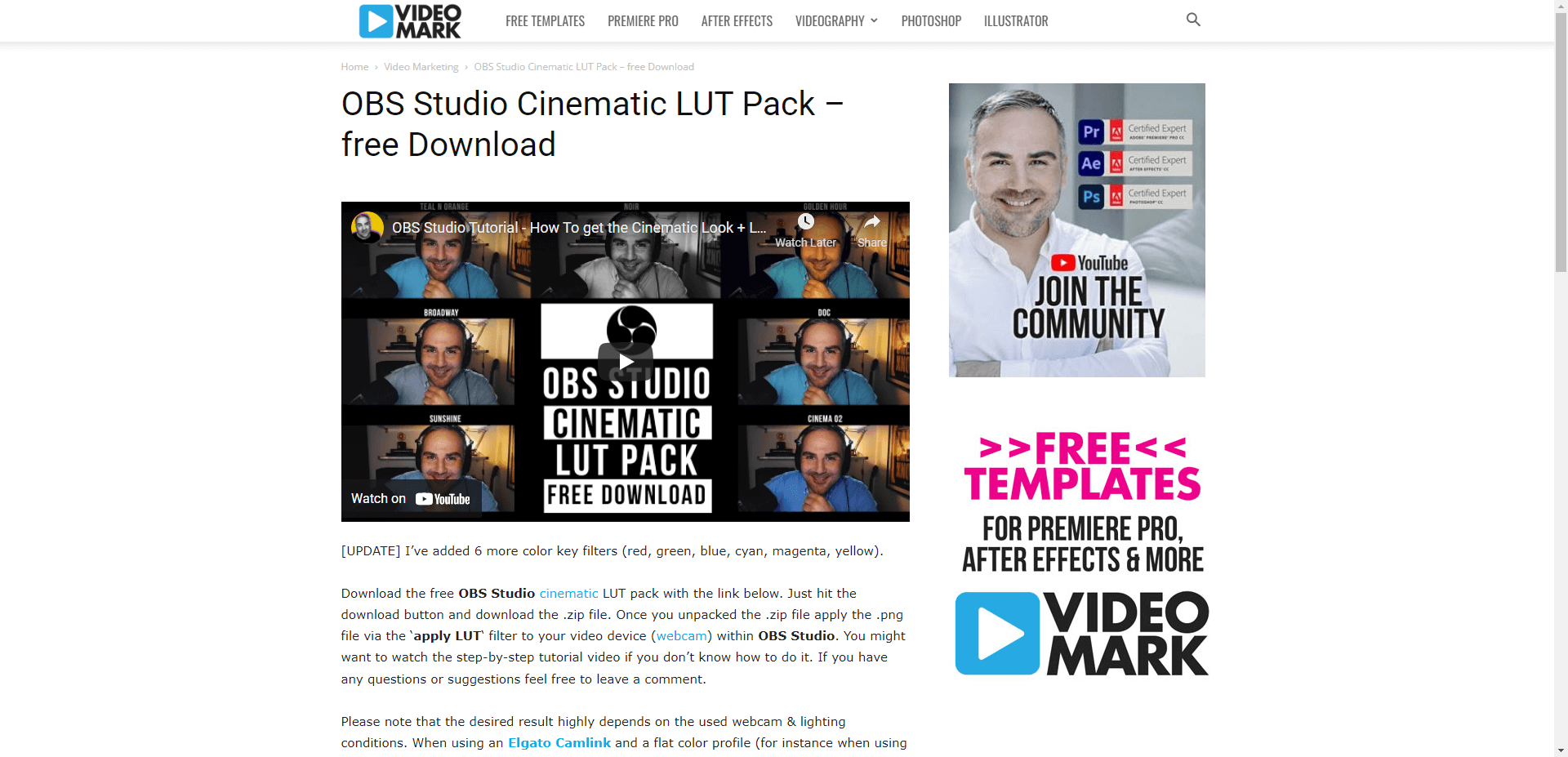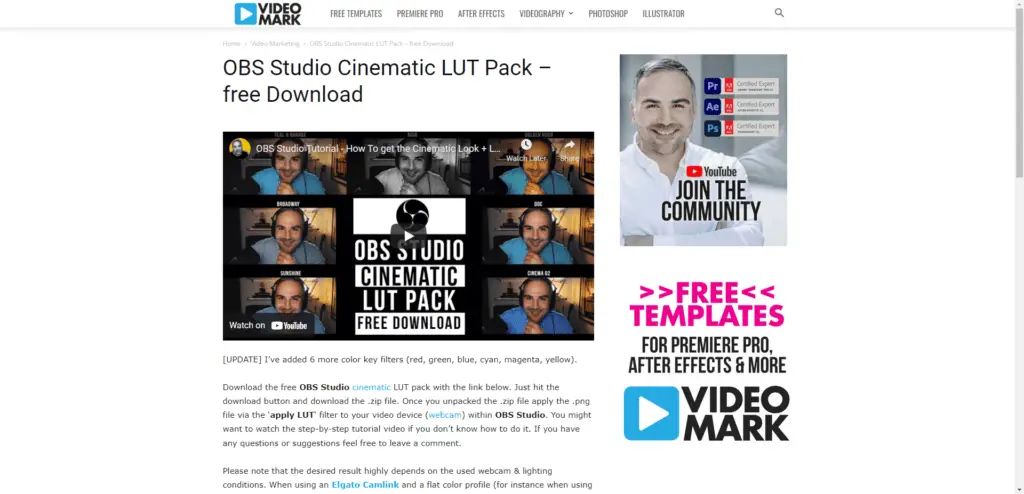 With this package from Video Mark, you get 18 cinematic LUTs to use. This filter pack is more focused on a film look. 
You can find the download page here: https://videomark.net/obs-studio-cinematic-lut-pack-free-download/
We recommend you watch the accompanying demo video going through some of the LUTs in this package and how to apply these LUTs. This is an older video, meaning it will feature an older version of OBS, but it should still be the same process.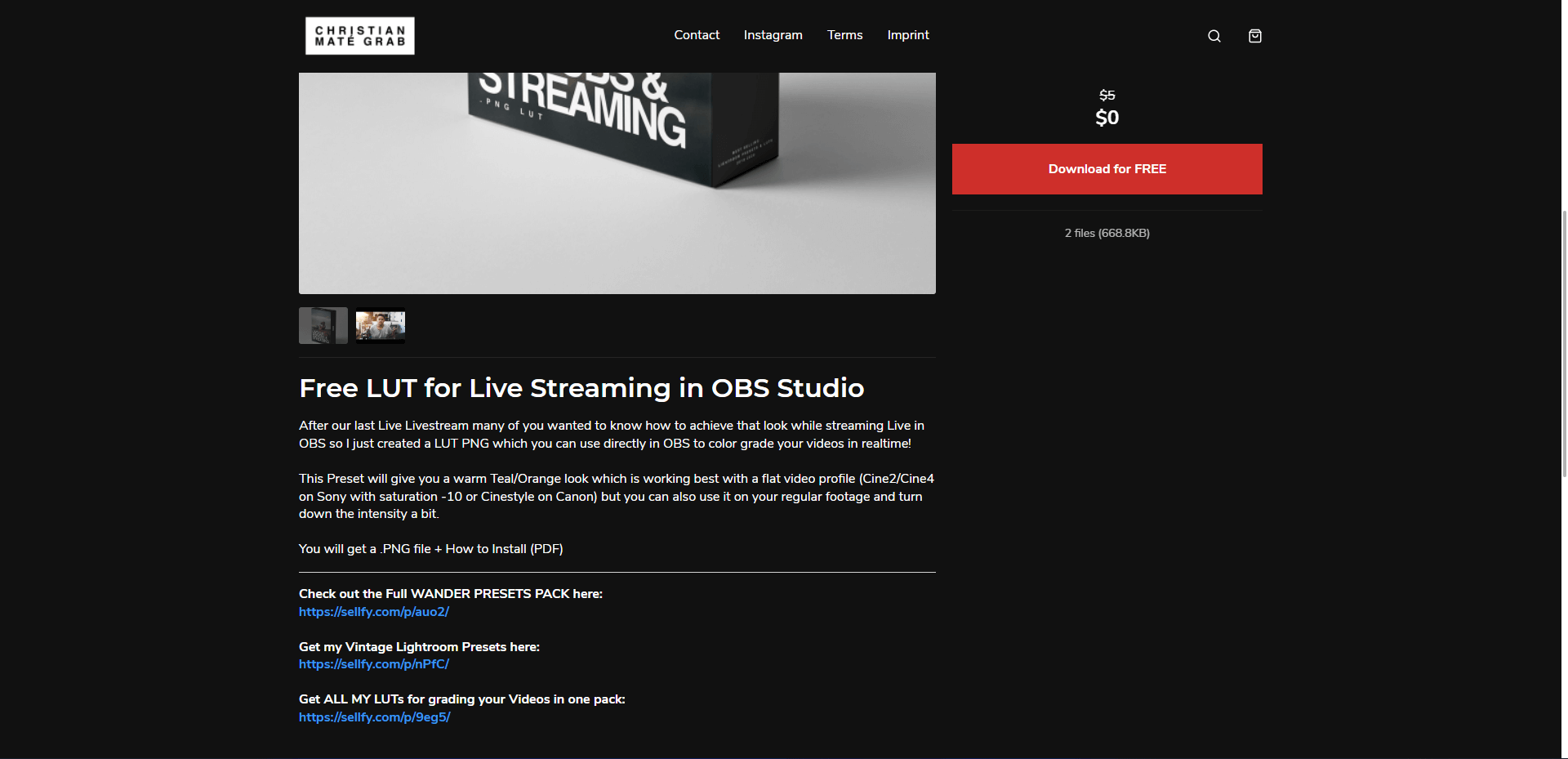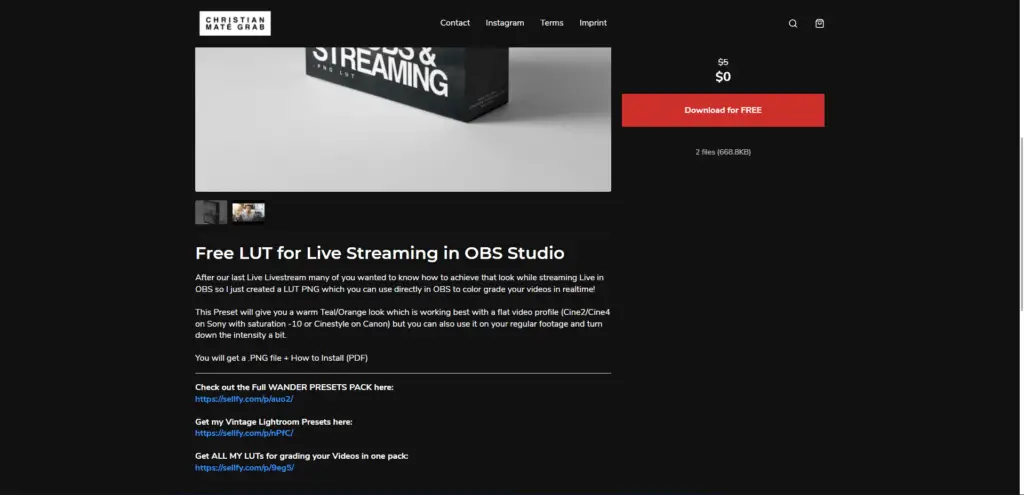 Lastly, we have a LUT from Christian Mate Grab. It's only a single LUT filter with an orange and teel grade, giving you a more cinematic look. 
You also have to sign up for their email list with this one. But it's for free, so why not. 
Here is the link to the download page: https://christianmategrab.sellfy.store/p/yiyt/
How to Install LUTs in OBS
Each LUT for OBS Studio and Streamlabs Deskop are in a PNG format. Meaning it is a single .png picture.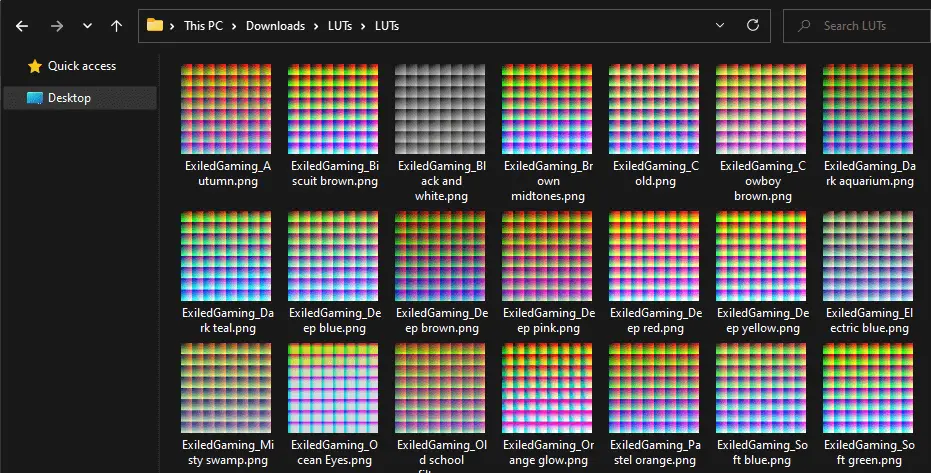 First, you need to download the LUTs. Either they will come in a folder or a .zip file. If so, extract the .zip file.
To apply it to your webcam, simply right-click on your 'video capture' source and select 'Filters.' 

A tab will open, and you will be able to add filters by pressing the + button in the lower-left corner. Make sure you select 'Apply LUT.'

To apply the specific LUT you downloaded, select the browse option and locate the PNG file.
That's it; now, you can successfully apply any LUT to your stream on OBS. We recommend keeping all of the LUTs on one folder to keep everything ordered. You want to do this because if you have saved a scene with a specific LUT, it is easy to delete it from your desktop or downloads-folder accidentally.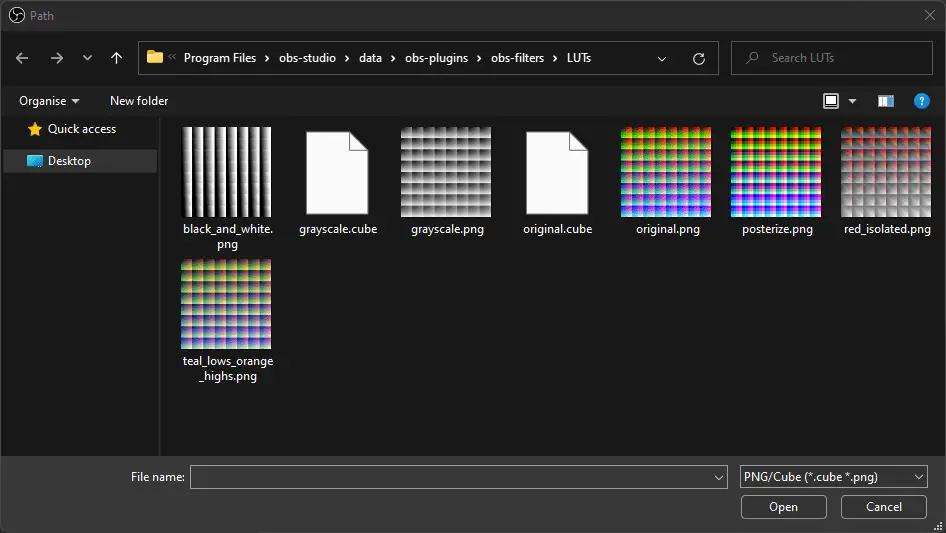 In fact, OBS already has created such a folder for you that can be found at 'Program Files' > 'obs-studio' > 'data' > 'obs-plugins' >'obs-filters' > 'LUTs'
Lighting and Camera Quality are Important
To get the most out of the LUTs above, it is essential to be in a well-lit room with a good quality camera. The result of the LUT filter will highly depend on the quality of the video you are capturing.
We recommend using a capture card to use a DSLR or compact camera as your webcam for best results. But you can also opt for a quality webcam like Elgato Camlink. 
For lighting, you could do a 3-point setup just with lights you have at home or invest in a ring light. 
In Conclusion
So those were the best free LUTs we could find for OBS Studio and Streamlabs Desktop. 
Lastly, the' amount' slider is the most critical control when applying LUTs. Bring down the slider to get a more toned-down look if a LUT feels too grainy or extreme. Play around with it until you find something that feels right and balanced and works with your webcam.
If you want to learn more about LUTs and color grading in OBS Studio, we have this article for you.