Subscriptions are the most popular way of showing financial support to streamers on Twitch. Instead of making direct donations, viewers can instead show their support through monthly backing. The question is, what are gifted subs on Twitch, and how do they differ from ordinary subscriptions?
If you are already subscribed to a channel, gifted subs are an excellent way for you to continue supporting that streamer and help them grow their community at the same time!
What Is A Sub On Twitch?
If you're a regular on Twitch, no doubt you've heard streamers talking about subscriptions or subs.
Subscribers are viewers who pledge a monthly amount of money to be a member of your channel and community. Being a subscriber usually unlocks additional features for viewers such as unique stickers, emotes, and access to external community forums. The streamers themselves determine the exact benefits.
When a viewer subscribes to a channel, they commit to paying a minimum of $4.99 per month for their subscription. There are usually higher tiers and values which offer more benefits and exclusive access. For more general information on Twitch subscriptions and tiers, visit Twitch's official creator camp guide.
What Is The Difference Between Subs And Gifted Subs On Twitch?
The difference between a sub and a gifted sub depends entirely on who's purchasing the subscription and who it is for.
A standard subscription is bought by an individual and grants them access to a subscription tier on their own personal Twitch account. The money they pay goes towards their own membership and enjoyment.
A gifted sub is a subscription that a viewer buys for another viewer. The gifter chooses how many subs to gift and who to. Twitch sends gifted subs out at random by default, but it's possible to specify individuals if the gifter wants to.
Those viewers who receive a gifted sub get an entire month's subscription to that channel. At the end of the month, the gifted subscription will automatically end, and the viewer will not need to pay for any period of their sub.
Top tip: Gifted subs are a fantastic tool for viewers who want to help streamers grow their community. Gifting subs to viewers who otherwise don't want to commit encourages them to keep coming back and interacting on the channel. 
What Do Gifted Subs On Twitch Get You?
Gifted subs on Twitch benefit both streamers and viewers in different ways. Understanding the perks for both parties is key to being a valuable creator and subscriber!
Gifted Subs As A Streamer
The life of a streamer can be challenging financially. Getting together hardware that is capable of running streaming software, and maintaining it, can be costly. 
Subscribers help slightly relieve these issues by providing a stable monthly income to your channel. Cheers and donations are helpful but usually come at random times. With monthly subscribers, you know exactly where and when your payment will be coming in. This helps you plan channel upgrades and new purchases for your setup.
On top of this, gifted subs encourage viewers to interact with your channel and continue watching your streams. They help grow your community and increase engagement. Seeing a viewer gift a sub to another tells you not only does that viewer love your content, but they want others to enjoy it just as much as them!
Gifted Subs As A Viewer
The benefits you get from being a gifted subscriber are identical to those you get for being a regular sub. They vary on every channel but usually include:
Custom and new emotes
Discord access 
Custom Discord roles
Games lobby access
On-stream callouts and messages
Merchandise discount
Physical gifts
The amount and quality of the perks tend to depend on the subscription tier. Higher subscription tiers grant better rewards.
How To Gift A Sub On Twitch
Follow the simple steps below to gift a sub on Twitch:
Step 1: Click The Subscribe Button

To purchase a gifted sub on Twitch, you need to click the subscribe button underneath the stream of the channel you want to buy the gift for. 
If you have subscribed to the channel yourself, the button will appear as a gift a sub button instead. 
Step 2: Click Gift A Sub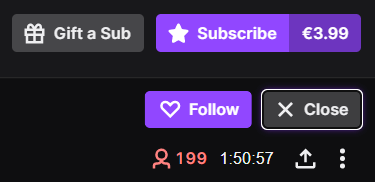 After clicking the subscribe button, another menu will appear. Gift a sub will appear in grey. Click it.
You will also see a purple subscribe button next to it. This will not appear if you are already subscribed to the channel.
Step 3: Select How Many Subs To Gift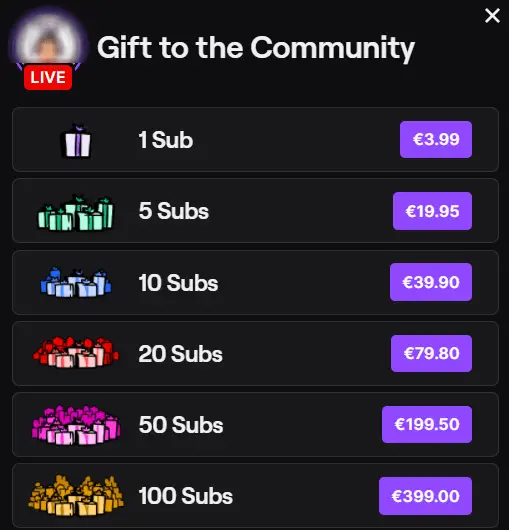 Select how many subs you want to gift on the channel. The amount you need to pay will appear at the end of each row. In the above example, gifting five subs will cost €19.95. The currency will appear in the streamers' local currency.
Step 3.5: Choose A Viewer To Gift A Sub To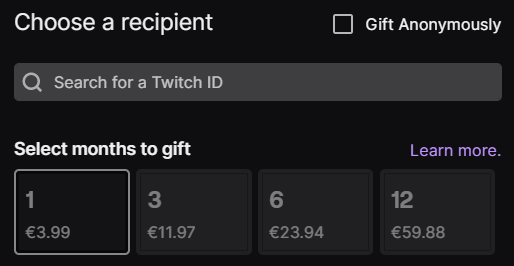 This step is optional, but if you want to gift a sub to a specific viewer, you can. Scroll down in the current menu and select gift a specific viewer. 
You will now be able to search for a Twitch ID to gift a sub to. They do not need to be online or in the stream chat to be gifted a sub but must have previously visited the channel! 
Step 4: Process Payment

Once you have selected the number of subs you want to gift, you'll see a screen asking to check out your purchase. 
You can change the number of months you buy the gifted sub by increasing the quantity.
Select complete purchase, and your gifted sub will be bought and paid for! You'll know that the gifted sub was successful when an alert appears in the channel's Twitch chat. Most streamers also have alerts in-stream with GIFs and sound effects for when a gifted sub is bought.
How Much Does A Gifted Sub Cost? 
The price of a gifted sub is the same as a usual subscription. For most channels, this is $4.99. This is the lowest tier of subscriptions.
It's also possible to gift Tier 2 or Tier 3 subscriptions. These are priced at $9.99 and $24.99, respectively. As previously mentioned, the more you spend on a gifted sub, the more benefits the viewer who receives it will get. 
How Much Does The Streamer Receive From A Gifted Sub?
Twitch takes a large amount of the subscription fees. Currently, they take 50% of the entire purchase.
For Tier 1 gifted subs, the streamer will receive $2.50 a month. At Tier 2, they will receive $5 a month. For Tier 3, they will receive $12.50 a month. 
Although it seems like a high percentage, Twitch makes it relatively painless to collect, manage and cash out these subscription fees in a centralized system. Using an external company such as Patreon requires far more management and effort to run effectively.
What Is The Difference Between Subs And Cheers?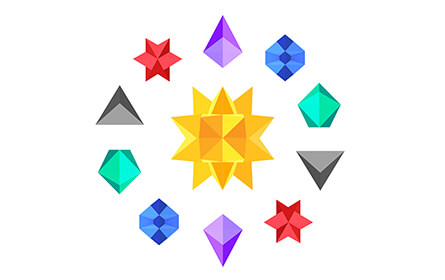 A sub is a paid monthly membership to a Twitch channel. A cheer is a donation made in the Twitch currency of Bits. Each bit represents 1 cent, and they can be sent to the streamer via the Twitch chat at any time. 
Unlike subs, which take a percentage from the streamer, every bit donated goes to the creator. Twitch charges the donator a 40% premium on the bits before purchasing. For example, if you are buying 100 bits, it will cost you $1.40. You can then send the 100 bits to a streamer, and they will receive exactly $1 in donations. 
Bits are represented on Twitch by colorful icons, as seen above. The more elaborate the icon's design, the more it's worth in bits!
How To Access Subs and Gifted Subs On Your Twitch Channel
You need to qualify as an affiliate or partner account to enable subs and gifted subs on Twitch. There are specific requirements your channel needs to meet to receive both of these statuses.
You can find out more about the Twitch affiliate and partner programs and their requirements by clicking here.
In Conclusion
The ability to gift subs on Twitch is a fantastic way to boost engagement and interaction on channels. It allows wealthy viewers to front membership costs for viewers who otherwise cannot pay for membership and keeps those members coming back for more.
Check your channel's gifted subs regularly and show plenty of positive energy towards the gifters. If they're gifting out memberships, they must really love your content, and these are the people who are the most valuable assets to your channel and community!