You've decided to pursue a career in voice acting, or maybe you want to get a taste of what it's like behind the microphone. After all, voice acting offers the opportunity to have your own studio and make money from home. And so, you peruse the internet to find the best voice acting courses online. 
You will find plenty of voice acting courses promising you success as long as you sign up for their webinar. But the truth is far from simple. When looking at the voice talent out there and their experience, it becomes clear that there is no single path to success.
Some start out as hobbyists and work with a coach to grow their careers online or offline. Others take acting classes at their local theatre to become better performers.
There are many opportunities to learn, you just have to sift through and see what the best of the best is. 
Voice Acting vs. Voice Over
Let's get a few things sorted out first. There are many terms for a voice actor. Some call it voice-over artist, others voice talent, VA, or VO, and everyone seems to be using these words differently. There is no clear, established definition.
Roughly speaking, voice actors work mainly with fiction-based content. Think cartoons and video games. Voice actors are often good at impersonation and creating unique character voices.
Voice talent, roughly speaking, do all kinds of voice-over work, including commercial work, eLearning, narration, and pretty much anything that needs a voice.
Most courses teach both voice acting and voice-over. They are linked. Voiceover is acting, too, since you have to deliver a script like an actor. Some courses or classes focus on one particular area of voice work, and some schools have several niches you can choose from.
The internet makes it possible to get trained in person or online by experts in the field, and we've compiled a list of what we think are the best voice acting courses online.
Best Online Voice Over Courses
1. Masterclass: Nancy Cartwright
Comprehension: Beginner
Let's start with a fun one: Masterclass.
Masterclass is an on-demand eLearning platform with classes featuring celebrities who are experts in their fields. 
One class is led by Nancy Cartwright, the Emmy Award-winning voice actress whose voice you may have heard in the animated TV series The Simpsons as Bart Simpson.
This course is interesting if you admire Cartwright's work or want a career similar to hers, where you work mostly with animation. The classes are partly animated, which is a fun twist, and you also get to see Cartwright in the studio at work.
The advice she gives ranges from voice techniques to recording techniques, and she covers everything a beginner would need to know about voice work.
Some reviews of the voice acting course expressed that they were not impressed with the classes and found it too basic. Entertaining as it is, they claim some of the information is outdated and would spend the same money on a live coaching session.
Other voices (no pun intended) were more positive, saying that they were left inspired and learned something new.
2. Voice over Masterclass – The Official DIY Guide to Voice Acting
Comprehension: Beginner-Intermediate
One of the most popular courses on Skillshare is "Voice over Masterclass," taught by Donald Fittsgill Jr. 
Fittsgill covers both voice acting and voice-over but leans heavily on voice-over and seems to have most of his own experience in that area.
He has three main teaching areas: reading (that means acting here), voice recording in a home studio, and marketing yourself as a voice talent.
It's a comprehensive overview of the career, and students consider it a great introductory voice-over course and suitable for advanced beginners too.
Fittgill's engaging style of teaching, organization (and great voice) seem well-loved by all students.
Remember that Skillshare is free for a month, but you have to sign up for Skillshare's yearly plan to view the course.
If Udemy is more your thing, Fittsgill seems to be offering the same course on Udemy as well (at the time of writing).
3. On the Mic
Comprehension: Beginner-Advanced
On The Mic is an interesting alternative since it is the only voice-over school in North America to offer government-certified diploma programs. You can study full-time for six months, but there are also part-time classes.
They have niche-specific courses in commercials, animation, video games, narration, and marketing, and classes are available for all levels, including kids' courses and camps.
The courses are available in their Vancouver and Toronto studios and online. Start dates are in September and March each year.  
On the Mic can't brag about many reviews online, but the ones we can find are all positive.
4. Voice-Over Training: Record And Edit Voice Overs Like A Pro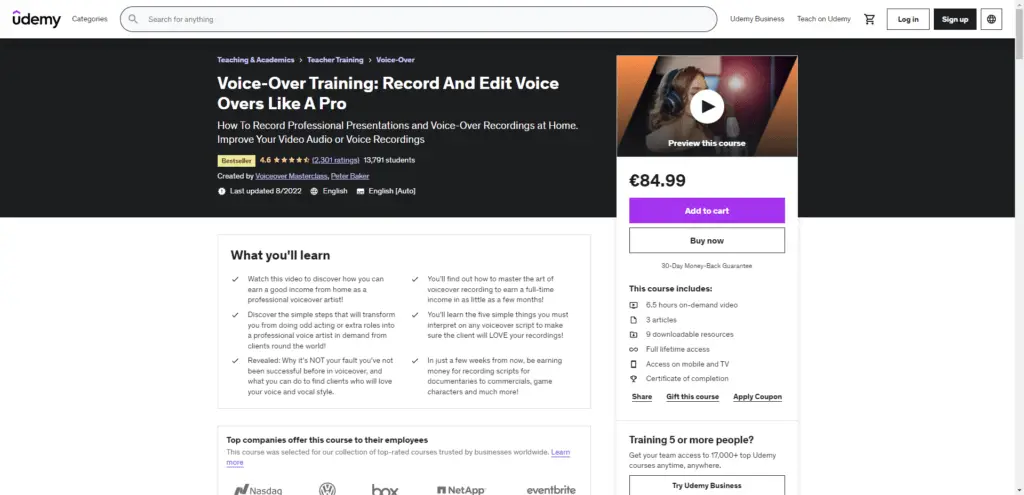 Comprehension: Beginner-Advanced
As a bestseller course with over 13.999 students, this is one of the most popular voice acting courses on Udemy. 
Don't let the thumbnail of the pretty lady fool you, this class is taught by Peter Baker, a professional voice artist with experience as a BBC announcer.
This voice-over course is suitable for any level and teaches voice-over, recording, and marketing. It is geared towards voice-over, but also delves into voice acting.
Baker also offers several courses on Udemy, niching down to specific voice training, voice acting classes for video games and animations, and book narration. He has a website called Voice Over Masterclass where you can view all classes, some taster classes for free, and a subscription service.
Voice-Over Training has a review score of 4.5 stars, but one student has expressed lengthy complaints that he was treated unprofessionally by Voice Over Masterclass CEO Mark Laxton over a subscription cancellation. This is a single complaint; we can't know if other students have had similar issues.
5. Gravy for the brain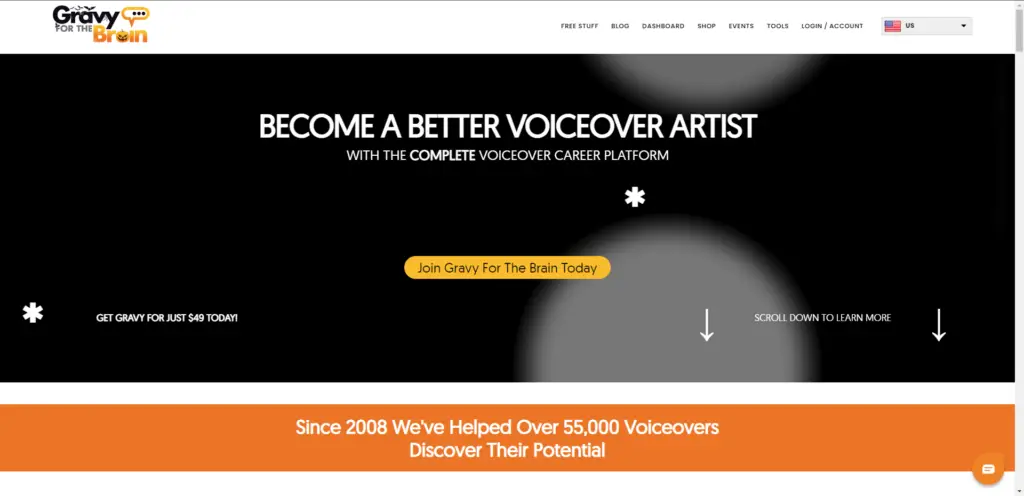 This website seems to have it all and claims to offer the complete platform for voice artists. It is a membership site run by Peter Dickson, a professional British voice talent whose voice you might recognize from Britain's Got Talent.
The membership includes courses, webinars, forums, and live classes, but also tools, like a CRM system for your marketing efforts, as well as job listings. 
There is a free trial membership, so you can try it before buying it.
An exciting feature is the one-on-one classes that you can get from teachers, which are useful for learning mic technique, as well as for getting feedback on your home studio setup and demo.
Voice-over students seem to have had a good experience with this membership, though with a few concerns regarding complicated subscription cancellation.
6. Global Voice Acting Academy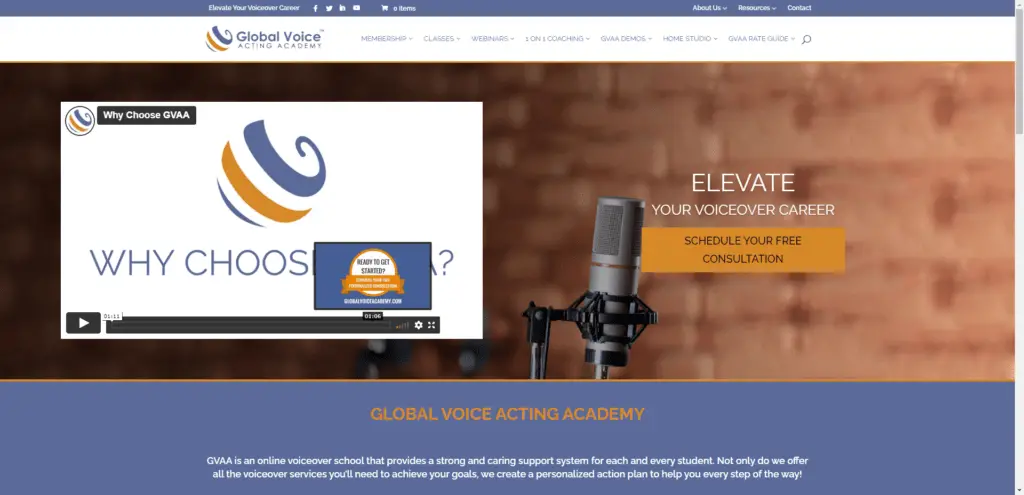 Global Voice Acting Academy (or GVAA) is a similar membership service as Gravy for the Brain and provides ongoing coaching, training, education, and support.
They are particularly focused on live performance coaching (one-on-one sessions) but boast over 500 hours of recorded content.
You can subscribe monthly, but you can also purchase individual classes, workshops, and webinars.
GVAA generally has a good reputation in the VO world.
7. VO Boss podcast (Free)
The VO Boss podcast is for aspiring or professional voice talents and is produced by Anne Ganguzza. Ganguzza is a voice actor, coach, and producer and delivers 20-minute episodes full of advice and tips for voice talents.
Ganguzza has also created VO Peeps, a networking group with a paid membership. Since networking is an important aspect of building your online career as a voice actor, this is an exciting feature.
The community aims to offer educational material and exclusive meetup groups, especially for voice artists.
8. Edge Studio
Edge Studio//edgestudio.com//claims on their website that they have the "most comprehensive and robust training program in the Voice Over industry".
You can take classes in person or online, and they offer master classes and full training programs.
On their website, you will find three sections. One for casual learners, one for aspiring professionals, and one for working professionals, so they cater to every skill level.
Edge Studio has mixed reviews ranging from doubts about whether the introductory class is designed to push you into one of their full-time training programs to great reviews and satisfied students.
Free Classes and Resources
Before investing in a on of the online voice acting courses above or even a coach, there are resources you can use as a beginner to discover if voice acting is for you. 
Podcasts or Youtube channels are free and sometimes entertaining ways to dip your toes into voice acting. 
Youtube: Bill DeWees
Bill DeWees is a voice talent and coach. He is a working voice actor, who uses the channel to market his services as a talent, and his voice acting course.
The channel is a rich source of information, with two new videos uploaded each week. He covers mic technique, acting tips, and marketing know-how.
The most popular video on the channel is his video about making a home studio on a budget.
VO Buzz Weekly 
Coming in with a rock angle, VO Buzz Weekly is a podcast about the voice acting industry hosted by rock fans Chuck Duran and Stacey J Aswad.
Duran as a producer, Aswad as a voice actress, sheds light on the VO industry and brings on many guests to cover a wide range of topics.
If you prefer video, they upload podcasts on Youtube in video format.
Casting Call Club
Casting Call Club is a long-standing hub for voice actors. The platform offers a way to get started in voice-over by offering a marketplace for creators where you can collaborate on small projects.
You can create a talent profile on Casting Call Club for free, but there are paid plans with additional features.
Even though you can get jobs on this site by auditioning for projects, most of them are for fun or for low pay. It is a place to practice and get experience before moving up to the big dogs.
Working With a Coach
Voice acting courses and videos are not the only way to learn online. Many coaches have online sessions, and many voice actors recommend getting at least one 1-on-1 session to get a good grasp of what you need to work on.
This is a feature in many membership programs, but you can also seek out a coach on your own. Unfortunately, finding a good coach is not necessarily easy.
Todd Schick, a working voice actor specializing in voice critique, says: "… most of these people are in the business of "selling dreams" – which will pump you full of accolades and superlatives just to get your money."
If you think that sounds a bit bleak, you may feel better knowing that there are reputable teachers and coaches to find. Networking with fellow voice artists might give you a good recommendation.
Backstage, a casting website and platform for performers has a list of coaches that they recommend. These are all American coaches and not ideal if you are looking for someone in your time zone anywhere else in the world or wanting to perfect your British accent, for example.
In Conclusion
These are some of the best voice acting courses online we have found. Whether the right fit for you could be a Skillshare course, free Youtube videos, or getting a coach on your own, keep in mind that you don't have to pick just one. Voice actors usually have more than one way of honing their craft and may take multiple courses and work with several coaches.
For most people, voice acting is not a quick way to make a buck, as some claim, but it is not an impossible venture either. As they say, practice makes perfect.