Gimbals come in many different sizes and types. But today, we are looking at the new mobile gimbal on the market; the S1 PowerVision!
This is a compact, lightweight gimbal for your smartphone. Great for travel and mobile vlogging. But how does it stack up with its competition, like DJI and others?
PowerVision provided us with the S1 so we could try it out for ourselves and give a fair review of their product. So let's jump into it!
PowerVision S1: Our Initial Thoughts
This is indeed a traveler's gimbal, being both light-weight and compact. Yet, it is a gimbal, tripod, and power bank all baked into one!
The mobile application features easy-to-understand instructional videos showing you how to set up and get the most out of the S1.
It is best to use their magnetic phone case for a quick setup without calibration. But they only have it available for a limited set of smartphones. If you don't have a phone that fits the case, you will have to calibrate it every time before use, which is a bit of a hustle.
As a gimbal, the S1 also has some limitations in the range of motion—especially with vertical rotation. But more on that a bit later.
Still, being the "world's smallest mobile gimbal," it is impressive how many features they have packed into this little thing. Some of our highlights are:
Gesture control – Great for shooting videos solo
PowerFollow mode – Follows an object or face
Powerbank – This can give your phone a generous amount of charge while still having plenty of battery time to spare.
In-app video tutorials – Really helpful guides for first-time setup and how to use all of the features.
3-axis stabilization
Up to 15 hours of battery time
Overall, the S1 is for people who want a smartphone gimbal for travel or solo vlogging outdoors, being both more discrete and easier to carry than a DJI gimbal.
Let us now look at the PowerVision S1 in more depth below:
Size and Mobility
This is where the S1 has a one-up on the competition.
Being only 5.59 x 2.28 x 1.1 inches in size when folded and weighing about 10.5 ounces or 298 grams. Not only does it easily fit in a bag, but you could even carry it in your pocket if you wish.
Even when folded up, it has a compact, unassuming design. It is much more discrete and comfortable to use than other bigger gimbals in public spaces if you don't want to draw too much attention. Which in by itself is a pretty big plus!
Phone Mount and Case
There are two ways to attach your phone to the gimbal.
The first is through the universal phone adapter included with the S1. It is a clamp that holds your smartphone, attaching to the magnet on the gimbal.
You will have to adjust where the clamp sits on your phone to get the proper calibration. This can take a while, especially if it is your first use. But then again, calibration time is a struggle with all gimbals.
The much easier way to attach your phone is through their magnetic case, which you can either buy as an accessory or get within a combo package. Already fitting your smartphone precisely, you just need to attach the case with your phone to the S1, and it will be perfectly calibrated.
Remember, though, that the phone cases only fit certain phones. As of the time of writing, there are cases available for: iPhone 11 / 12 and Samsung s20 / s21 / s21.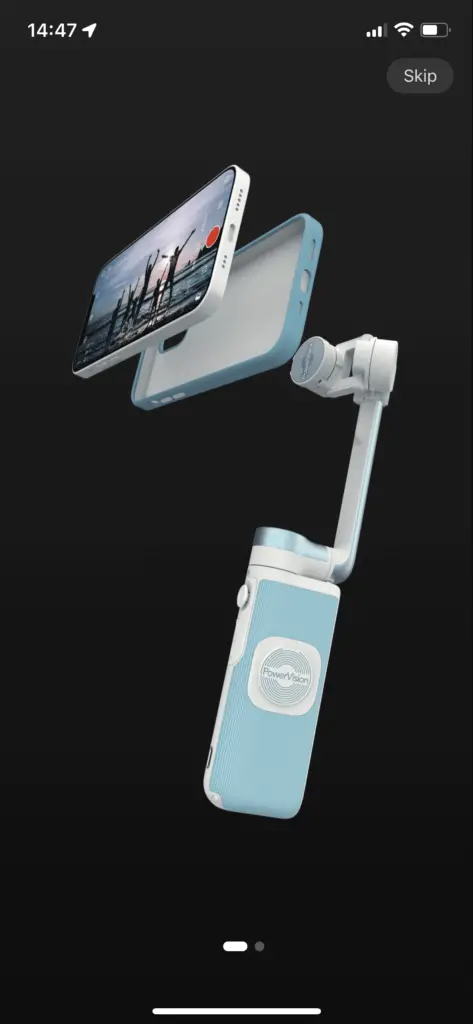 Motion & Rotation
In terms of its mechanical range, the S1 can:
Pan:±150°
Tilt:±90°
Roll:-214.8° – 96°
While the pan and roll are pretty good, the tilt is quite limited. Here is a picture of the vertical range offered when tilting the gimbal.
While this is one drawback of the S1, it is by no means a deal breaker. However, it would have been nice to get more range vertically as it would have allowed for more kinds of shots.
Stabilization
We found the 3-axis stabilization on this gimbal corrects small jerks and shakiness from moving or walking with the gimbal with ok results.
But if you are running or moving a lot, it is much more inefficient.
Mobile App
In our opinion, one of the best things with the S1 is the companion smartphone application and all the valuable features, editing tools, and tutorials packed into it.
It works through Bluetooth and GPS connection and guides you through the first setup and all the features with easy-to-follow video tutorials.
They have also made an attempt to feature user-created content from the community. Here, you get some guides and inspiration on how to set up certain shots.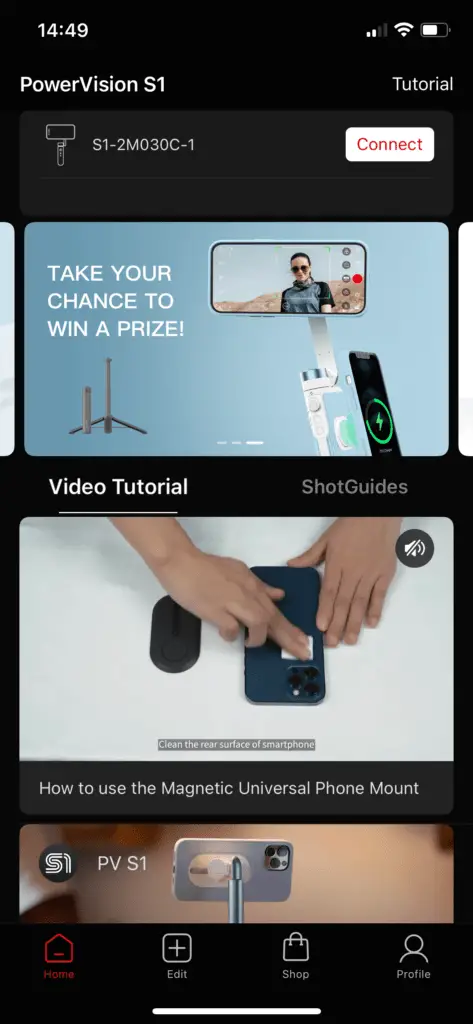 Features
Let us now look at some of this gimbal's modes and features.
1. Gesture Control
Another of our favorite features is gesture control, which is especially helpful for shooting solo videos.
Accessing the camera through the PowerVision application gives you access to all kinds of controls by only using your fingers without needing a gimbal operator.
By showing five fingers, the camera automatically detects your face and follows it. This works well even with more than one person in front of the camera. We tested!
Making a V-shape with your fingers will take a picture, while an L-shape is used to start and end the video recording.
2. Powerfollow
The Powerfollow feature allows you to choose an object that the camera follows. This works both when the object is moving or when you are moving the gimbal and want the camera to face the object.
This can create some pretty cinematic shots, although you have to remember the range of the gimbal is pretty limited, so you can only do so much with it.
3. Panorama
The panorama mode works by placing the gimbal facing your motif and selecting the 'Panorama mode.' The S1 will now take nine pictures, creating a panoramic image. It works great for landscapes and bigger rooms.
4. Powerbank
Another valuable feature for travelers is the option to use the S1 as a power bank. We touched a bit on that above, but only barely.
When fully charged, the S1 claims to be able to charge an iPhone 12 to 60% and still have 2,5h of battery time left in the gimbal. That is a helpful feature as filming on a smartphone will drain a lot of battery.
Wireless charging is possible if you have a compatible phone. Otherwise, you can use the USB-c port.
Setup and Use
When you first set up the gimbal, we recommend the tutorials you can find through the app. They are straightforward and clear on how to begin using the gimbal and take you through all available features.
You will also find a series of arrow stickers on the gimbal showing you how to unfold it properly.
To place the gimbal on a surface, fold-out one leg while pulling out the two other supports at each side.
This sort of tripod stand does not look too sturdy, to be honest, but it never fell over when we used it! Although it does seem the tripod can easily break through a fall of misuse.
In Conclusion
So what is the verdict overall? How does it compare with other smartphone gimbals on the market?
It is smaller and more portable, yet it has many features such as gesture control, power bank charging, 15-hour battery time, stabilization, and panorama mode. The mobile application is like a little video studio within itself, featuring editing tools, inspiration, and tutorials.
Where the S1 lacks a bit is in sturdiness and range of motion. The tiny, extendable tripod legs work fine, but whether they could hold bigger phones is questionable. Some of the limitations in movement also do not allow for some shots.
Even so, this is a great tool to bring along if you are doing travel or solo vlogs. As we said at the start, it is a gimbal, tripod, and power bank all packed into one! Being so small and portable also makes it super easy to bring it anywhere without much hassle!
Check out our other articles for more gear reviews and setups.