As far as lighting and cinematography go, tube lights are very handy for filmmakers. 
Today we are looking at the new Duken T60 Telescopic LED Light by store.sirui.com. SIRUI is already a well-known manufacturer of anamorphic lenses and tripods, and they have just launched their new line of lights called Duken.
We will do an in-depth review of the T60; We will look at how it compares to other light tubes on the market, how to use it, and its many features available to filmmakers.
Before we jump into the review, we first want to say that SIRUI sent us the T60 for this article. However, they have asked us to do a clear and objective review with our own opinion, and this is what we will do.
Read on below, and if you are interested, we have a promo code for you as well. Go to SIRUI's store and enter the promo code "MEDIAEQUIPT" to get 15% off your purchase.
The T60 Review: Our Initial Thoughts
Unlike many other tube lights on the market, this one is quite unique. The telescopic light tube is excellent for portability, while the advanced color and luminosity controls give you many options on location. And you get all of this at a pretty good price point too.
Overall, we would recommend the T60 for filming music videos, vlogs, or independent filmmaking, where you need a lot of options while not breaking the bank.
Now, before jumping into each aspect in more detail, here are our top highlights in a nutshell after using the light for a while:
Two lengths: 18″ when retracted and 29″ when extended
14 different FX modes
Color control using the whole RGB spectrum
Color temperature control ranges from 2500k to 8000k
Small remote controller
Mobile applications as well
Now, let us look at each aspect of the T60 in more depth.
Rigging
The T60 Telescopic Tube Light comes with the standard 1/4″20 screw-hole, attaching easily to most tripods or light stands. You also get a smaller tripod stand for placing the light on flat surfaces like a table or the ground.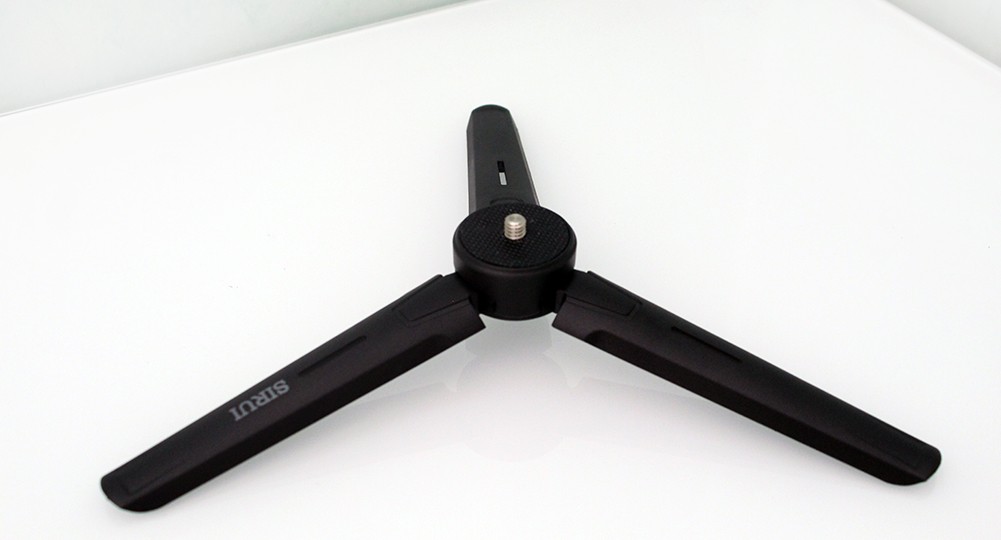 These setups have the tube light facing up, but what about getting tube lighting from the side?
Ideally, you could get an accessory arm or mount for your stand. But we also found the shape quite nicely fitted with a large grip that could be attached to a light stand like in the pictures below.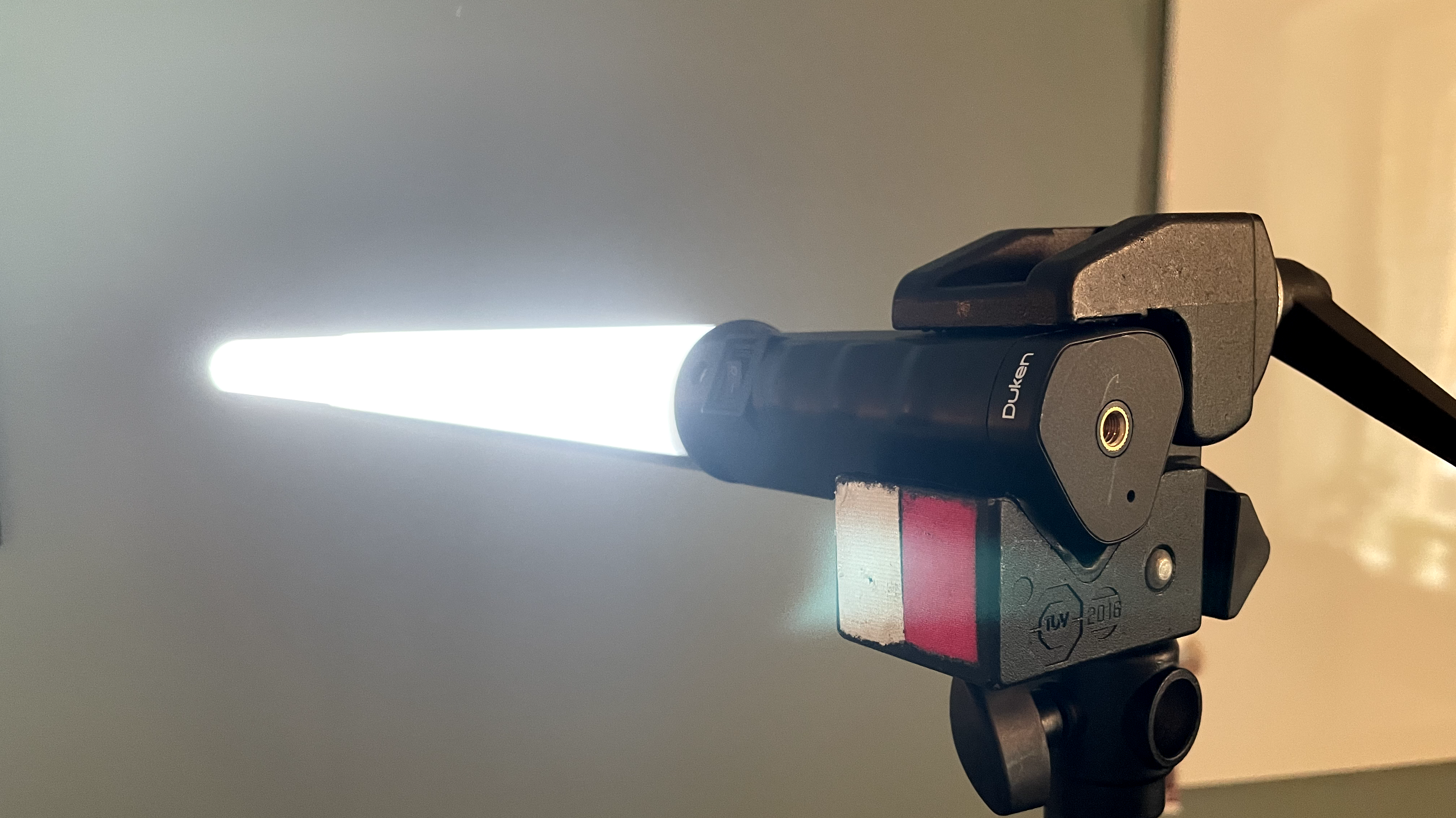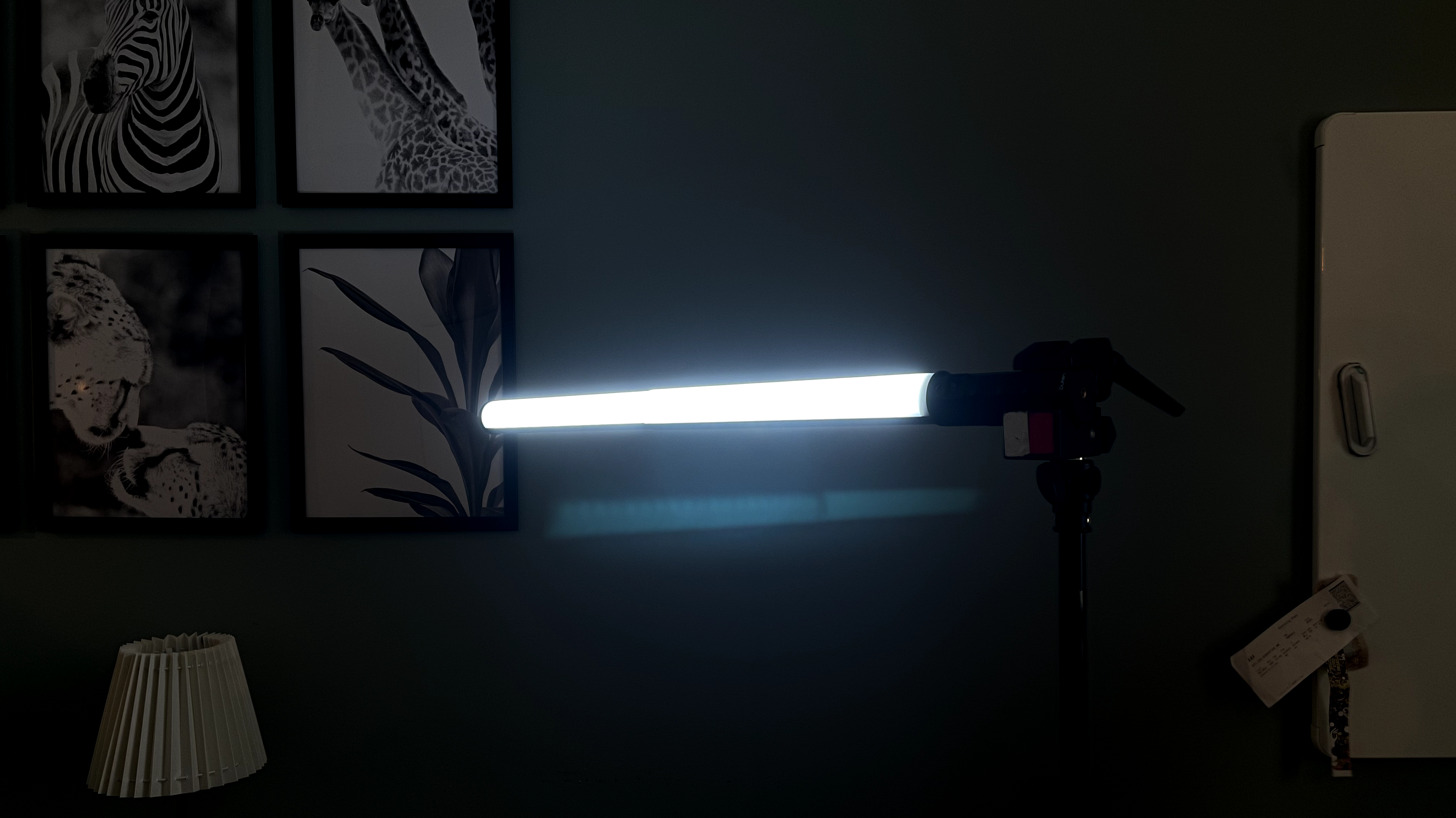 Controller and Mobile App
You can control the T60 either through the remote controller or the mobile application.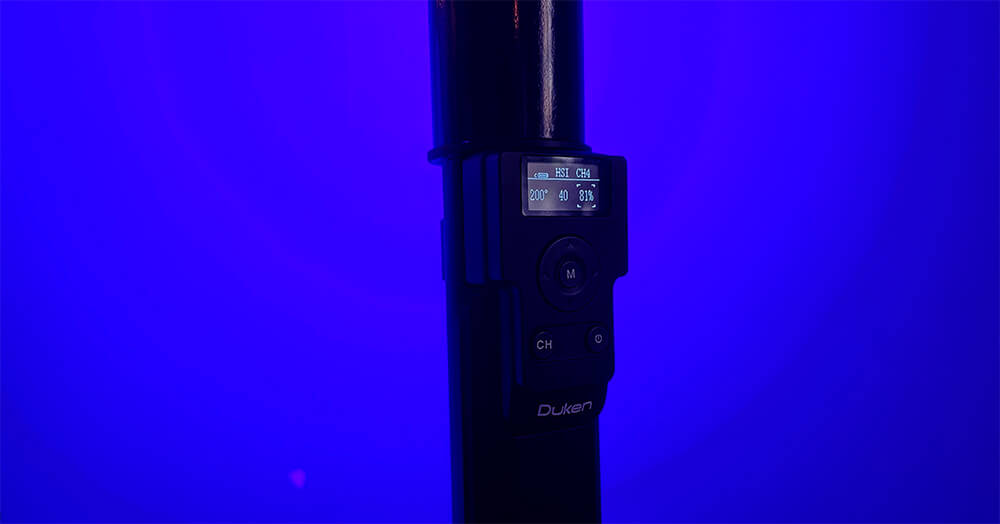 The controller itself is attached to the back of the tube but can be quickly taken off for remote control.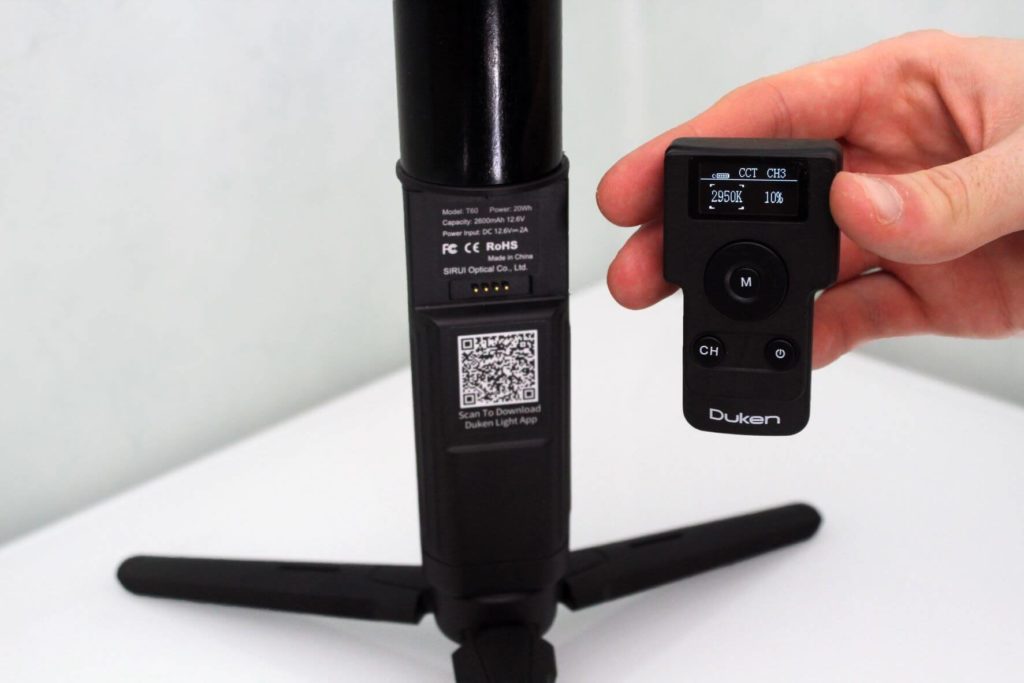 While the controller works just fine, its menu can be slightly tricky to get a hang off. But we found the mobile application to be much easier and faster to use. We tested the app and found it works well for both IOS and android phones. 
To install it, scan the QR code on the back of the light tube, and the download page will appear. 
The app has a clean and straightforward interface; therefore, we will show you all the different app features from the application.
But what if you have several lights that you want to set up? The controller has up to 10 channels you can use for different light tubes. You are also free to add several lights to your setup on the mobile app as well. Since we didn't have more than one, we could not test this feature. But we take Duken's word for it!
Features & Modes
This section is the T60's time to shine, And it does. 
It was super straightforward to control light temperature, luminosity, and color. And those 14 modes really do come in super handy. These are:
RGB Cycle
Flash
Disco
Lighting
Broken Bulb
Tv
Candle 
Fire
Firework
Police Car
Fire Truck
Ambulance
Music
SOS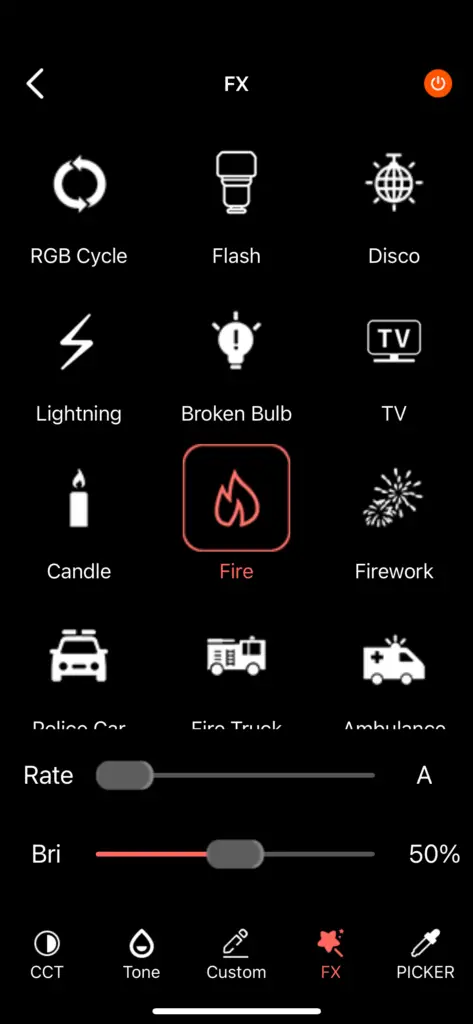 Their uses depend widely on the project you are working on, but we found modes like 'TV,' 'Fire,' 'Broken Bulb,' or 'Lighting' super useful for cool effects. These modes work great for film, music videos, or vlogs and are often hard to do without a light like this.
Now the two controls you will always be using aree the lumination and color settings. Nothing to crazy here. But you get a slider for brightness percentage and color temperature in Kelvin with some pre-set values for quick changes.
The color wheel is a bit trickier to use on a phone since you have to use your finger. It's going to take you some attempts before picking the right color.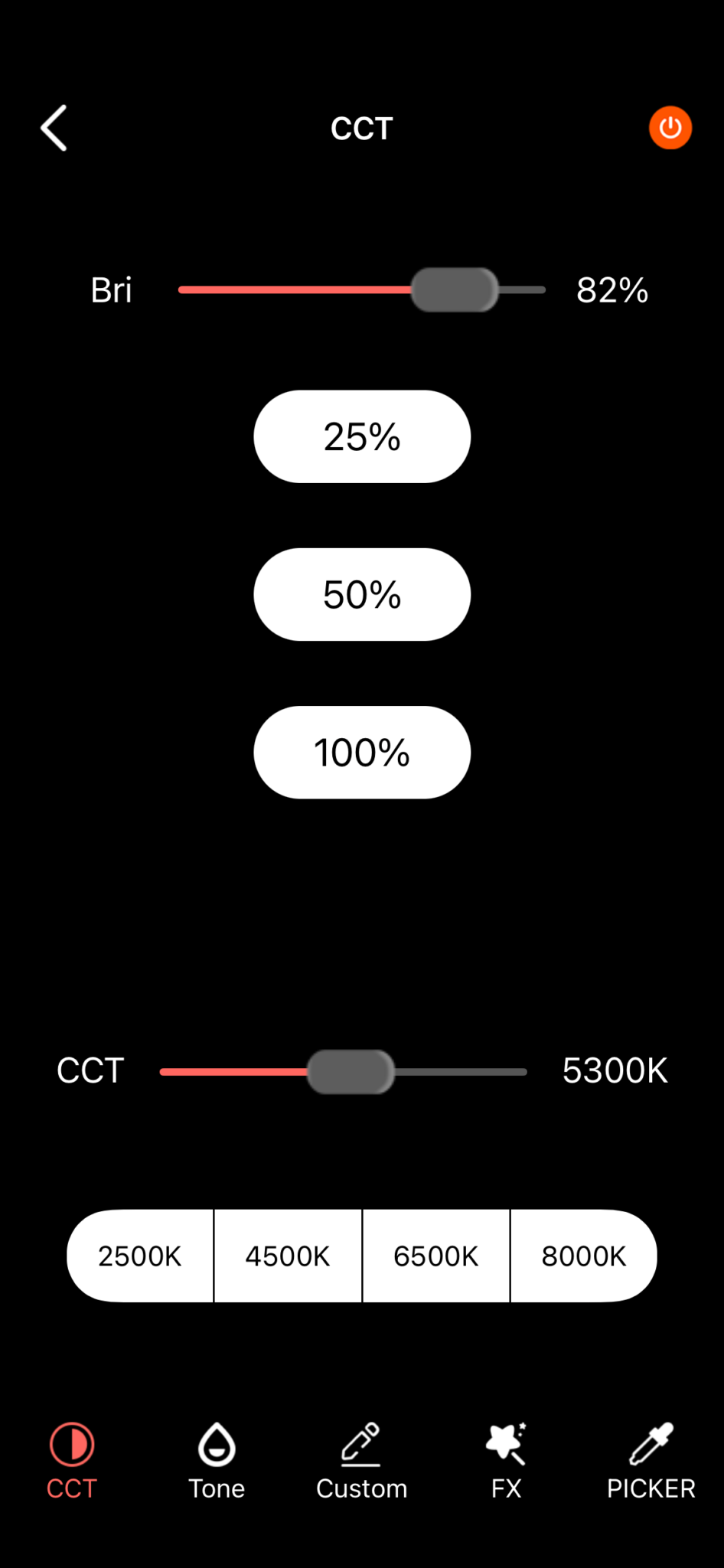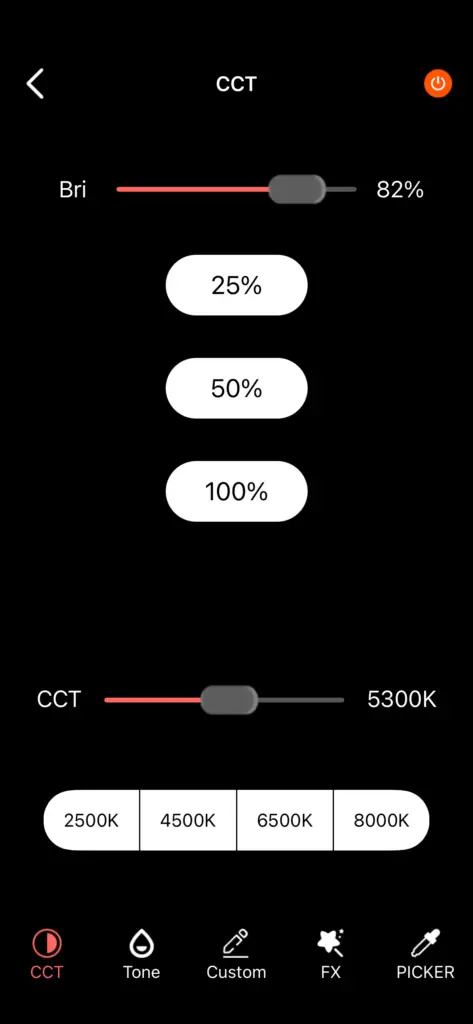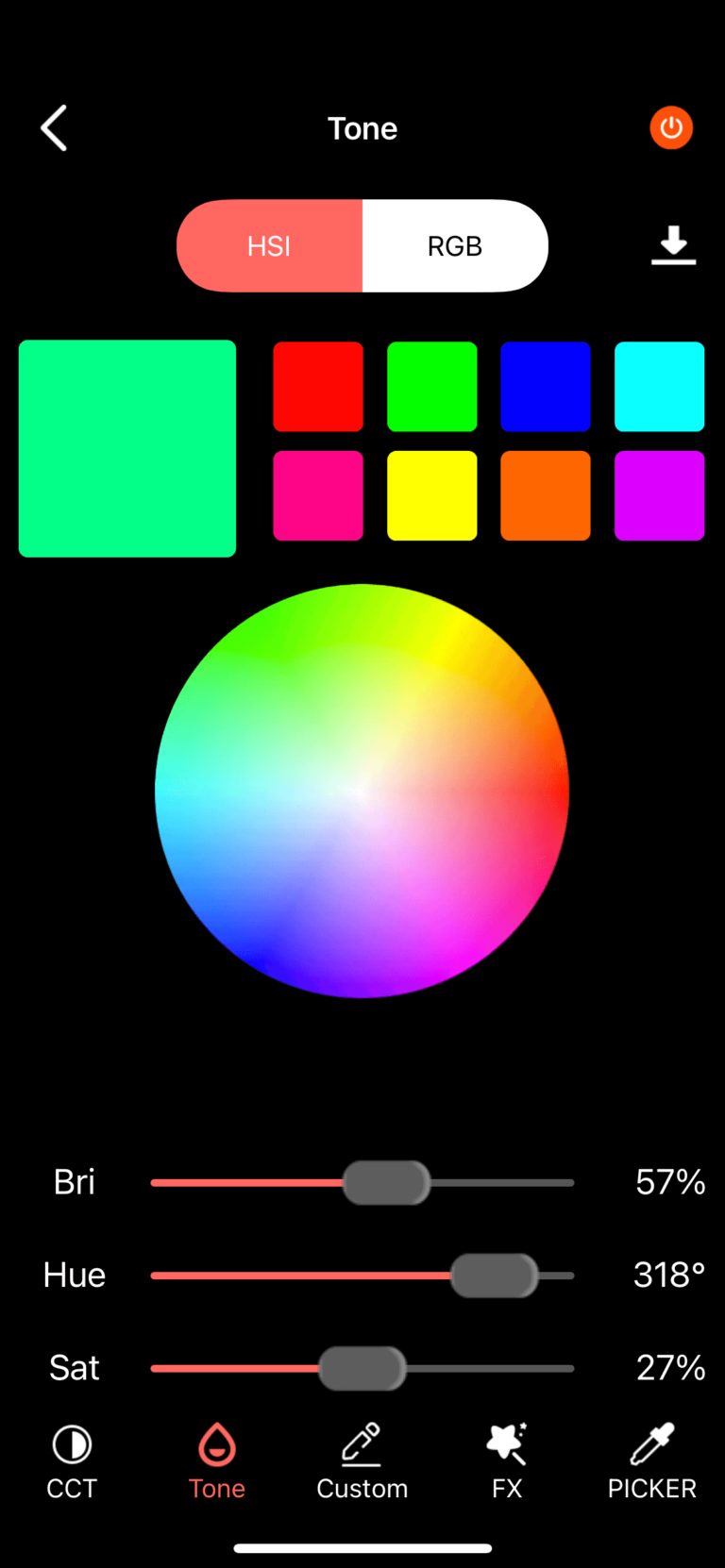 In addition, their app also has a color-picking feature. Using your phone's camera, you can quickly pick and change the light's color directly from the environment. We found this feature worked okay, but you must be in a well-lit location for the colors to register appropriately.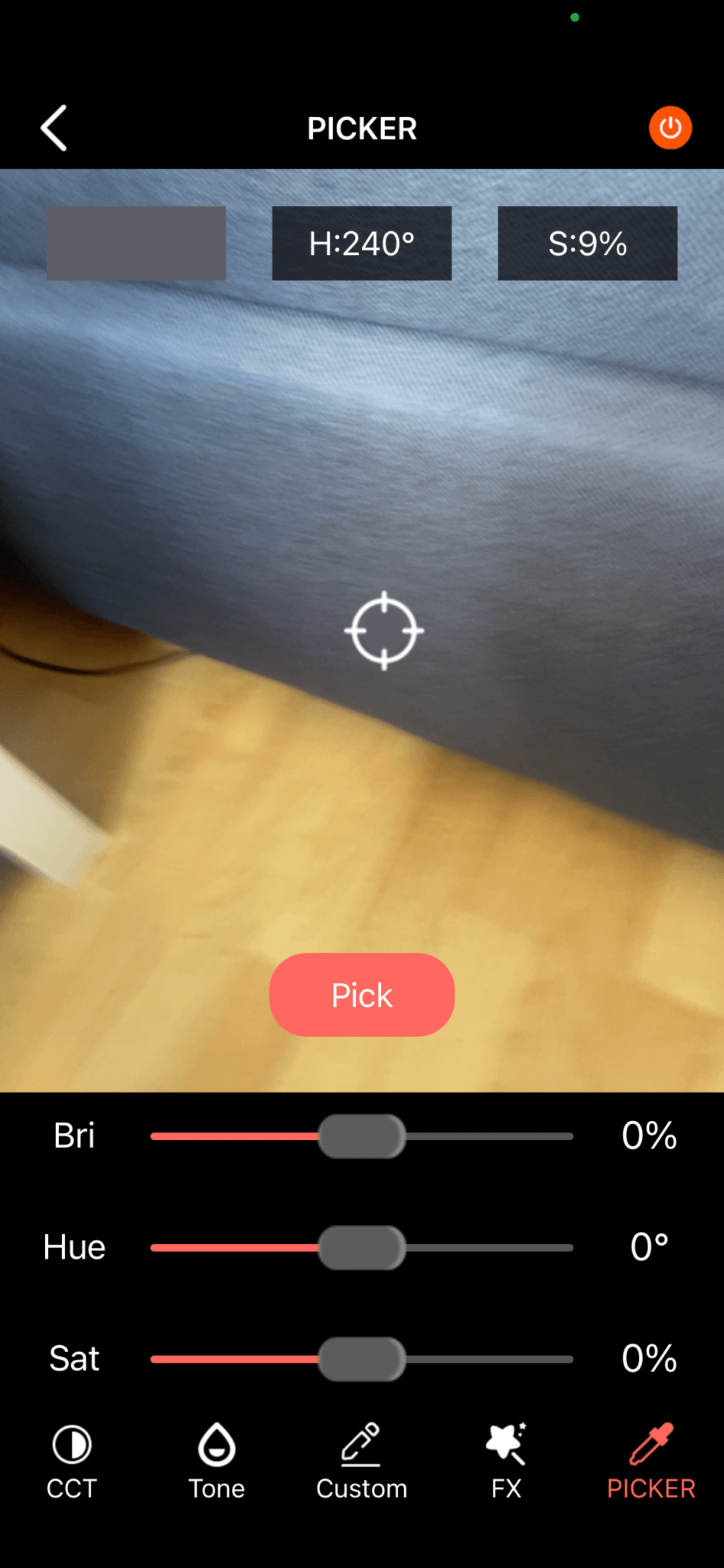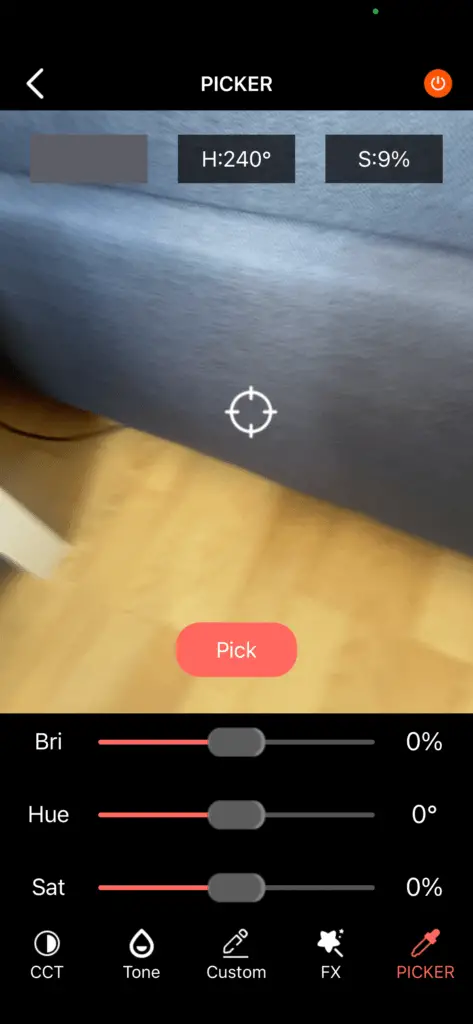 Otherwise, this tool is excellent when you want to pick the color from a backdrop's original light source to blend it with the environment better. 
The Retractable Tube
The T60 light tube is telescopic, which can be extended for more light. This makes the T60 small and portable for transport while giving you more options on location.
But the light's biggest drawback also lies in this feature. You are limited to only two lengths: the 18″ version or the extended 29″ version.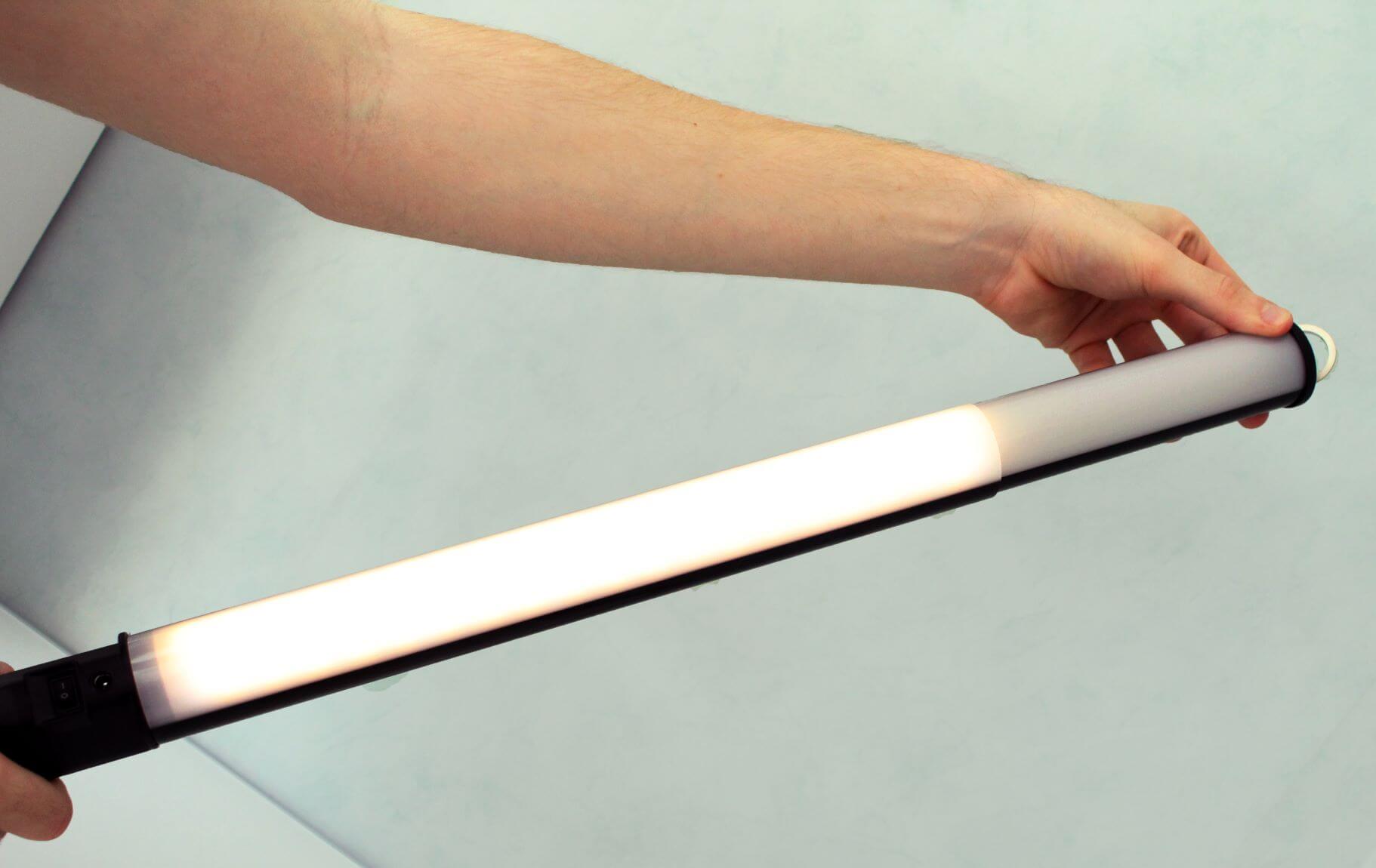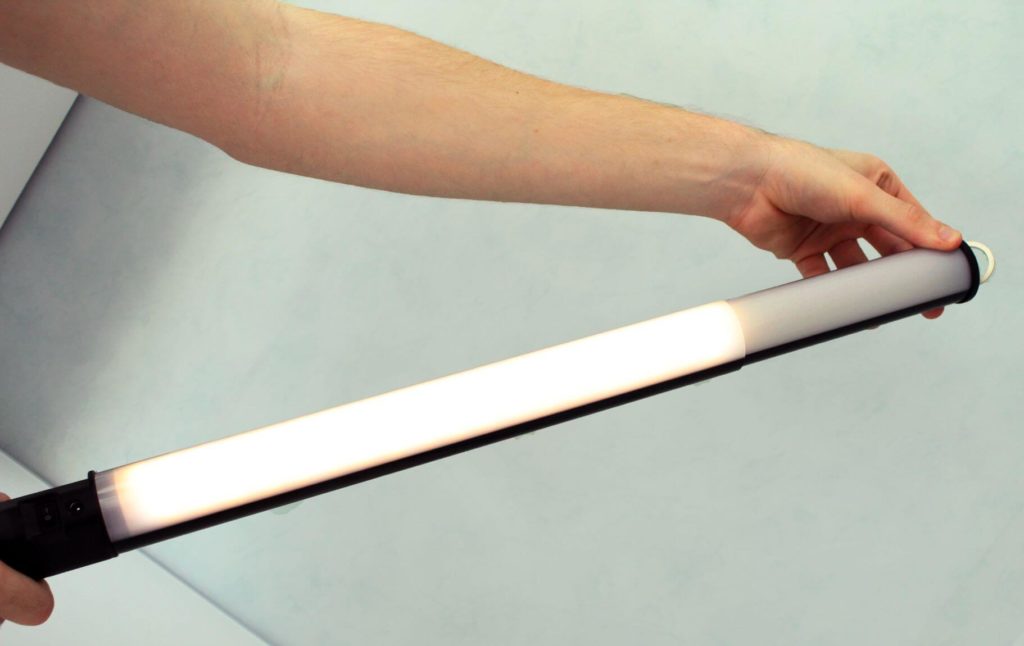 When we tried to extend the tube halfway, there was no light on the upper section at all. It's not a deal breaker by any means, but it would be an excellent addition for those eager to control lighting exactly how they want it.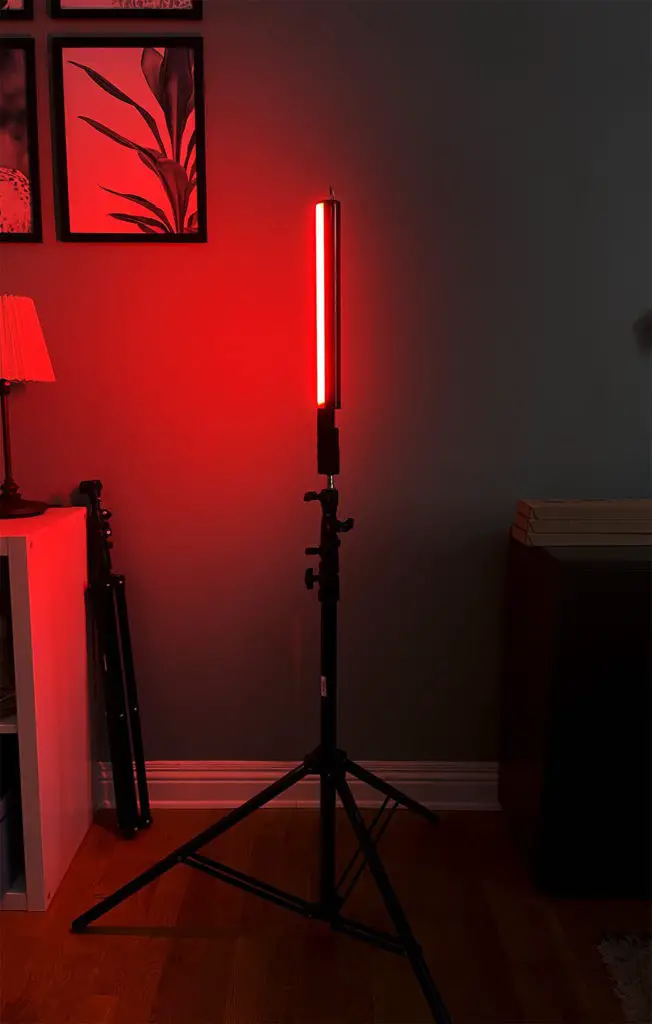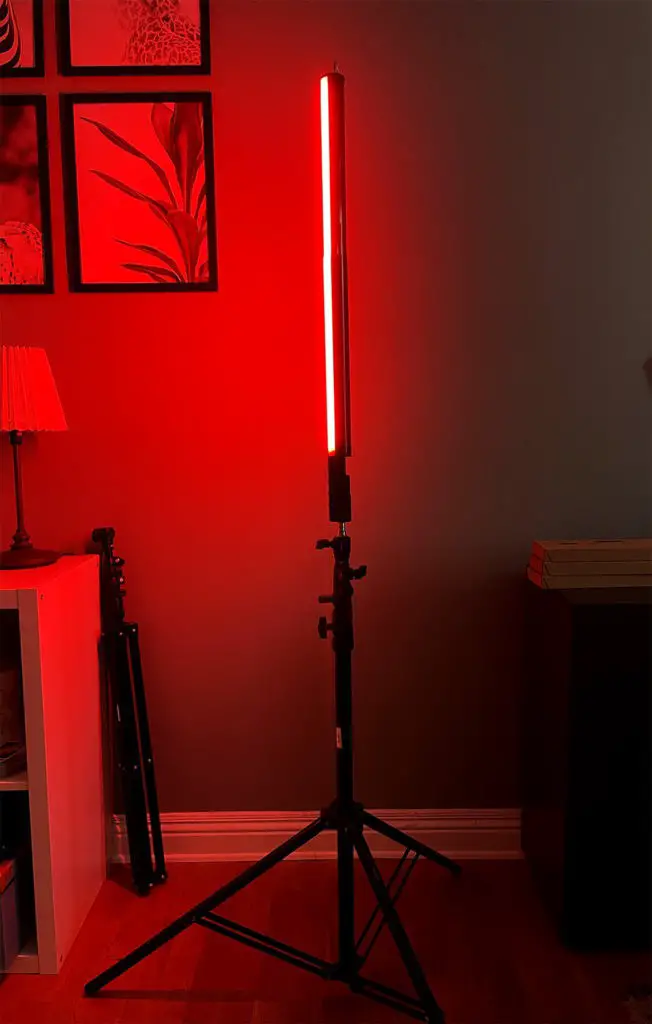 Battery Time
This is another biggy for any filmmaker or videographer; Battery time.
We found their specifics on the page were indeed true. You get 2 hours of minimum battery time. But we could get more if the light is not turned on maximum luminosity.
You don't have to worry about that if you are in a studio since you can always connect the T60 directly to a power source. The cable length is okay, but it would always be nice with a little more.
Transport
As we said before, the T60 Telescopic Tube Light is super portable for transport. But you also get a perfect-sized bag that fits the cable, light, and tripod.
If we are going to nit-pick, we should point out that the straps for attaching the light were a bit too small. It took us forever to secure the T60 in the bag.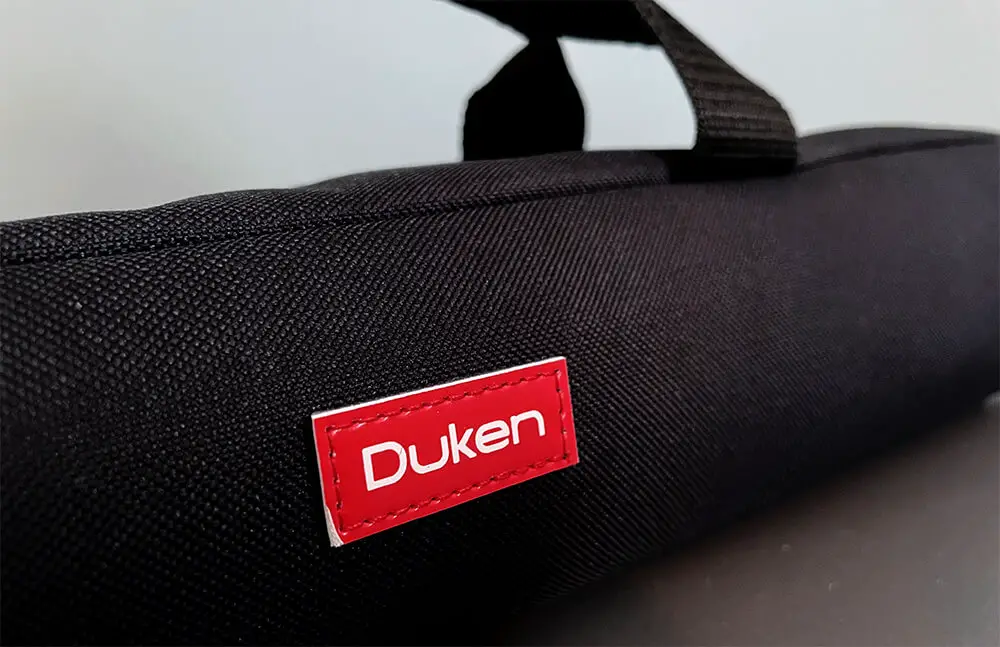 How does it Compare?
Lastly, how does the T60 Telescopic Tube Light compare to other tube lights on the market?
For that price point, there aren't many tube lights that can give you as much control and features as the T60. There are bigger light tubes with better color ranges and more advanced controls. But none we could find matched the portability and the many customization features of the T60.
And all of that for a very reasonable price!
Personal Thoughts and Conclusion
You can notice a lot of thought went into the design; The extendable tube, the little controller, the app, the 14 modes, and the color picker. 
Overall, the T60 Telescopic Tube light is ideal for situations that require a wide range of solutions and customization. This light would be great for shooting vlogs, music videos, and independent filmmaking.
You won't get many other tube lights with as many features at this price point. It is a product we can really recommend.
Now, for those who like a simple pros and cons list with the highlights of our thoughts above, here it is:
Overall, the T60 is a great light to add to your cinematography arsenal and for a very reasonable price at that. 
If you are interested, we have a promo code for you to use. Follow this link and enter the promo code "MEDIAEQUIPT" to get 15% off your purchase.
Otherwise, we have more gear guides and reviews for you as well!