YouTube is one of the largest hosts of video content on the internet. Whether you want to share your travels with the world or struggle through a difficult game, YouTube helps you share this with internet users. Gaming channels make up a considerable percentage of live streams on the platform. When considering how to start a YouTube gaming channel, it's not quite as easy as selecting a game and clicking go!
We're here today to give you the ultimate guide on how to start a YouTube gaming channel. There are plenty of factors that will decide whether or not a channel becomes successful. Whether that's improving the physical appearance of your channel or improving keyword SEO rankings, we're here to take you through a gaming channel set up step by step.
What are you waiting for? It's time to get your YouTube gaming channel started!
Getting Started On YouTube
For many creators, the first step is the hardest. Making that commitment and choosing to publish your first video on YouTube can be a frightening concept. Your content will be judged and viewed by people you don't know and YouTube doesn't tend to censor negative opinions.
Despite that, you should know this; in the early stages of your channel, only people who are genuinely interested in your channel's subject matter will find their way to your videos. YouTube won't start recommending your videos out to anyone and every one until you have an established community of viewers. So don't sweat, the people who will watch will be people who want to be there watching!
Now you're ready to get started on YouTube, let's show you how to start a YouTube gaming channel.
Create Your Account
The first step you'll need to take is to create your YouTube account. This account is managed through Google, so you'll need to have a Google account before you can log in to YouTube.
To register for a Google account, click here.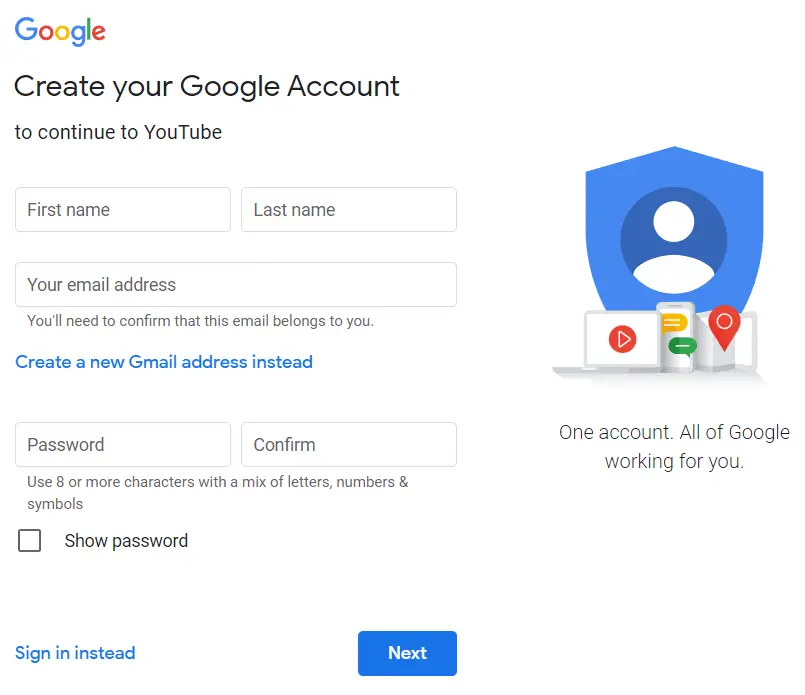 Google requires a few details from you including your name and email address. If you don't already have an email address or you do with a different carrier, we highly recommend registering a new address with Gmail. This makes correspondence with YouTube and AdSense much easier in the future.

Once your account is registered, navigate to YouTube and click sign-in in the top right-hand corner of the screen. You can now sign in with your new Google account details.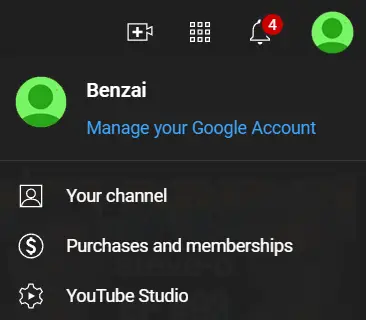 The last thing you'll need to do is create your channel. At the moment your account is a viewer account. To create a channel using your new credentials, click the profile picture logo in the top-right of the screen (it should, by default, be a silhouette of a person) and click your channel.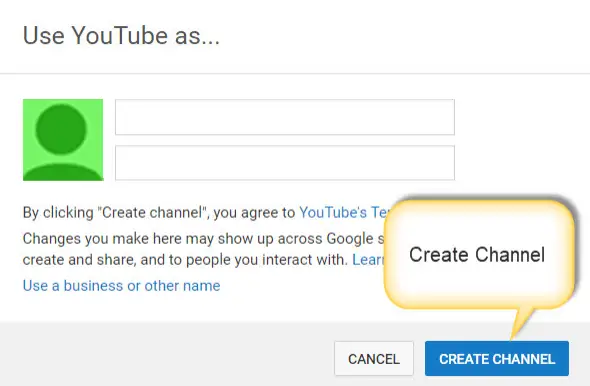 You'll then be prompted to put in your name and surname (if it's not filled in automatically for you) and click create a channel. Your account is now registered as a channel account.
Choose A Unique Selling Point
Let's go back to basics. The reason anyone puts content on YouTube is for people to view it. Some creators put their content up to have family members or friends see it, but most want their videos shared with people all around the world. We're going to assume you're in the majority (the latter) and that you want your channel to see as much growth as possible.
For your gaming channel to grow, you need to offer something different. Something unique that doesn't already exist on YouTube. If it does, you'll be entering a world full of view competition and it will be incredibly difficult to get your channel off the ground.
What you need is a USP. USP stands for unique selling point and is used in business to represent the one thing that makes your product (or in this case, videos) different from every other similar product. In theory, your USP is what will make your channel successful.
USPs for gaming channels vary. One of the easiest ways to find a USP is to create content about a game that isn't being shared much on YouTube. This could be a new release or in many cases, these tend to be released from independent studios.
Another factor you should consider is how you're uploading your videos. Too many channels do 'let's play' series-style games. Consider pitching for a game review channel or similar theme, something that adds value to your videos other than just gameplay.
Finding a USP is vital for future growth. Make sure to do some research on YouTube and a bit of browsing through other successful gaming channels before deciding what direction to head in with your YouTube channel.
Gaming Equipment and Hardware Check
Video recording, editing, and streaming put quite a lot of stress on computers and equipment. Before you get started with your YouTube channel it's important to make sure you have equipment that is capable of handling all of the processes you need.
System Requirements
Your PC system requirements will vary depending on the type of content you want to make. If you want to stream AAA games, you'll need the latest hardware. If you're editing short videos with voiceovers, you won't need something as powerful. The specification listed below is a good starting point for a gaming channel that uploads edited gaming videos:
Processor: Intel Core I5-6600
Graphics Card: NVIDIA Geforce GTX 960 4GB
RAM: 8GB
SSD: 100GB Hard Drive
This absolute minimum benchmark will ensure you have enough power and memory to handle game capture and video editing processes. Crashes and lag should be a thing of the past.
Essential Equipment
Before you get started, make sure you have all of the basic equipment. This will vary depending on if you need a face cam overlay, voice-over, and other features. The list below will ensure you can do all these things in the future if you want to.
Computer System – A decent computer system can make all the difference when it comes to the quality of your videos. See the above system requirements for more details and specifics.
Microphone – Footage of players just gaming doesn't do very well on YouTube. To add personality and character you're going to need to voiceover your videos. To do this you need a decent microphone that picks up your voice. We recommend the Blue Yeti Nano or HyperX SoloCast as high-quality starter options.
Headphones – As you edit your video, you need to be able to hear the audio. Grab a great set of headphones such as the Razer Kraken or Corsair HS35 for great clarity. You could bundle together your microphone and headphones in a headset, but these tend to be lower quality overall.
Webcam – Adding a face cam overlay to your content can help boost community engagement. Consider the Logitech C920 for a webcam that produces high-definition results.
Gaming Channel Design and Appearance
When searching for how to start a YouTube gaming channel, new creators sometimes read that video content is everything. News flash, your channel will not live or die based purely on the content of your videos!
As with anything in life, first impressions mean a lot on YouTube. A well-designed profile picture or thumbnail alone could be the difference between viewers clicking on your video and not.
It's vitally important to make your designs stand out to get those clicks. Design with consistency and vibrant colors from the day you start on YouTube to help boost your channel progress.
Choose A Gaming Channel Name
Before you design anything you need to decide on your channel's name and branding.
There are no hard and fast rules when it comes to choosing a channel name but there are a few trends that successful channels tend to follow. You could choose to take on board all of these points or pick and choose just one or two.
Choose a unique name: We recommend choosing a name that is unique to help boost your channel growth. If you share a name with another YouTube channel, you're already facing an uphill task when people try to find your channel.

Choose a name that represents your content: If you're set on creating content on one video game, you might want to choose a channel name that shows that. For example, if you choose to stream Minecraft you might name your channel 'Creeper Corner'. Similarly, if you choose to stream Fortnite you might name your channel 'Vaulted 90s'. These terms are instantly recognizable to the game's player base and will help them recognize that you create content based on that one game.

Create a new word: Some creators create their own unique word that didn't exist before. For example, a streamer called Ben might call their YouTube channel Benzai. It's a unique word that viewers will not easily forget. This would work for a variety channel that covers non-specific gaming content.
Create A Channel Logo


Your logo will appear in the top left-hand corner of your channel homepage, all comments you leave, and underneath every video you make. It should represent your brand and be consistent with the rest of your content.
One of the most important things to consider is that your logo is viewable. In most circumstances on YouTube, your logo will be very small. This means that its contents should be large and simple to make it easier to see. In the above case, the logo is one large letter with a symbol, making it very clear to viewers. Consider using something similar for your new channel.
Of course, you could also use an object from the game you create content on. Many gaming YouTubers do this, however, so you should find an image that is not used regularly by other channels.
Create Your Logo
If you do want to create your logo you can use a variety of free or paid tools to do so. Here are our suggestions for image editing software to use when you start a YouTube gaming channel:
Design A Header Image

The header image goes at the top of your YouTube channel homepage. It should represent the content you create and tell a viewer a little bit more about your channel.
In the above example, you can see that the channel creates content on OBS studio and Streamlabs. For gaming, choose specific gaming logos or images from the game you play but keep them relevant; make sure people know what they're looking at!
Most creators also incorporate their logo into their YouTube header. This is for consistency and ensures the viewer knows who's profile they're on.
Optimize Information Areas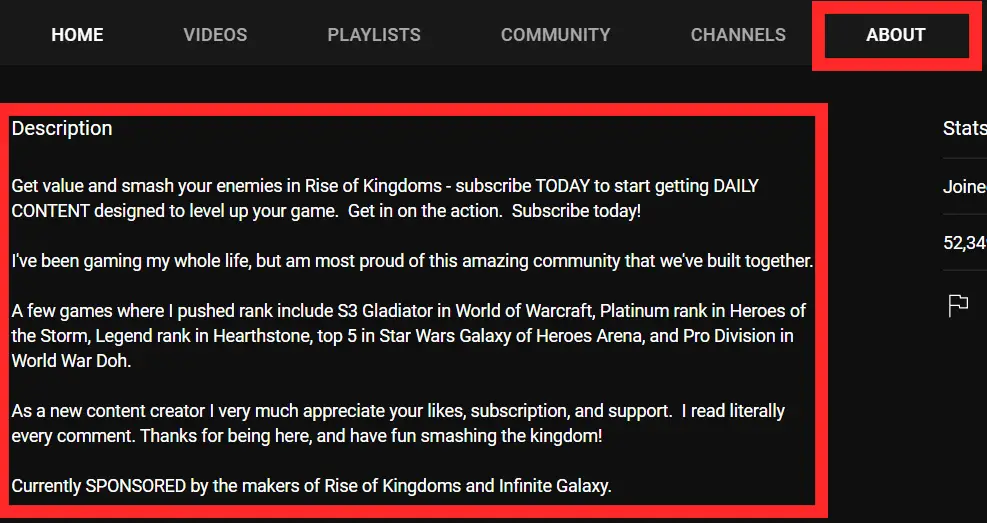 Information areas are few and far between when you first start a YouTube gaming channel, but the about tab is one of the areas of your channel that you should get to grips with.
This is the only place on your page where you can add text, so make it count! Make your message clear and concise, explaining who you are and what you do. Cover the game(s) you play and what sort of content you make.
You can also use this area to advertise sponsorships and social media links once you have them set up. Make sure to mention them fleetingly and not force them onto your viewers.
Your about tab can also help you rank highly in certain areas. Make sure to use as many phrases and words related to your content as possible in your channel description.
Create Attractive Gaming Thumbnails
Once you're ready to upload a video you'll be asked for a thumbnail. A thumbnail is an image placeholder that will appear in search results or recommended lists. It represents your video in still image form, so it needs to stand out and convey a brief overview of your video.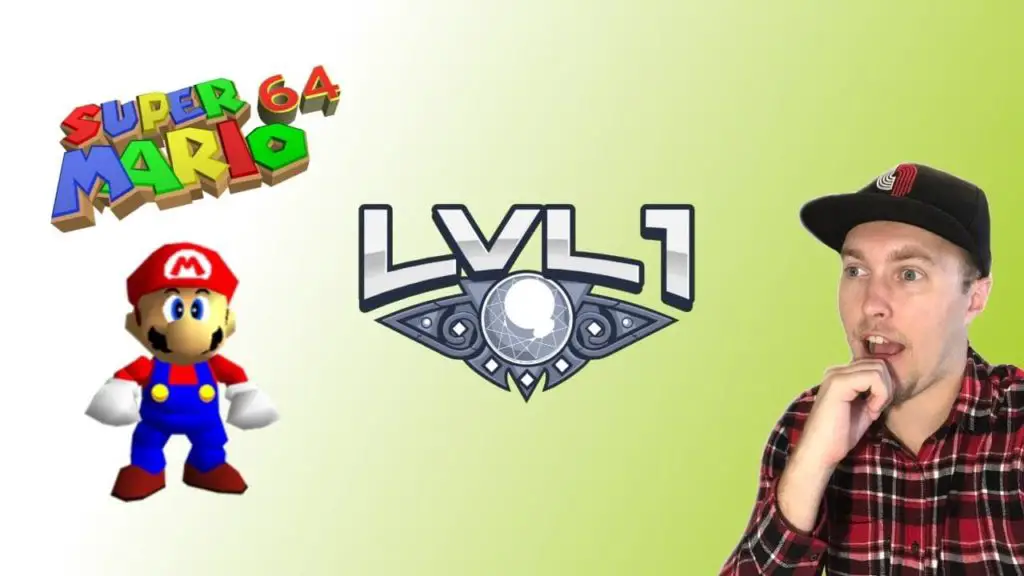 Bad Thumbnail Example
Our first example of a gaming thumbnail is something similar to what a new creator might make. Let's consider why it's less than perfect:
Poor space management – There is a lot of empty space with nothing in it. Thumbnails should utilise every inch of the available design space.

Bland color scheme – Other than the tiny Super Mario 64 logo, the color scheme is very unsaturated. Colors should pop and be bright.

Creator image unnecessary – You might be tempted to include an image of yourself, but early on in your YouTube career there is no need. Your viewers don't know who you are and so adding this really adds no value to your thumbnail.

Channel logo unnecessary – Similar to the above reasons, nobody knows you yet. Use the space to promote the video instead of your channel.

No obvious subject – The thumbnail should give us a brief idea as to what the video is about.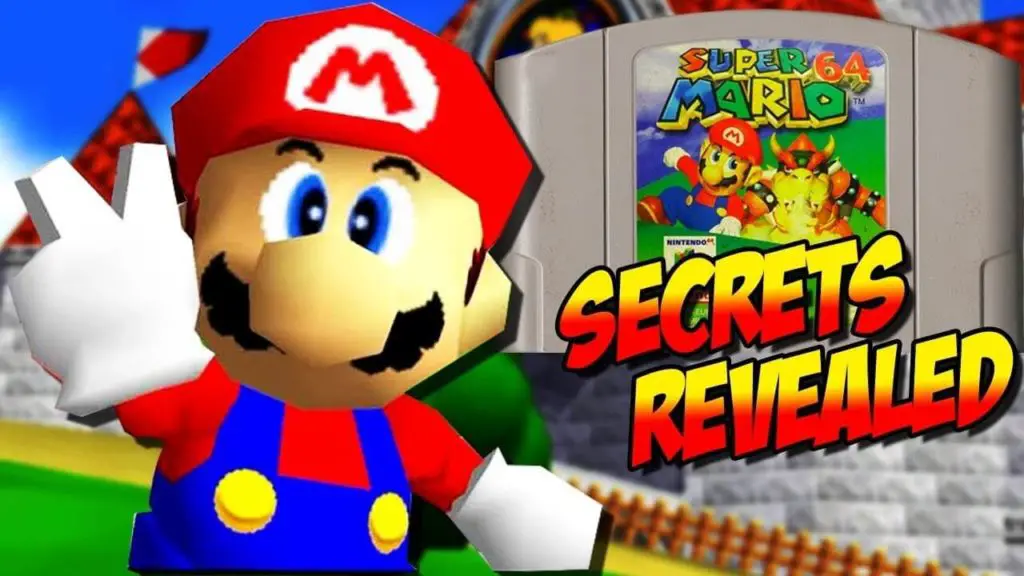 Good Thumbnail Example
Unlike the first example, this second thumbnail is a perfect choice. It does many things right that the other does not:
Full canvas – The entire thumbnail is filled with content. One easy way to do this is to have 3 items on top of a generic blurred background. In this case, we have the text, cartridge and Mario layered on top of a blurred peaches castle background. It makes the thumbnail look full.

Bright colors – The colors are well saturated and pop out. The text is easy to read thanks to a black outline and drop shadow.

Subject overview – The text layer adds a simple description of what to expect from the video without taking up too much space.

Information through images – Other than the text, other information can be assumed from the images. There's a picture of Mario and an N64 cartridge. From that, the viewer can assume this video is about Super Mario 64 on the Nintendo 64.
Create Your Own Designs
If you do want to create your own logo or header you can use a variety of free or paid tools to do so. Here are our suggestions for image editing software to use when you start a YouTube gaming channel:
Create Your First Gaming Video
This is it. You know how to start a YouTube gaming channel and it's time to upload your first video. You've decided on your niche USP and are ready to create your first video on your YouTube gaming channel. Be sure to make it a good one with the tips below.
How To Make A Good Video
The best-performing videos on YouTube are concise and clear. This encourages viewers to stay longer. This is called viewer retention and the longer your viewers stay, the more likely YouTube is to recommend your video to others.
Because of this, you should aim to only include clips of value in your videos. Any periods where you're not doing much in-game or there's silence you should try to remove or clip from your final cut.
Try to entertain your viewers! Even how-to guides can be funny and enjoyable, so be sure to add some humorous events or dialogue to the video to keep your viewers hooked throughout. Nothing is worse than an 8-minute video with buffed-out clips and boring voiceovers!
In terms of the structure of the video, we would recommend the following:

Tease – A short clip around 5 seconds with a highlight of the video. It should be a clip that is informative or funny. It makes the viewer want to see more.
Intro – A custom-made intro with your channel's logo. Maximum 5 seconds long. An example of a website that can do this for you is RenderForest.
Bulk – This is the main focus of your video. Include all relevant clips in this part. Can be anywhere from 1 to 10 minutes long.
Outro – A short clip with a voiceover summarising the video. You can also re-direct viewers to other content on your channel during this section.
Remember to keep everything entertaining, even when you're describing the boring stuff! If you need to have sections of footage that seem dull, consider adding some GIFs or sound effects on top of them to keep it fun.
Top Video & Audio Editing Software For Gaming Youtubers
YouTubers with gaming channels need to use a variety of software to capture, edit and publish their videos. Some are free to use but others require subscriptions. Here are our top picks:
Organize Gaming Videos Into Playlists
Once you have started to create a library of videos, hopefully, a few of them (if not all of them) are related in some way! All of the videos that fit into one or multiple categories can be added to a YouTube playlist.
Playlists help viewers find content similar to the video they're already watching. In some cases, they will be sent directly to the next video in the playlist once they're finished watching the first. It's a great way of encouraging viewers to watch more of your content.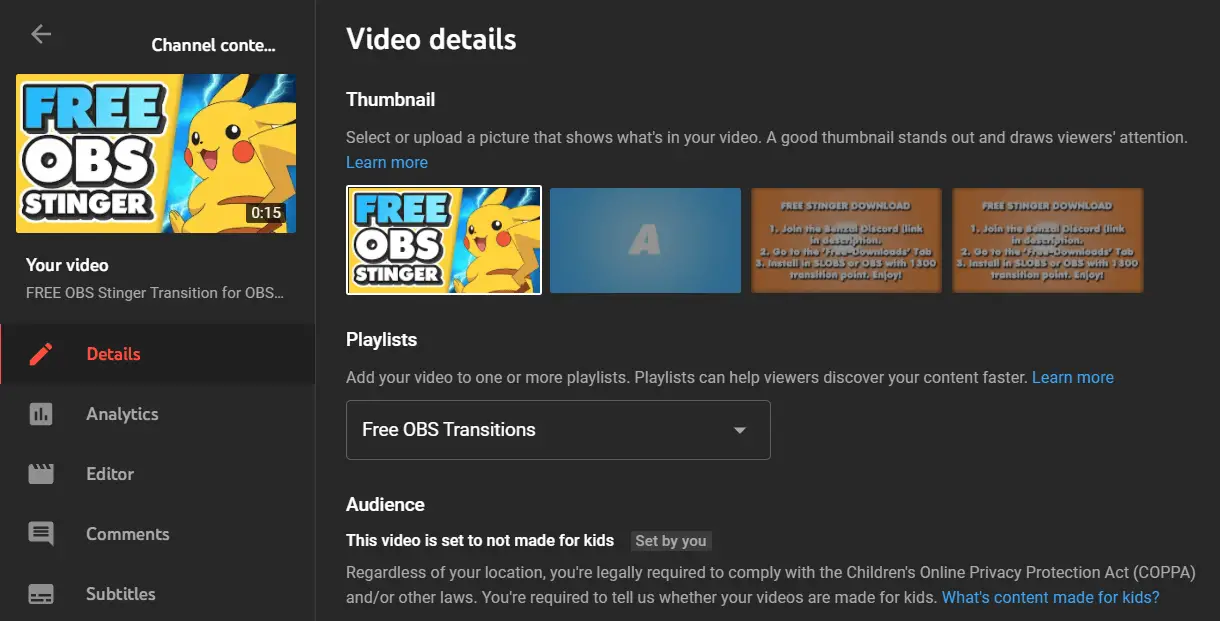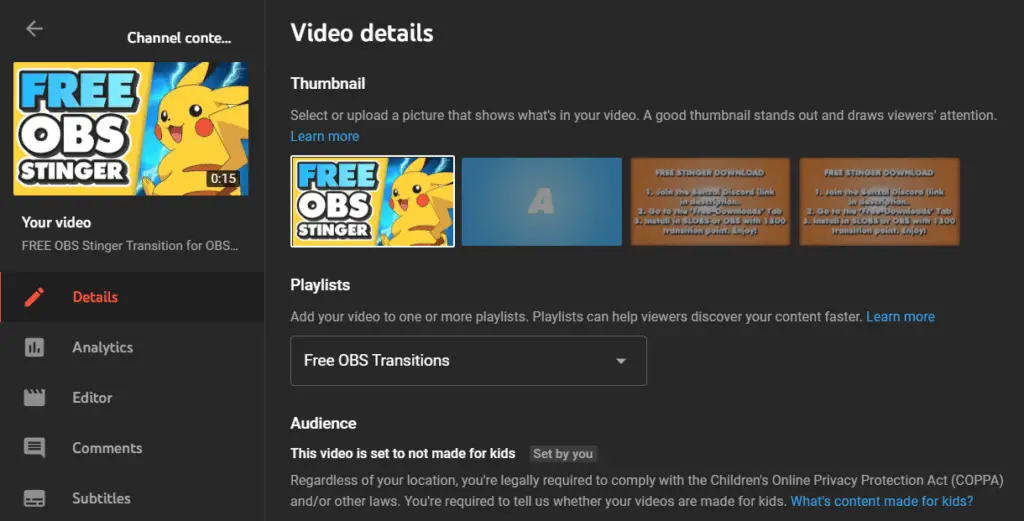 To add a video to a playlist, go to your YouTube studio and select the video you want to add to a playlist. Under playlists, click the drop-down menu and select a pre-made playlist or click new playlist.
You will also be prompted to add a video to a playlist when you upload it. This saves you from having to come to this menu later to do so.
Build A Gaming Community
Developing a community is vital for growth on YouTube and essential for creators who are starting a gaming channel. Having a group of like-minded viewers promotes interactivity on your channel and in turn increases your chances of being recommended in the YouTube algorithm.
Now you need to think about not how to start a YouTube gaming channel but how to build a gaming community!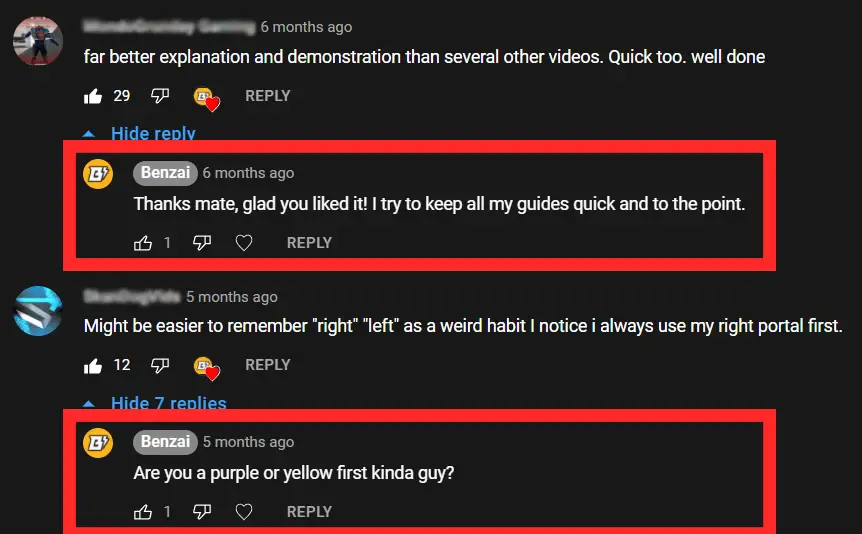 The most basic way to start developing a community of loyal viewers is to reply to their interactions. The main way viewers interact with creators on YouTube is through comments, so be sure to reply when you do start getting comments on your videos.
Unlike setting up an external community, commenting with replies is relatively simple. Just navigate to the video you have a comment on, scroll down and click reply on the comment. You can now type your reply and submit it.
You can use these replies to be humorous and fun, but also to promote other videos on your channel if you think the commenter might like them. Don't be shy to gently push your other content, the commenter might enjoy it!
Include Viewers In Your Video Content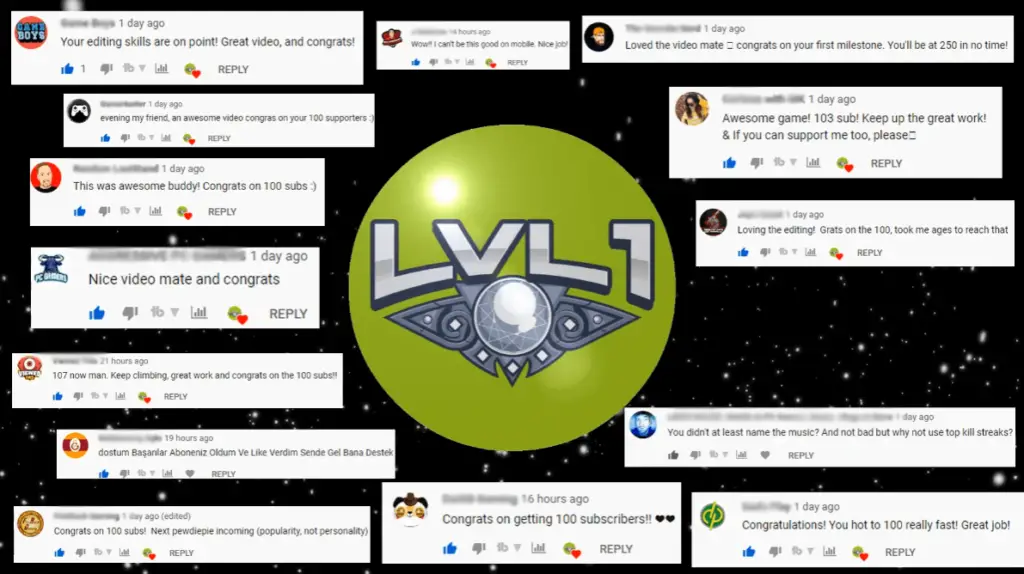 Consider including viewers in your videos! In the above example, a creator has put screenshots of comments from viewers into their video as they answer them. Not only does this look interesting it also shows viewers that the creator has seen and cares about their interaction.
Another way you can get viewers physically into your content is to have them join you in-game or stream. New viewers can be hard to trust, so set up a membership program for those who want to commit to this feature.
Create A Gaming Community Outside Of YouTube
You should also consider creating a community outside of YouTube for times when you are on the go or not on your internet browser.
Discord
Discord is a forum-based service that has developed into a very secure chatroom over the years. Creators can start their server and create different tabs and sections for their content information and advertising. Viewers usually get access to a chatroom, where they can talk to other fans and the creator directly.
Twitter
Twitter is a great way of keeping your viewers updated on new releases and other information without having to put out a whole new video on YouTube. It's more of a one-way conversation than Discord but you can still reply to comments on Twitter as you would on YouTube.
Other Options
Other social media applications popular with creators include Instagram, Facebook, and TikTok, all of which are great ways of marketing content and interacting with viewers.
Understanding YouTube Gaming
If you're wondering how to start a YouTube gaming channel, you probably already know about YouTube Gaming. YouTube Gaming is a category on YouTube where viewers can find videos solely about gaming. When you create a video YouTube asks you to categorize it as gaming and select the game that it covers. This will then put it into the YouTube gaming page under that game's umbrella category.
This is just one way that viewers will find your videos, but you can help yourself massively by understanding how YouTube works for gamers…
Youtube As A Search Engine
YouTube is essentially a search engine, like Google. People come to the website to find videos that they are interested in and search for keywords and terms in the search bar.
As a gaming creator, you need to be creating videos on subjects that people need answers to or enjoy. If you wouldn't search for the type of video you are creating, neither will anyone else!
SEO Optimization
To help your gaming videos rank higher, you can optimize your SEO. SEO stands for Search Engine Optimization and will help you achieve better views and subscriber counts on your gaming channel.
SEO optimization is a whole other kettle of fish! If you do want to find out more, head over to our article on YouTube SEO.
Growth And Development
As you start seeing more and more views on your videos, it's important to plan ahead to continue growing. It's okay knowing how to start a YouTube gaming channel, but how do you then continue your success? This entails planning video series' based on channel analytics and taking on viewer feedback to keep regular viewers coming back for more.
Utilize Analytics To Pick Games And Topics
Your video analytics tell a story. They tell you everything from how long viewers watched your video to where in the world they watched from. All of this information can be really helpful in identifying popular trends and unsuccessful content. This helps you continue to grow and avoid making low-view videos in the future.
To access your video analytics go to YouTube Studio and select a video from your library of content.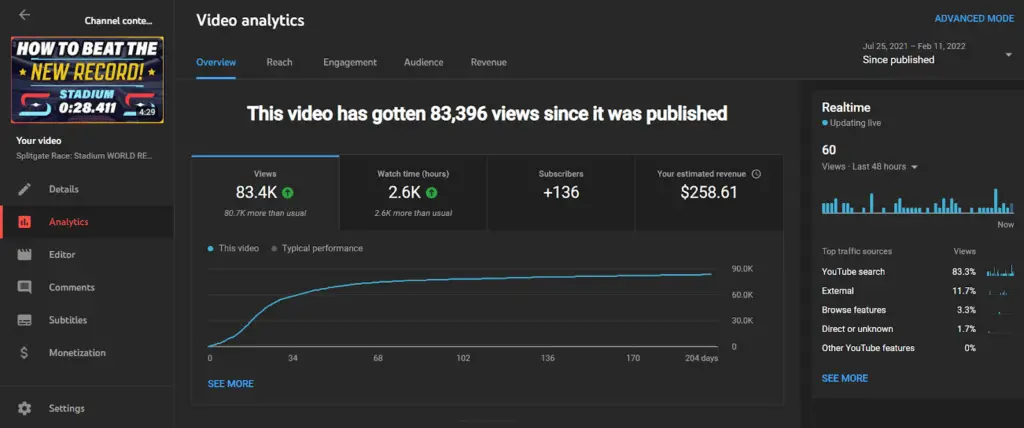 On the analytics landing page, you will see a whole host of data regarding the video you posted. There are 5 tabs at the top to navigate through, with each one showing you different data:
Overview – A basic overview of the most important statistics for your channel.

Reach – Find the sources of your traffic (YouTube, External, End Screens, etc.), your click-through rates, and unique viewer stats.

Engagement – Find out how long people have been watching your video for and the total hours watched on your video.

Audience – Get inside information on where your viewers are watching from and other demographics such as age and gender.

Revenue – This is only available if your channel is monetized. Shows a breakdown of ad revenue and other income.
Analyze each tab carefully and you can identify what is successful on your channel and what isn't. Build on trends and you will see your subscriber count increase with your views.
In Conclusion
Starting a gaming channel can be tough. For the first few weeks, likely, your view counts won't exceed double figures, but that's okay! In fact, that's how everyone starts on YouTube. It's only those who stick with it that eventually find success.
The biggest tip for starting a YouTube gaming channel is to be patient and always self-critical. Use all of the data YouTube gives you to modify your content towards trending topics.
Listen to your viewers! If they are all suggesting a feature or topic for another video, you should probably be making that video. Of course, you should create what you enjoy but viewers regularly have good ideas that will be prosperous in terms of view count.
Follow all of the steps shown in this article and we are certain you'll know how to start a YouTube gaming channel in no time at all!