Streaming on Twitch to zero viewers is no fun. A lot of creators put a huge amount of effort into their content and still end up with a small viewer count. There are hundreds of factors that influence success on the platform and choosing the best days to stream on Twitch is one of them.
Picking a day and time out of an entire week can seem like pot luck but there are plenty of hints and tips in your analytics telling you when you'll be most successful. You just need to know where to look.
Read on below to find out how to read your analytics on Twitch and external websites to help you choose the most successful day and time to stream.
Weekends or Weekdays; Which Are the Best Days to Stream?
The first question many creators ask themselves is whether to stream on weekends or weekdays. Some jump to the conclusion that because weekends are 'free' days that there are more viewers on Twitch. Although the above statement is true, there are also a bunch of other factors to consider.
Yes, there are more viewers on Twitch over the weekend, but there are also a LOT more channels streaming content. When taking into account the oversaturation of channels streaming on weekends, there isn't that much of a difference between streaming on weekends and weekdays evenings. It entirely depends on each channel's target demographic and audience.
To find out the viewing trends of your target audience, you need to go a bit deeper into Twitch analytics …
How To Choose The Best Days To Stream On Twitch
Choosing a day to stream on Twitch shouldn't be a random process. If you base your decision on analytical data and viewing figures, you can increase your chances of high viewer counts!
Check TwitchTracker
TwitchTracker is an independent stats tracker that provides data and analytics for loads of different Twitch related features including:
Individual channel data
Individual game data
General Twitch statistics
Current active streamers
Demographic statistics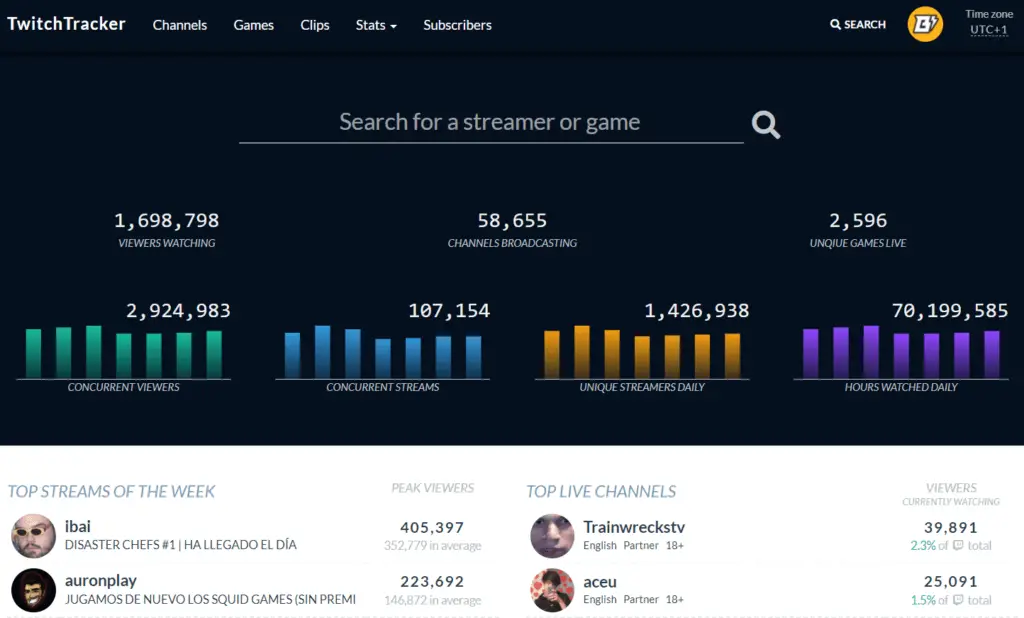 For those creators who want to optimize their content and increase their chance of success, it's an invaluable tool.
Log in with your Twitch account and check your account analytics or choose to browse through helpful generic Twitch data.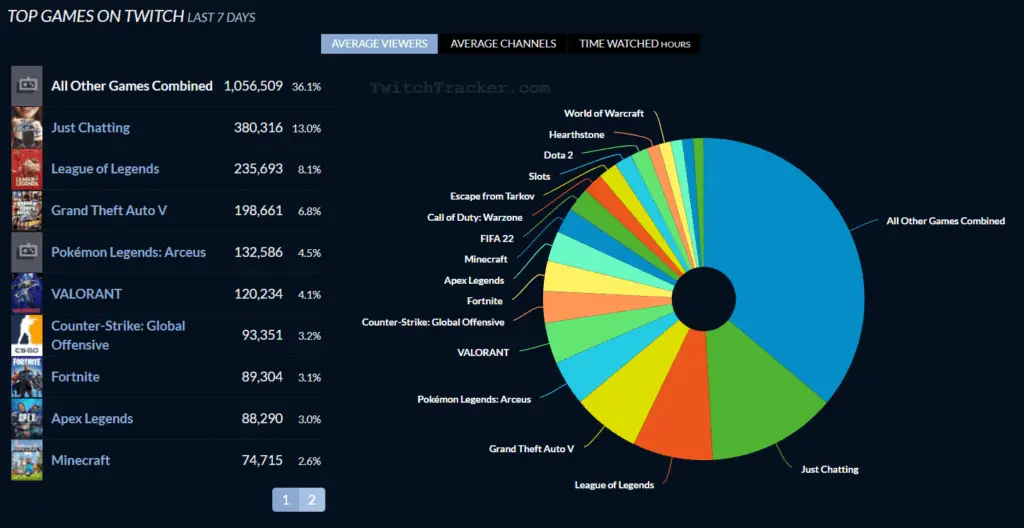 You can log in and check TwitchTracker for free right here.
Check Specific Game Data
If you do hone down on one specific game on your Twitch channel, TwitchTracker can isolate data and statistics for that one game.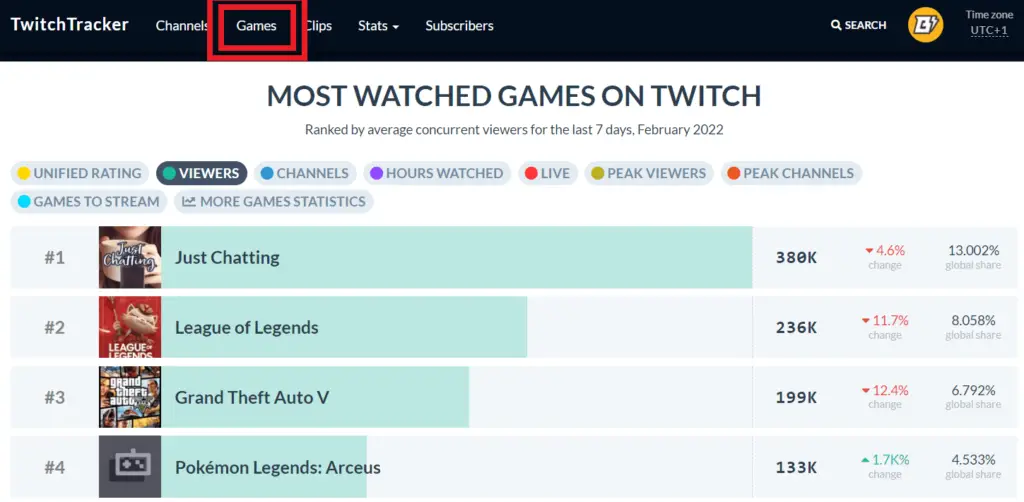 On the homepage, click the games tab in the header of the page. This will take you to a list of the current most popular games on Twitch.
If you don't find the game you're looking for on this list, scroll to the bottom of the page and find the page navigation buttons.
Unfortunately at this time, there is no search feature built into this list. If you do want to search for a specific game, search for it on Google and add the suffix TwitchTracker. For example, if I wanted the TwitchTracker stats for Rust, I would search Rust TwitchTracker. You can see below that it does come up with the correct page!
Once you are on your chosen game's statistics page there is tonnes of data regarding that game's coverage on Twitch including its rank on the site, hours watched, and much much more.
To find the data that will help you with choosing the best day to stream on Twitch, scroll down towards the bottom of the page and find the days of the week analysis.


From here, you can see the average viewer count for each day of the week, the number of channels streaming the game, and the average hours watched.
Below the breakdown, there will be a summary statement. This is probably the most valuable piece of information on this page! It tells you how many more or fewer channels are streaming that game on weekends and also how many more viewers watch at that time.
You can make a conclusion based on this data as to which day of the week is best to stream. If the percentage of viewers increase is higher than the percentage of channels streaming on weekends, it's probably best to pick a weekend day to stream and vice versa.
Check Your Own Analytics
The channel analytics tab in your Twitch creator dashboard also provides plenty of statistical data to help you decide on when to stream.
Navigate to your creator dashboard by clicking your channel logo in the top right-hand corner of the page. Click creator dashboard in the drop-down menu that appears.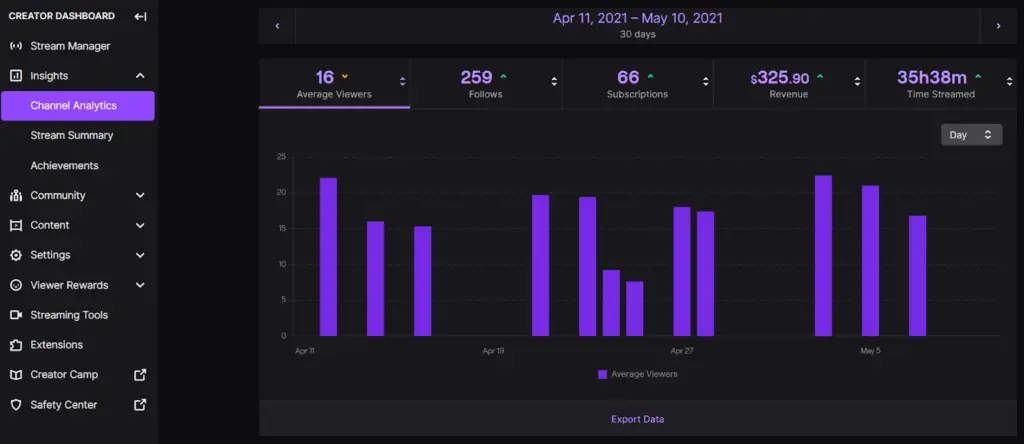 Once inside your creator dashboard, click insights in the left-hand side menu list and then channel analytics inside the drop-down that appears.
There will now be a graph on the right-hand side of the screen. This graph displays viewing data from previous days, weeks, or months. You can edit the period that it shows data for by clicking the date range at the top of the screen (in this case, click Apr 11, 2021- May 10, 2021).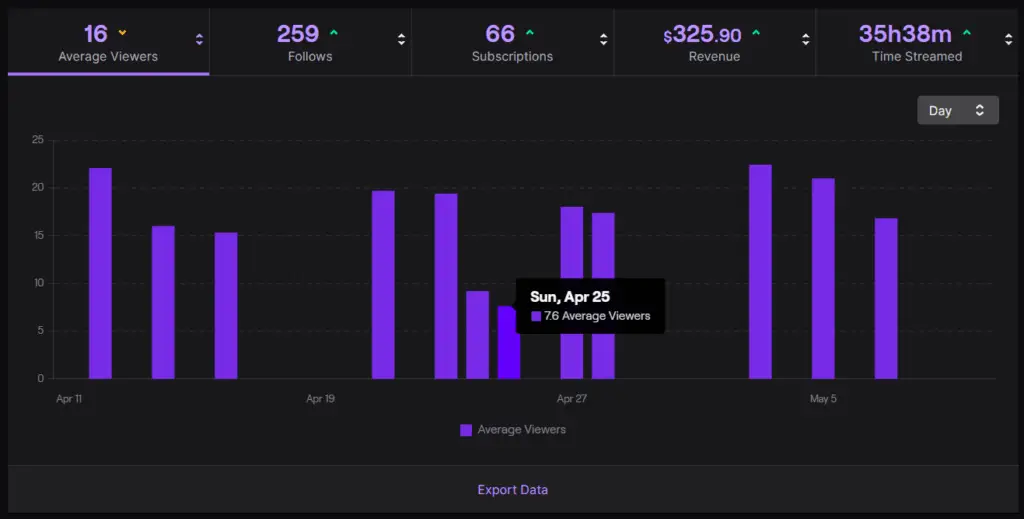 Hover your mouse over one of the blue bars in the graph. It will now show you the day of that stream and also the average viewer count. By doing this on multiple different bars you can see the difference between streaming on certain days.
In the above example, the streamer streamed on a Sunday and had 7.6 average viewers. The bar on the left is a Saturday and also had a low count of 9 average viewers.
However, the below example shows data from a Monday stream. That stream had 22 average viewers. The next two bars are a Wednesday and Friday and also had averages above 15.
From using this data in Twitch analytics, you can conclude that (for this channel) streaming on a weekday is more successful than streaming on a weekend. Of course, you should check data for multiple weeks and days, not just one week as it may not be a fair representation.
How To Choose A Time To Stream
Choosing a time to stream is a little more difficult than picking a day. People tend to have responsibilities and commitments that restrict the times at which they can stream.
If you do have the freedom to choose your streaming hours, that's great! Stream time can massively affect stream performance. There are a few things to cross-check to help you pick and choose when to go live.
Consider Your Target Audience
Before getting into analytics or statistical data, take a moment to think about who you are streaming to.
If you have been streaming for a while, chances are you know some of your regular viewers fairly well and have a good idea as to their age range and location. While trying to grow on Twitch it's important to keep the regulars happy and coming back for more, so don't pick a time when they absolutely cannot make it.
For example, if you stream a game popular with those under 18 (such as Fortnite or Minecraft), consider that your target audience will most probably be in school/college during weekday daytimes. Similarly, if you stream a sports game such as Fifa on a Saturday afternoon GMT, most of your viewers will be watching the real games instead! Put some consideration into these factors and immediately boost your channel's performance.
Also, if you're unsure if a stream time is good or bad for your regular views, just ask! Asking makes it appear as though you care for your viewers and can ultimately improve your community relationship.
Stream At Peak or Off-Peak Times
TwitchTracker has a feature that displays the number of viewers and channels that are live at certain times during the day.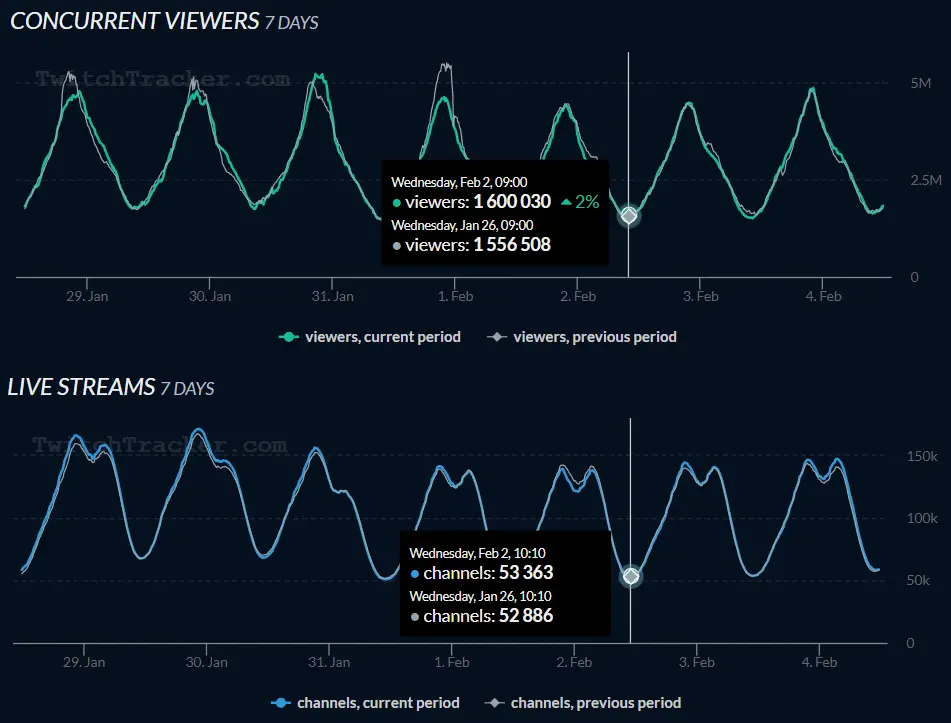 You can use this data to determine when the best window is for maximum exposure on Twitch, but it does depend on the size of your channel.
For Smaller Twitch Channels
Smaller channels should stream at times with the least competition. This increases maximum exposure and boosts the likeliness of a channel being recommended to new viewers.
Using the data above, the dips on the blue graph represent when there are fewer channels online. These tend to be weekday mornings and late nights. They can be very tough times to stream if you have other commitments but will show great results if you can commit to these off-peak times.
For Larger Twitch Channels
If you already have a committed community that regularly shows up to your streams, you will want to stream at times when there are the most viewers online.
At this stage, your viewers are going to come and watch you regardless of the time you stream. If you have a viewer average of over 30, you are highly likely to be recommended to viewers on their homepage. For this reason, you need to choose a time when most people are online.
From the above green graph, you can see that peak times for viewers tend to be evenings, every day of the week.
In Conclusion
Statistical data and stream analytics are often ignored. Some creators aren't aware that these numbers, when analyzed correctly, can help them make seriously beneficial decisions for their channel.
Don't sleep on Twitch and TwitchTracker analytics. Use them to your advantage and stream on days and at times that greatly improve your chances of growth and success on Twitch!
For more expert Twitch advice, be sure to check our article on the top tips from Twitch professionals right here!