Recording podcast interviews remotely has become the norm today. There are several advantages to doing remote interviews as it allows you to have guests on your show you would otherwise not be able to get on location.
Knowing what tools to use and how to record a podcast interview remotely is essential to avoid mistakes and to get your interviews running smoothly. This article will show you exactly what you need to set up and record a podcast interview with a remote guest.
The Equipment You Will Need
To interview a podcast guest remotely, you will need a basic setup: a proper microphone and a good pair of headphones.
Microphone – We recommend getting a USB microphone. They are easy to set up and often provide good quality for stationary podcasts. Microphones like Blue Snowball or Blue Yeti are some great options you can go with.
Headphones – Headphones have to be comfortable but also soundproof to avoid sound leakage into the call. You do not want to get weird feedback loops in your audio. You could even do a podcast with some simple earbuds as well, but you can expect the same quality.
Location – Just as important as the hardware is where you choose to record your podcast. Make sure to find a quiet place. Ideally, a carpeted room or even a closet to avoid echoes. You could also get a sound-absorbing reflection filter if you want a more professional setup.
What Your Guest Needs
When interviewing a podcast guest remotely, it's impossible to expect them to have a professional studio setup. But there are a few things to keep in mind.
Try to encourage your guest to use headphones or earbuds to avoid sound leakage and feedback loops in the audio. If they can, they should not rely on the mic of their computer or laptop, but instead, use their external mic from their earpiece.
Stable internet is also vital. Communicate to your guest that the call is best done somewhere with stable wifi or wired connection.
A guest might never have done a remote interview before, so it is always good to tell them some of the things above before doing the interview. This could be done through a text, call, or email.
Decide If You Are Going to Record Video
You will have to decide whether ot not you are going to record video for your podcast. If you plan to upload or live-stream your podcast to platforms like youtube or Twitch, you will have to think about video as well.
How to Record a Podcast Interview Remotely
When doing long-distance interviews, ease of use for your guest should always be the priority. With that in mind, let's look at some options available for podcasters and show you how to record a podcast interview remotely:
Zoom is one of the best options to record podcast interviews on. This is mainly due to their high-quality audio and video transmission, built-in recording capabilities, and ease of use.
Because zoom is so well known, you also don't have to worry about confusion from the guests as they are probably familiar with it or have heard of it before.
Zoom exports separate audio tracks for each speaker on the call, making it easy to edit your podcast interview later. The main drawback is that it exports compressed audio files. This will diminish quality somewhat. But not significantly.
Ecamm Call Recorder for FaceTime
Making it even easier for your guest, you could do an interview through a FaceTime call. But you will first have to purchase the software. FaceTime calls are not the best options in terms of quality. And there is always the risk of the call dropping or a bad transmission.
Zencastr is a web-based podcast recorder that offers great quality and a simple interface. It is excellent for recording remote interviews. The platform provides a free plan, so you don't have to worry about budget constraints.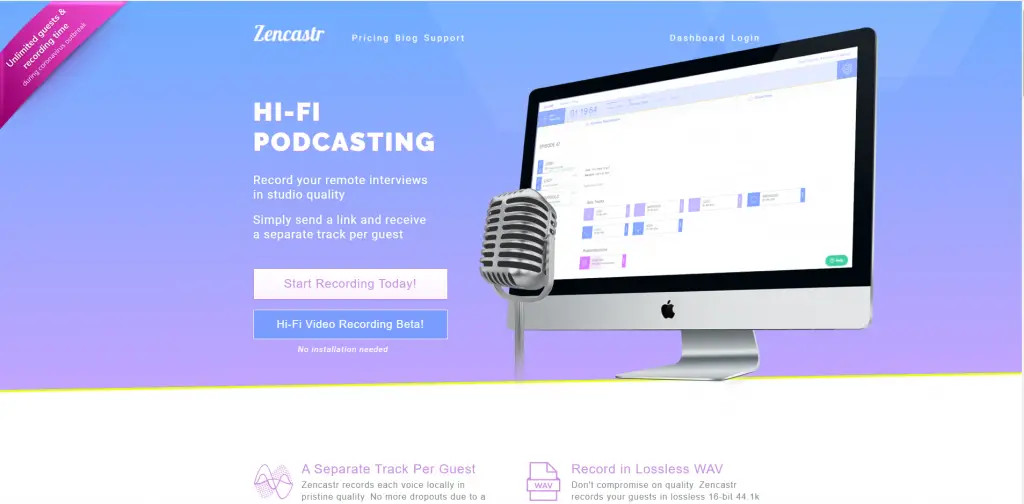 With riverside.fm, you can record podcast interviews directly on your browser. It exports studio-quality audio and video directly to your computer. You can also integrate it with Youtube Live or Twitch, live streaming your podcast interviews. It is a paid service, though, but they do offer a free trial.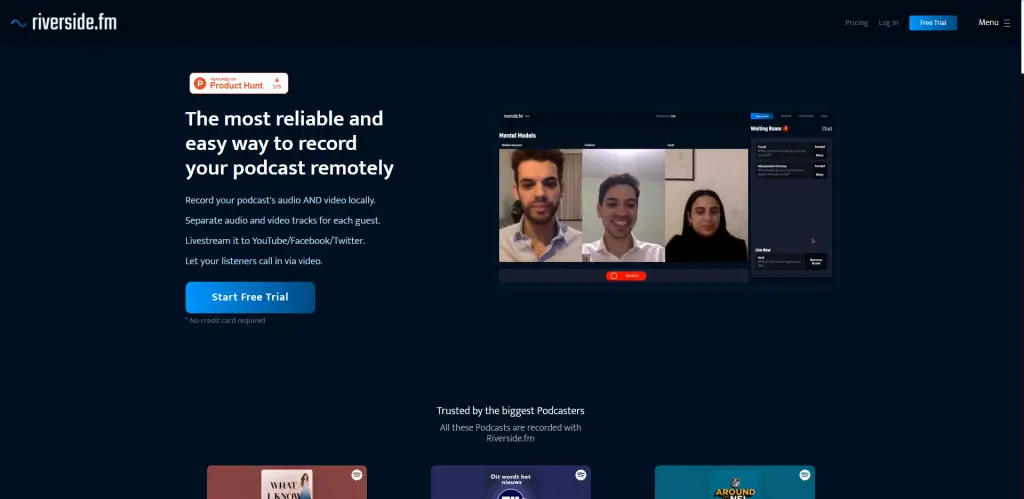 Double Ender
To pull off a double-ender interview, you will need a guest with some technical know-how.
A double-ender is where both the host and the guest record their audio locally on their own device. The files are later collected for editing. Doing it this way allows for better sound quality as the files are uncompressed. There is also no limit on how many guests you could have at the same time.
You could easily use any free software like Audacity or GarageBand to record a double-ender.
Using Skype for Podcast Interviews
We did not mention skype on this list because there are simply better options available. Skypes audio quality is lacking, and calls are exported in compressed .mp4 files that give you less detail when editing your podcast. Overall, you are better off going with Zoom or one of the other options above.
How to Edit a Remote Podcast Interview
After you recorded the interview, it is time to edit. If you only recorded sound, you can easily mix the podcast with Audacity or GarageBand. For video recordings, you will need a video editor like iMovie or Premiere Pro.
Check out this article to learn how to edit a podcast in audacity: How to Record and Edit a Podcast in Audacity
Remote Interview Etiquette
When conducting a podcast interview remotely, make sure to be respectful and be a good host to your guest. Other than proper interview etiquette, below are some other things to keep in mind:
Speak close to the microphone. (Check your audio levels before going on the call)
Be patient if there is some audio delay on the call, don't ask too many questions at the same time or speak too fast.
Expect technical issues; they can usually be fixed!
In Conclusion
By now, you should be equipped with all the knowledge you need to conduct a killer remote podcast interview! It might all sound a bit technical at first, but it is not as hard as it seems.