Bringing guests on your podcast has many benefits. It is one of the best ways to grow your audience and provide amazing value to your listeners.
But how do you find guests for your podcast? And how do you reach out to them? In this complete guide, we will show you the best way to get podcast guests on your show. We hope you enjoy!
If you want to learn more about podcasting, you might find our other articles helpful as well:
Benefits of Podcast Guests
Having podcast guests is the norm today. Some podcasts do it for some episodes, while others build their show around guest interviews. It's not hard to see why it is such a popular format with all the benefits you get from it. Below are the three main advantages of featuring guests on your show:
Knowledge – Bringing experts on your podcast offers a lot of value to your listeners. Even if you are very knowledgeable in your field, there probably are many people who know more than you or are experts in a related field.
Variety – Guests help keep your podcast interesting, giving different interactions and dynamics to the hosts. A guest can also bring captivative stories, new viewpoints, and personality to a podcast episode.
Promotion – Often, the guest will have an audience of their own that is introduced to your content. Bringing on guests to your show can help your podcast grow.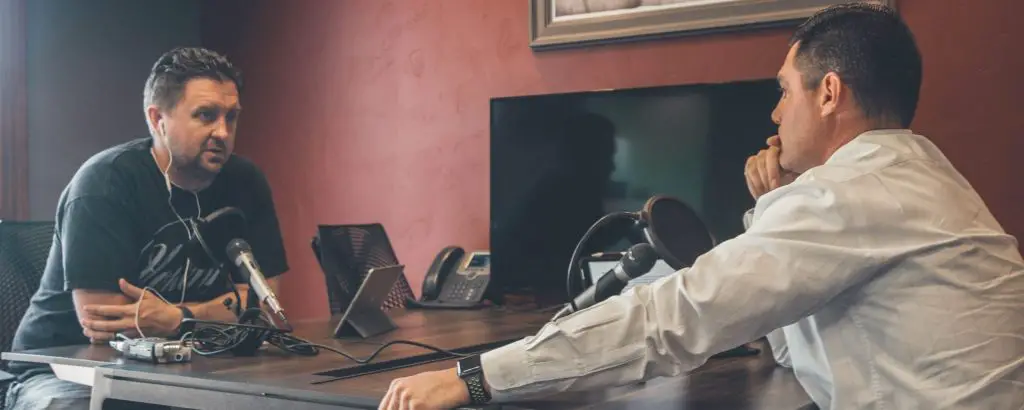 How to Find Podcast Guests
To get guests on your podcast, you have to be proactive. You are going to have to do research and a lot of work. Do not be afraid to reach out to as many people as possible.
Research Your Audience
Before contacting any potential guests, you have to know what your audience wants to see. You should already have defined a clear topic or niche for your podcast. Look for guests that can provide value to your listeners within that niche.
Where to Find Guests for Your Podcast
You can find potential podcast guests in many places. You just have to know where to look. Below are the best places to find people that can appear on your show:
YouTubers & Bloggers
One of the best ways to find podcast guests is by reaching out to people who already create content within your field. Whatever your podcast's topic is, there likely are many blogs and youtube channels within that niche already.
Competitors podcast
Go through your competitor's podcasts to see who has appeared on their show. These guests are more likely to say yes because they are already willing to go on a podcast and share their knowledge with an audience.
Up-and-coming book publications
Go to sites like Amazon to find up-and-coming book publications within your niche. Reach out to authors to see if they are willing to promote their new book on your show.
LinkedIn
If you want podcast guests with specific careers or within the business space, LinkedIn is a great place to look. It is easy to find people in your area, and you can quickly reach out using LinkedIn Connect.
Facebook groups
Facebook is another place you can look for potential guests. We recommend Facebook groups, as they are the places people with the same interests or careers meet.
Podcast guest sites
You can use podcast guest sites like matchmaker.fm or podcastguests.com to get people on your show. Their directories already have hundreds of potential guests for your podcast.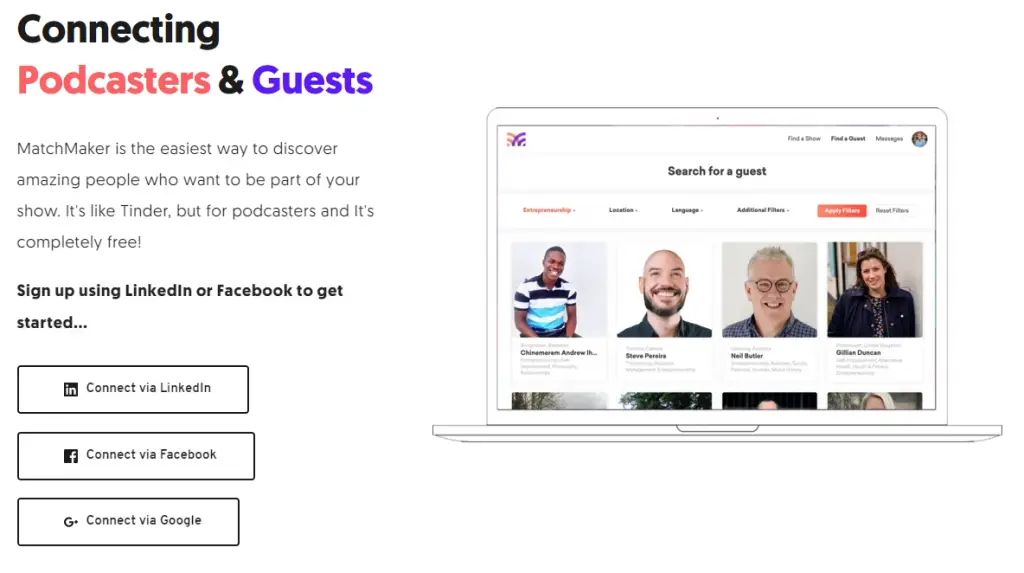 Make a List of Potential Guests
Now you have a few avenues to explore to find great guests for your podcast. The next step is to make a list.
Try to add variety to your list. Include people from diverse backgrounds and careers within your niche. It doesn't hurt to include a few celebrities too. This will help keep your content fresh and exciting for your listeners.
We recommend setting up your list using something like Google Sheets to keep things organized and neat.
How to Reach Out to Podcast Guests
When you have a list of potential guests for your podcast, it is time to reach out to each person on the list. The primary way is through email, although you could contact them through social media as well.
Email
Many podcasters write a generic email that they send to a bunch of people with no follow-up. As you might have guessed, that strategy has a low success rate.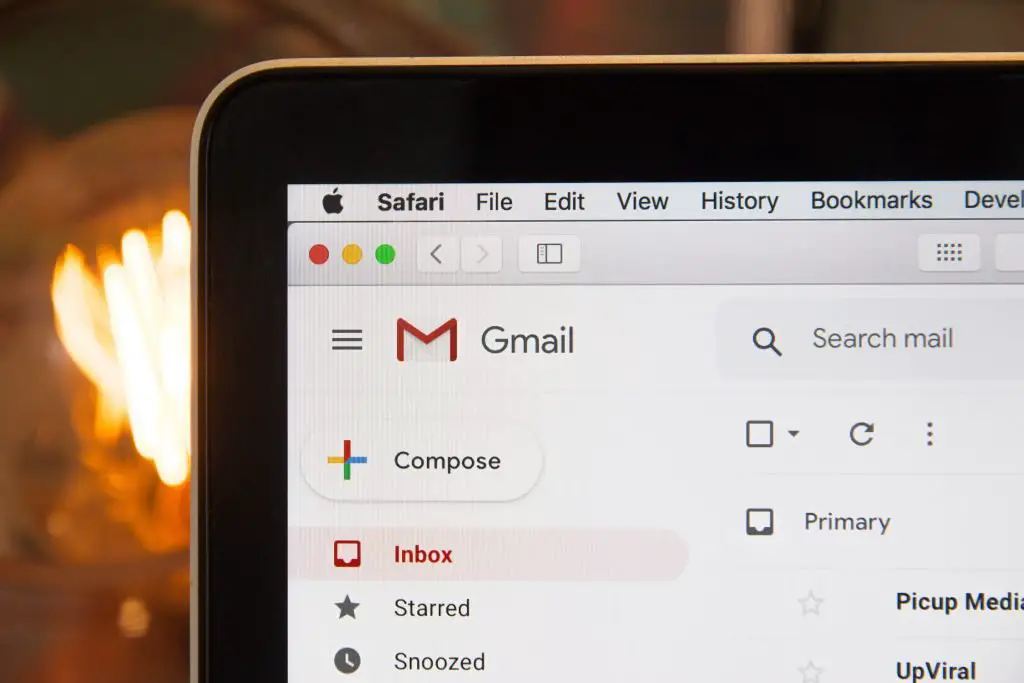 What you want to do instead is to tailor each email to the person you are inviting with personalized and valuable text. Keep in mind that this will require some initial research on your part.
What should be included in your podcast reach out email:
A compelling subject line
Elevator pitch summary of your podcast
Explain why he or she would be a good fit for your show.
List the benefits for your guest by being on the show
Include a link so they can easily accept the invite/schedule a time
Keep it short – Always assume your potential guest is very busy. Writing an autobiography or several paragraphs is probably not going to get you so far. Keep your pitch short and simple.
Highlight what they get out of it – Outline the benefits to the guest. Ultimately, whoever goes on your podcast, will give up some of their valuable time. Make sure to communicate what they get in return.
Make it easy for them to take action – Directly link to a booking page where they can answer yes or no. Make it easy for them to get booked on your show.
Follow up – If you get no response the first time (which will probably be often), do a follow-up email after a few weeks.
Outreach Email Template
Hey [name]!
My name is [your name], and I host [your podcast name], a podcast about [your topic (ideally summed up in one sentence]. I saw you on [Other Podcast, Social Media, Platform, etc.], and I'd like to invite you to the show.
I believe our audience would get great value from your appearance. We loved your [show/books/product] and the work you have done in [their work, field].
We could help [benefit to them: promote book, product, show, etc.]. I'd love to feature you on an upcoming episode and want to check your availability.
Interviews typically take about [x] minutes and are done via [Zoom, Phone, etc.].
Would this interest you?
I am looking forward to hearing back. I know you're very busy, so I understand if you have to decline.
Link to podcast: [Link to the Podcast]
See available dates here: [Link to booking page]
Cheers,
[your name and title]
Follow-up Email Template
Many times, your first email will go unread. Therefore it is important to follow up with a similar, smaller email.
Hello [name]
My name is [your name], and I am the host of [your podcast name], a podcast about [your topic (ideally summed up in one sentence]. A couple of weeks ago, I sent you an invitation to appear on our podcast but did not hear back.
I know you're very busy, so I understand if you had to decline.
We could help [benefit to them: promote book, product, show, etc.]. I'd still love to feature you on an upcoming episode and want to check your availability.
Link to podcast: [Link to the Podcast]
See available dates here: [Link to booking page]
Thanks,
[Your name]
Approaching Celebrities to Appear on Show
Celebrities get hundreds of emails every week, so reaching out to them is difficult. If you want someone more "famous" on your show, you have to get creative.
Try pitching to them through social media or even by sending a video or audio file. Some podcasters even send personalized letters inviting them to their show.
Be Persistent
When reaching out to potential podcast guests, expect some to say no, and most to never answer at all. This is even if you have reached out with a great personalized email. You should not be discouraged, though, as this is entirely normal. Instead, send a follow-up email after a couple of weeks if you haven't gotten an answer.
What to Do When a Guest Accepts
Someone has agreed to be on your show. Congratulations! You have come further than most people. Now, its time to get to work before the guest appears on your podcast.
Research the Guest
When you get a yes from an invite, do some deeper research on the guest you are having on your podcast. Look at their background, career, and other things that could be relevant to your episode. This will give you a better idea of who that person is, and lets you ask better questions during the interview.
Pre-Interview
Some podcasters have a phone call before they record the episode. This could be a week in advance or even 20 minutes before you start recording. This could help you find what questions to explore and what the guest would want to talk about or emphasize during the interview.
The Interview
Now is time for the interview. If you are conducting the interview remotely, we recommend this article to help you further: How to Record a Podcast Interview Remotely
In Conclusion
Getting guests on your show can be challenging, and persistence is the key. Still, it is well worth the time and effort you put in. Just remember to do your research, craft personalized invites, and be consistent. Good luck!