Music is a great way to convey emotion to an audience and make a vlog stand out from the crowd. You can use music in vlogs for intros, outros, or really anything in between. 
But you can't just use any music though. Youtube has strict policies and guidelines restricting you from using copyrighted material. What you need is royalty-free music for vlogs. Yet, we are all too familiar with "cringey" stock music used in some videos. That simply won't do, but don't worry.
Below is a list of the best royalty-free music sites and libraries for your vlogs, both free and paid. This guide will also show you how to contact owners of licensed music directly to use for your vlogs. 
The 7 Best Options to Find Music for Vlogs
This is Youtube's massive library of royalty-free soundtracks. They are all completely free. You can easily find what you are looking for by filtering by genre, instrument, and duration of the track. Youtube's Audio Library also offers sound effects you can use for sketches or vlogs.
When you use certain soundtracks, youtube might, in return, ask for an author citation in the description or to place ads on your video. 
The vast library and filter options make this option of the best free alternatives out there. One con with using these soundtracks is that someone is probably already using them for their content, making it harder to stand out as a vlogger and Youtuber.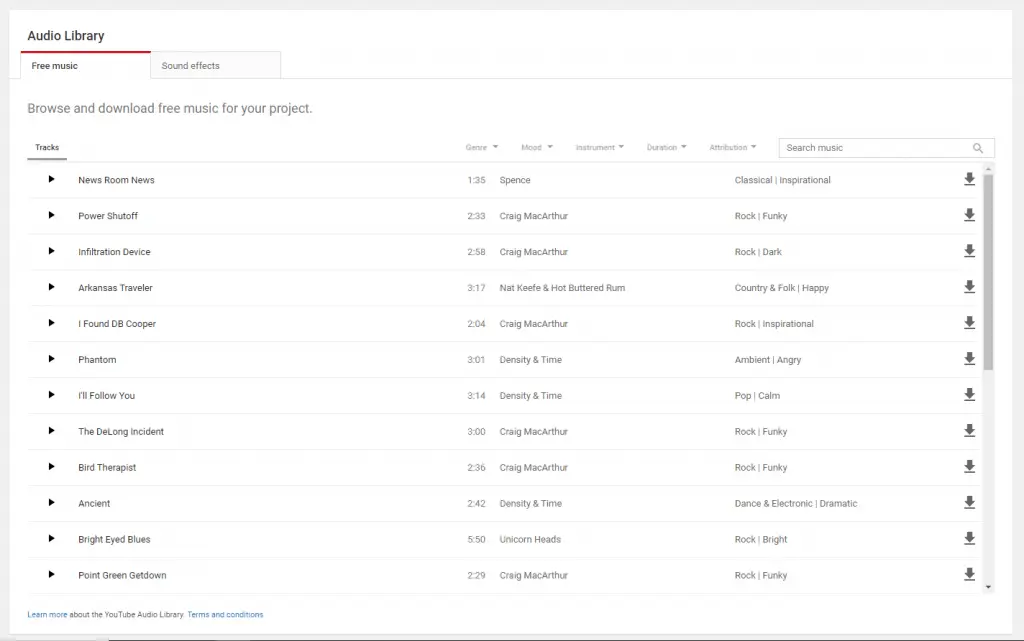 Highlights:
Entirely free for content creators on Youtube.
Includes sound effects
Good filtering options
This youtube channel is another free option for no-copyright stock music. Since this is an actual youtube channel, it does not offer the filter option as the youtube audio library. It might make it challenging to find specific music here. Expect it to take a while, but you will probably find something you like in their vast library, with more tracks added daily. 
With this being a popular channel, it also has the problem of other people using the same tracks. But if that does not bother you, this is another excellent free option.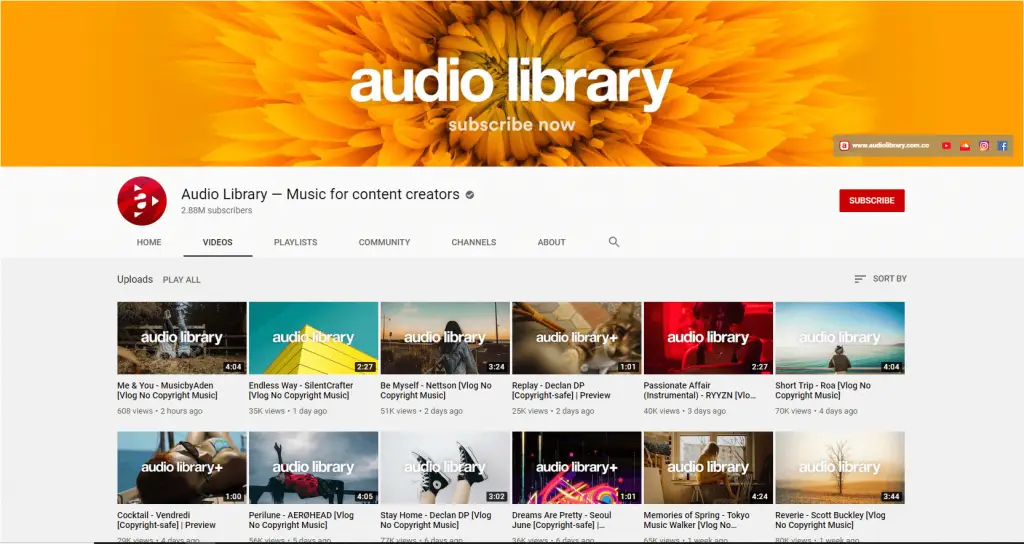 Highlights:
Completely free
No crediting required
Huge library
Bensound is the last free option on this list. Their website offers free stock music you can use on youtube. You need to credit them when using a track or choose to buy the license.
Bensound does not offer the variety as other options on this list. But it is still a useful resource considering it is free.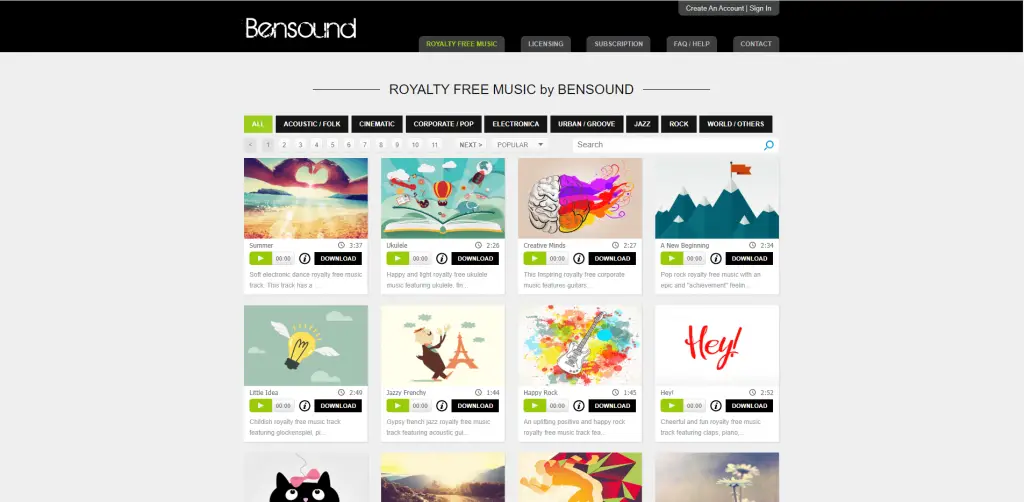 Highlights:
Free but requires crediting
AudioJungle is established in the royalty-free music industry. It is a subsidiary of Envato Market, a massive marketplace for all types of media. It has a huge library with songs that cost as little as $5. 
While You shouldn't expect the songs to be super unique or exclusive, AudioJungle would fit everyone looking into paid stock music. Just the sheer number of tracks guarantees you will find something you like here.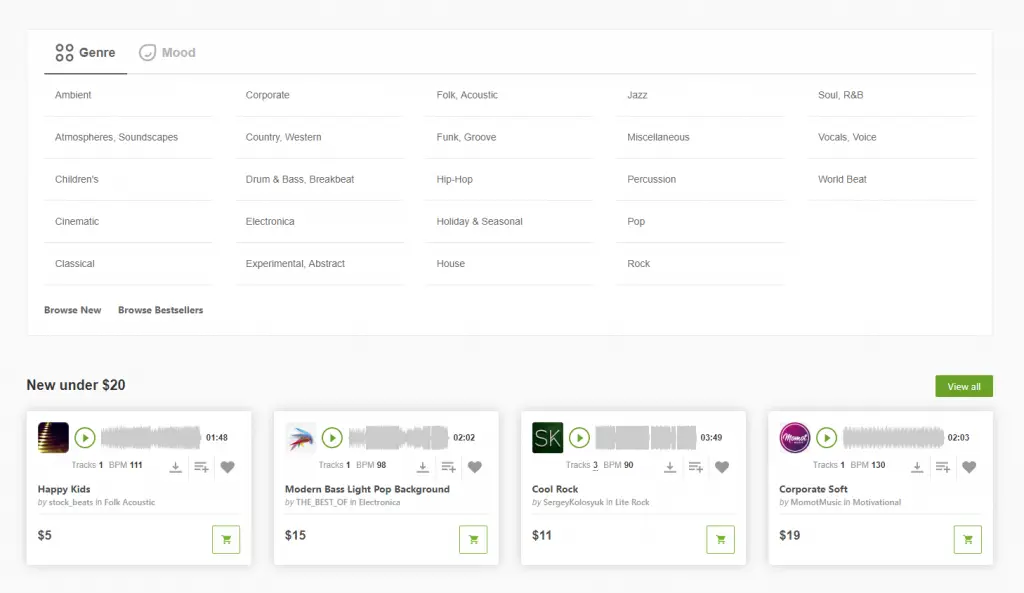 Highlights:
One of the biggest stock music markets
Includes sound effects
Low prices
As the name suggests, Premium Beat is a more exclusive option for royalty music. It is owned by Shutterstock (Stock images Library), a very reputable brand. 
Its library offers more polished, unique, high-quality tracks that you won't find anywhere else. They pride themselves in the quality over quantity philosophy. They don't accept submissions from just any artist.
Premium Beat is great if you want to improve on the music of your vlogs. Yet, it is not for more budget-conscious creators.
Highlights:
More exclusive and unique tracks
Quality over quantity philosophy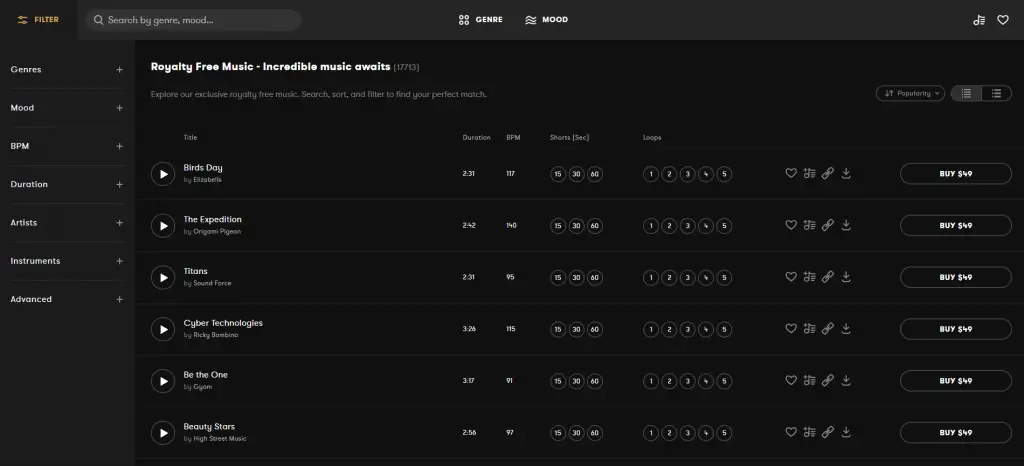 Unlike other options on this list, Artlist offers a subscription-based model that gives you access to their vast library. It allows for unlimited downloads of songs you can use forever. If you are using new music frequently for your content, a subscription-based model might be better for you.
Highlights:
Subscription-based model
Access to the whole library
Unlimited downloads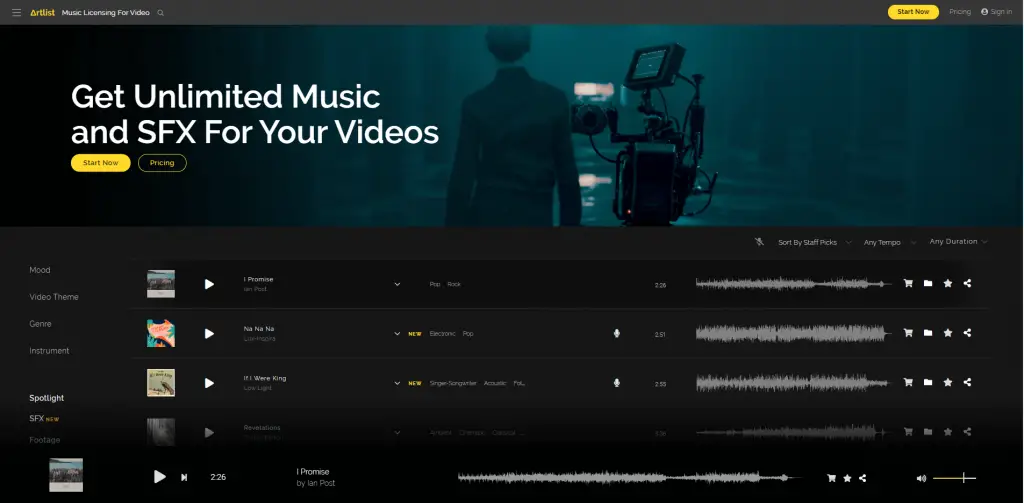 Pond5 has one of the largest stock audio libraries. It is not only limited to soundtracks but also provides sound effects and stock video at the same place. Worth checking out for sure. Price and quality vary greatly, with prices starting from $15 up to several thousand dollars.
Highlights:
Includes sound effects and stock video.
The price range starts at $15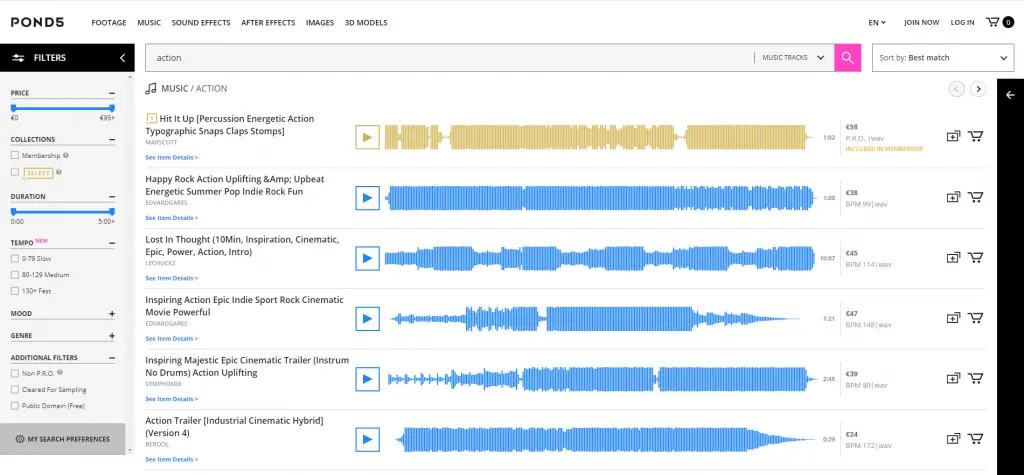 If You Want a Specific Song for Your Video
If there is a specific song that you want to use, you might not be satisfied with the options mentioned above. In that case, you might want to contact the owner and try to get a license.
How to contact a License owner:
First, you need to know what license you want. When it comes to soundtracks, there are two kinds of copyright licenses. 
Composition License – The rights to musical composition represents the written song—the lyrics and score. 
Master Use License – This is the right to the actual sound recording of the song.
A composition license would allow you to do a cover version of the song but doesn't give you the right to use the sound recording by the artist. To do that, you will need both the composition and Master use license to put it in your video or vlog. 
The publisher usually owns the rights to the music. The good news is that you don't have to contact an owner directly to get a license for a soundtrack. They are several websites and organizations that can help grant you the licenses. You just have to search their database for the song or artist you want.
SESAC –  https://www.sesac.com/#!/repertory/search
SESAC is a music rights organization based in the US. They have a vast database where you might find what you are looking for.
BMI https://repertoire.bmi.com/StartPage.aspx
BMI is another great resource for music licenses.
ASCAP- https://www.ascap.com/
Another music rights database based in America. They provide contact information on some searches.
Disclaimer: The information provided on this article and website does not, and is not intended to, constitute legal advice; all information, content, and materials available on this site are for general informational purposes only. Information on this article may not constitute the most up-to-date legal or other information. You should consult with an attorney before you rely on this information.
Tips When Using Music for Vlogs
Finding music for your videos is step one. You also need to fit it into your video in a nice way. Here are some tips on the most impactful way to use music for your vlogs.
Don't Overuse Music
While music is very effective for making better vlogs, sometimes silence is the best fit for a moment. Silent parts in your video also make the parts with music more impactful. 
Find the Right Tone
When you are using music, be sure to get the tone right. Any piece of music has an emotion attached to it. A track can sound happy, sad, intense, or funny. Figure out what your section or scene needs and use the appropriate music. 
Using music with the wrong tone makes it difficult for your audience to follow along, often creating awkward moments. The only way to find the right mood is through trial and error—practice, practice, practice.
Sound Levels
Use proper sound levels to ensure the music doesn't drown out any other sound in your video. Always make sure that dialog and other sounds can be heard loud and clear. Mixing music and dialogue can be very tricky for a beginner, so avoid that if you don't want more work.
In Conclusion
There is no reason not to have good music for your vlog. It is possible to find great music for free or very cheap. Using music in your videos is a great way to stand above the competition, conveying emotion to your audience, and creating a brand.