The first time you open OBS Studio can be overwhelming, especially if you are a beginner on streaming software. Don't worry, this beginner OBS Studio tutorial covers everything you need to know to get started.
We will show you all the steps from when you first open the software to recording your first video or live stream. We will also share the best-recommended settings for video output and how to add overlays, live chats, and more. 
If you are looking to start live streaming, check our ultimate guide on How to become a live streamer in 2020. You might also want to check out our list of Top 10 Cameras for Livestreaming.
Without further ado, this is the beginner OBS Studio Tutorial for 2021:
OBS Studio is open-source software, meaning it is entirely free to use. You can download it at www.obsproject.com.
Once you install and open the software for the first time, you will be greeted by an Auto-Configuration Wizard.
Auto-Configuration Wizard
The first time you open OBS Studio, it will run an auto-configuration wizard. If you are just getting started, follow the steps shown to get the best possible settings that your PC can handle. (You can also find the auto-configuration wizard in tools on the main menu.)
First, you get the option to choose between Optimize for Streaming or Optimize for Recording. This is self-explanatory. Select what you want to optimize OBS for.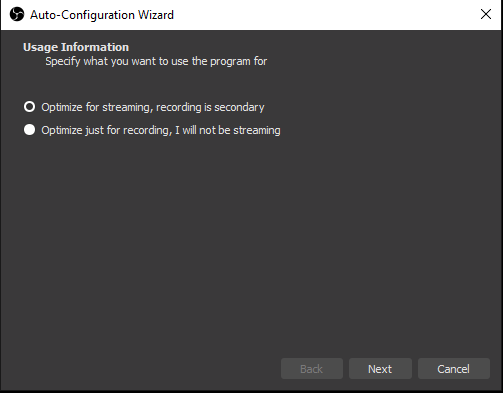 You then get to set up your video settings. 
Base Canvas Resolution: We recommend the "use current" option
FPS: Here, you can choose between prioritizing frame rate or resolution.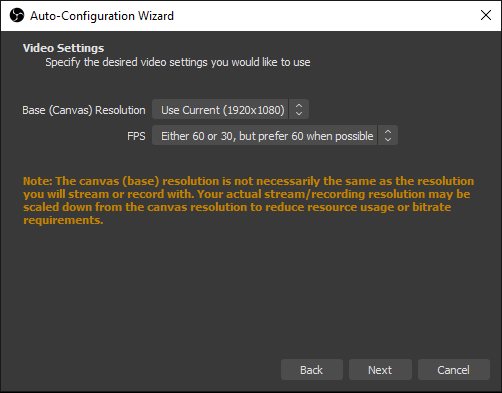 Generally, you want to prioritize a higher frame rate when recording or streaming video games, even in lower resolution. A low frame rate will make video game streams hard to watch.
If you want to record or stream your desktop or software, prioritize resolution over frame rate to capture all the detail on the screen.
Click Apply Settings.
The auto-configuration wizard works well for most people. But there are advanced tweaks you can make to maximize video quality. We will cover them later in the tutorial.
OBS Studio Enviroment
Now when you have OBS open, it will look something like this.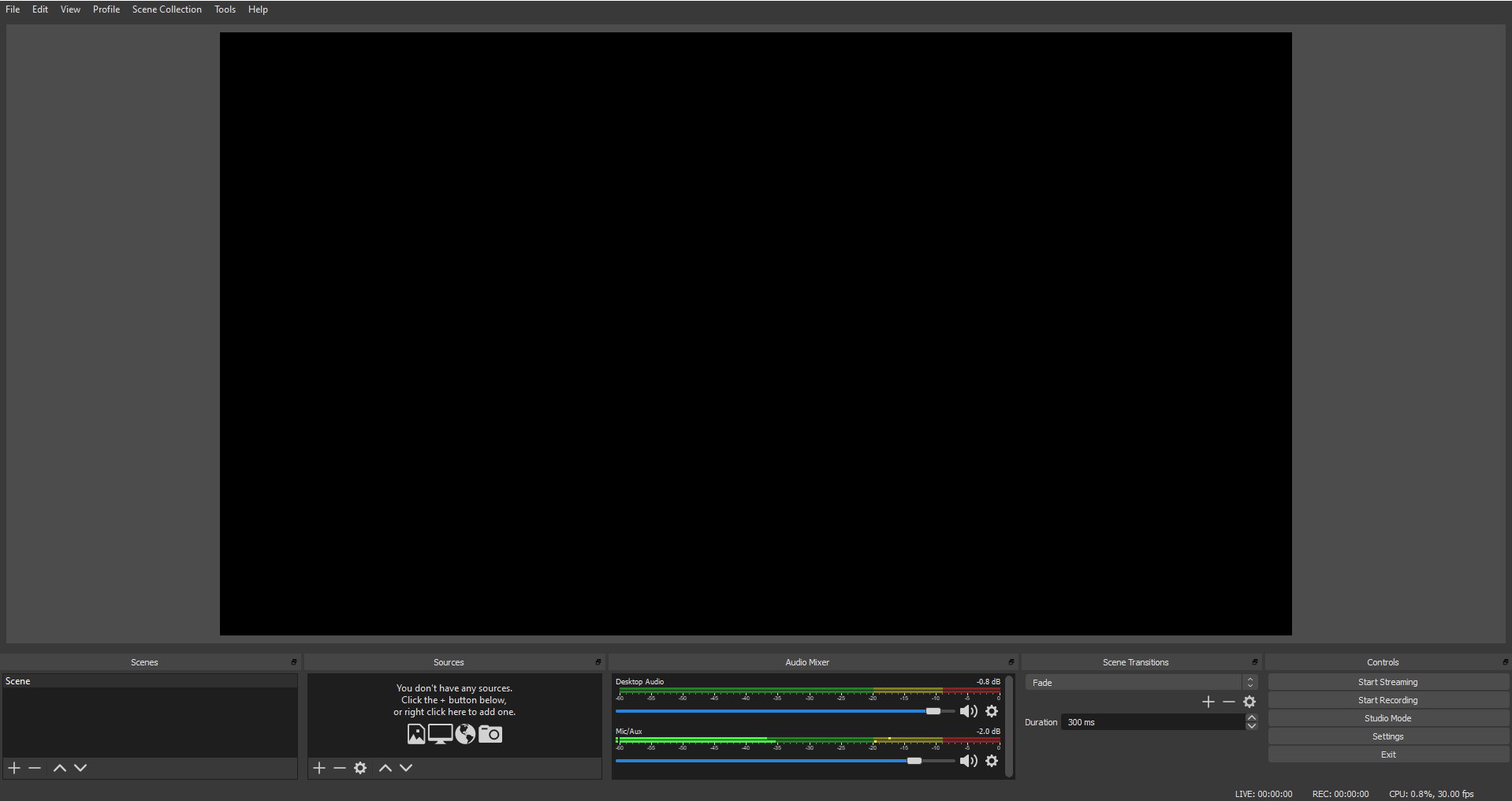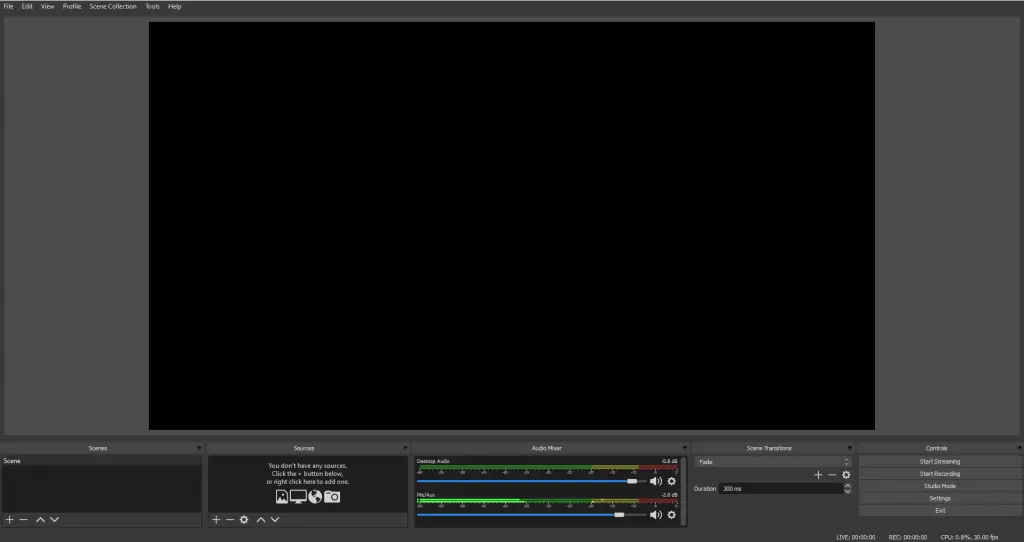 Below the playback screen are three panels called Scenes, Sources, and Audio Mixer. These are the key parts to setting up your live stream.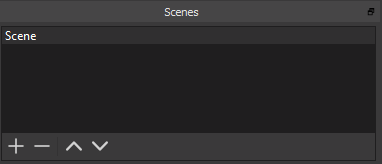 Scenes – In OBS, scenes are a collection of sources. You can think of them like folders with a layout for your stream. You can save or switch between scenes to get different setups for your stream.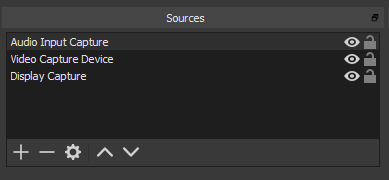 Sources – Sources are where you add video, audio, logos, and overlays to your stream. One scene can have multiple sources—for example, one source for your webcam, one for desktop recording, etc.

Audio Mixer – In the audio mixer, you will find all the audio sources. Here you can adjust the volume or mute a source. You are also able to add filters and set them to each audio source.
How to set up a Scene in OBS Studio – Tutorial
To set up a scene in OBS Studio, simply click on the add (+ icon) to add sources to your scene.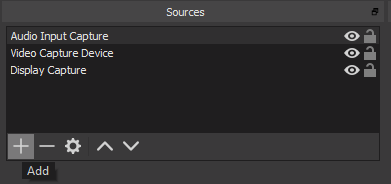 Sources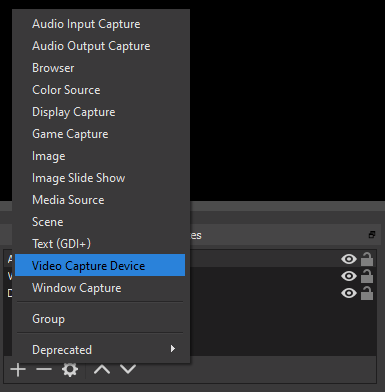 As mentioned above, sources are where you add the components to your stream. This a quick overview of the most common sources:
Audio Input Capture – Audio from your microphone
Audio Output Capture – Audio coming from your device. 
Browser – Input from a URL, used for widgets and overlays. Ex. Live chats.
Display Capture – Records your desktop.
Game Capture – Only records your game window
Image – Add JPEG, PNG, and Overlays
Video Capture Device – Video input from your camera.
Window Capture – Only records a window. It can be used to record software or for games when game capture doesn't work.
Video Filters
With video filters, you can adjust the image of your video and improve production quality.
To add a video filter in OBS, fist go to the source panel.
Left-click on the source you want to add a filter to.
Select Filters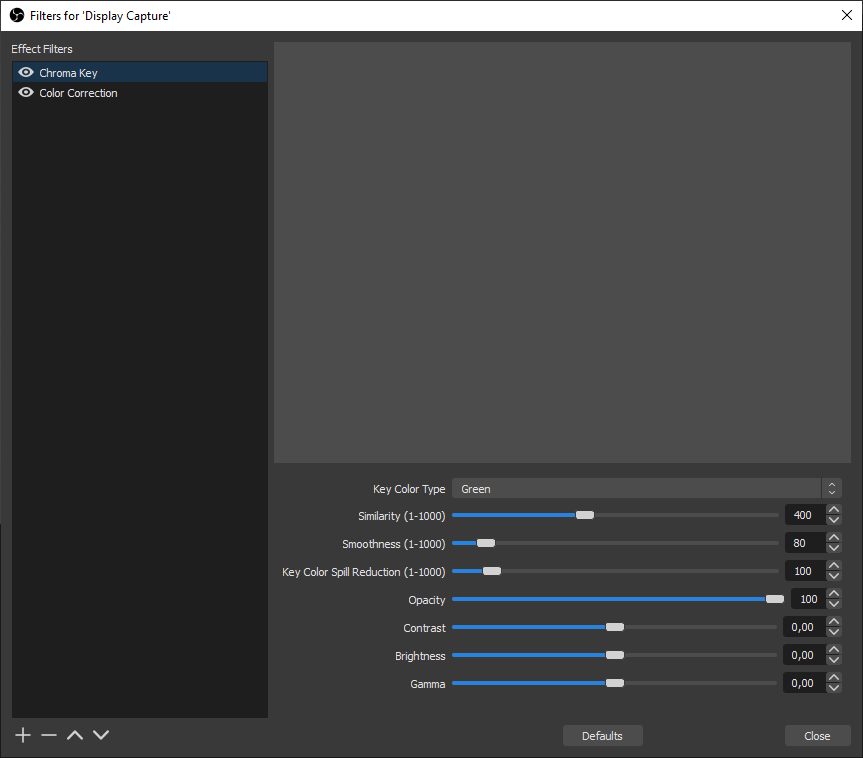 In the filter panel, you add a filter by clicking on the + button. 
You have many filters to choose from in OBS, and you can adjust almost every aspect of your image. Below are the two most common filters people use:
Chroma Key & Color Key – Both of these filters are used to remove green screen backgrounds in OBS. Make sure the video you are capturing is in a well-lit environment to get the best results.
Color Correction – With this filter, you can change and adjust the brightness of the image, gamma, contrast, opacity, and more. This is great for improving how your live stream or recording looks. Still, don't go too crazy with these settings as they can end up looking over the top.
Audio Filters
The quality of your audio on your stream or recording will largely depend on your microphone and environment. But through filters on OBS Studio, you can improve the sound quality of your voice.
To add a filter, first go to the Mixer Panel on the OBS home screen. 
Click on the Settings (gear icon) on your microphone source.
Select Filters
In the filter panel, you add a filter by clicking on the + button.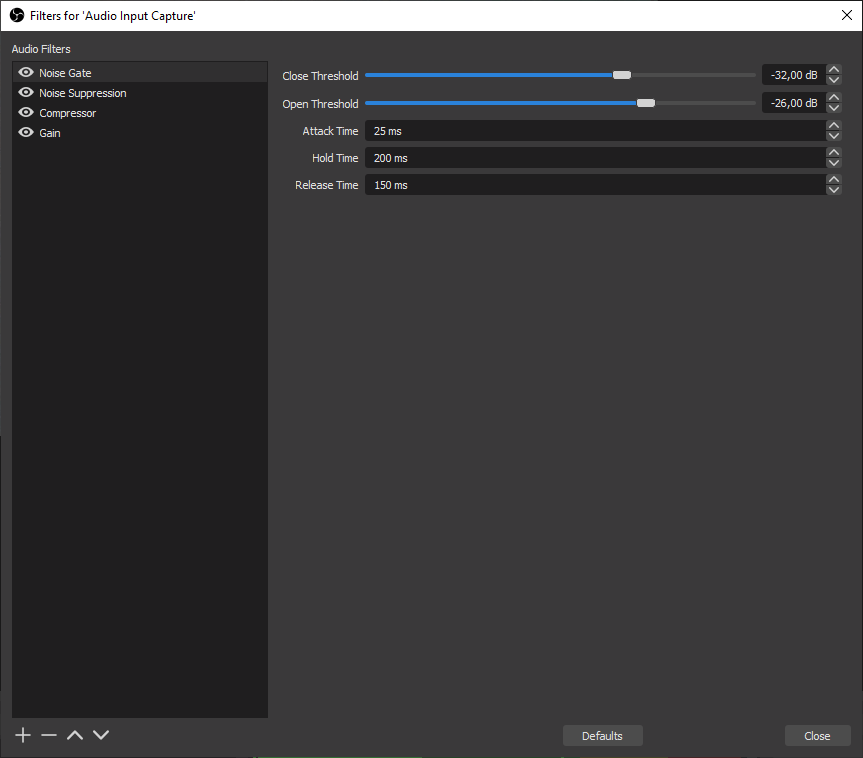 These are the four most useful filters for improving audio quality. You will have to tweak and adjust these settings to find what works for you and your setup.
Noise Gate – A noise gate filter cuts off all the background noise while you are not talking. Use a close threshold above noise volume and an open threshold slightly below to get the best results. 
Noise Suppression – This filter can help you eliminate background noise from your audio while you are talking. This is great if you are in a noisy environment. Play around with the suppression level until you find something that works for you.
Gain – The gain filter lets you adjust how loud your microphone is. If you have a low-volume microphone, you can use the gain filter to make it louder.
Compressor – A compressor improves audio quality by limiting audio distortion and noise when your microphone reaches peak volume. To achieve good results, you have to try different adjustments with this filter.
Widgets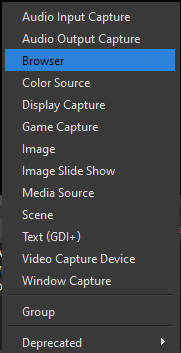 If you are using OBS for live streaming, you can make your content more engaging by adding a live chat on the screen, alerts, and other widgets.
To have widgets on your stream, you have to add a browser source and paste the URL of your widget.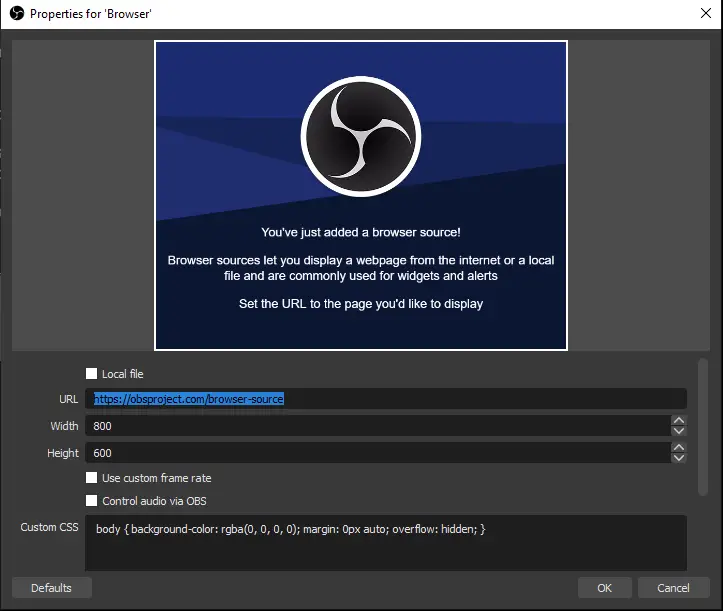 Widgets can be found at Streamlabs, Youtube, or Twitch. 
Advanced Settings in OBS Studio – Tutorial
Video Settings
Go to files and then settings.
In the Output section, you will find export settings for streaming and recording. There you can change the output quality for your video/stream.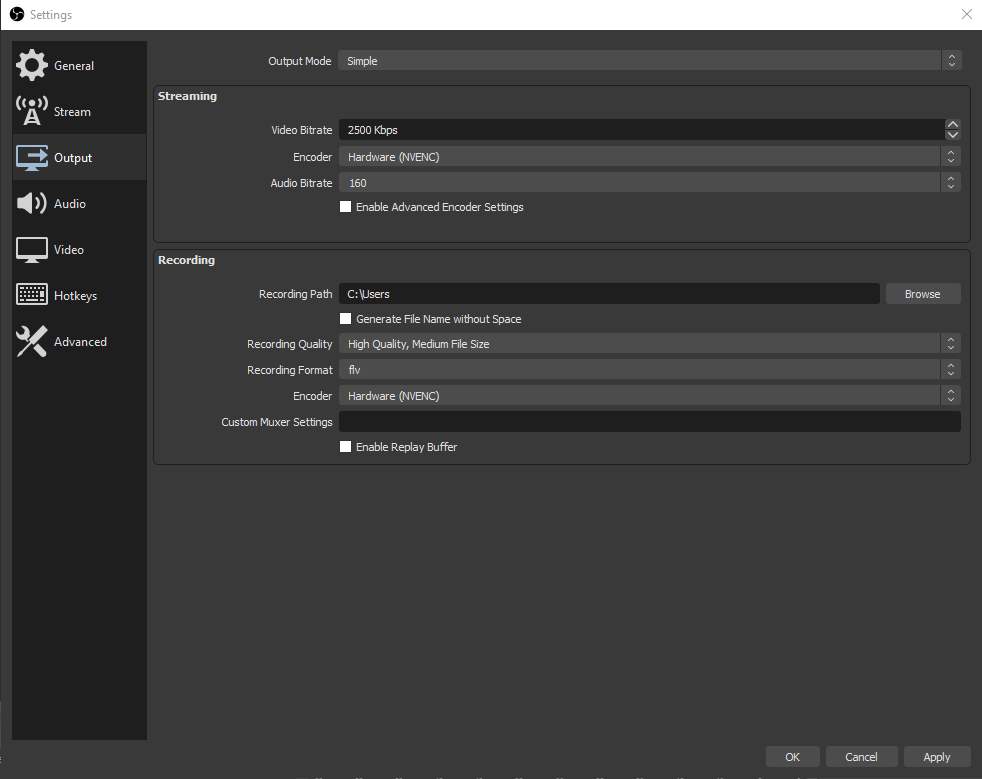 Format Options:
While you might be more familiar with the .mp4 or .mov formats, we recommend using .flv when recording video on OBS. This ensures that if for some reason, OBS crashes, not all data will be lost. While other formats like .mp4 are simpler to import to editing software, you will lose all the footage if OBS crashes.
Encoder Options:
In the output settings section, you can choose between different encoding options. There are pros and cons to each.
Software(x264) – This option lets the CPU of your computer do all the encoding. 
If you have a powerful CPU on your computer, you could choose this option. If you have a lower-end device, there is a chance the CPU won't handle it, especially if you are recording a video game as the processor has to render the game on the screen and do the encoding. This will affect the quality of your recording.
Hardware(QSV) & Hardware(NVENC) – These two options allow the graphics card to do most of the encoding. The QVS option is the Intel hardware, while NVENC is the NVIDIA. Pick between the two depending on which one you have.
Profiles
In OBS, a profile is a saved settings file. You might, for example, have one profile for recording 720p and another for 1080p.
Audio Settings
In settings, you will find an audio section. For beginners, you only need to know two settings in this window.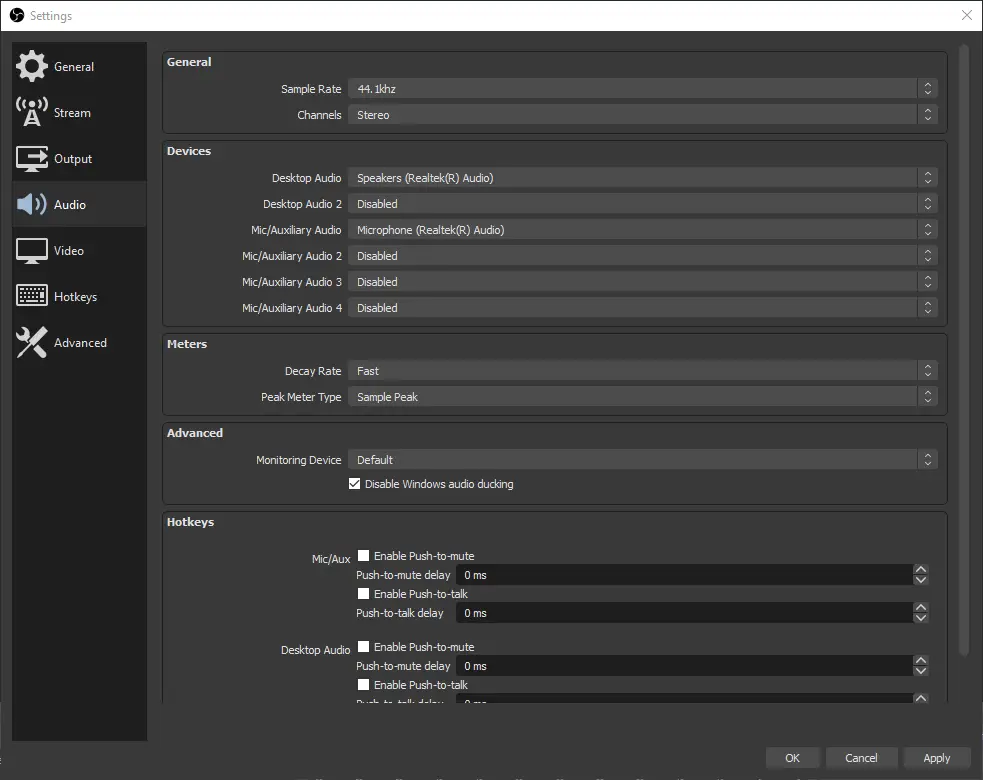 Desktop Audio – This is capturing the audio coming from your computer. Choose the device the sound is coming from; it could be your speakers, headphones, or an audio interface.
Mic/Auxillary Audio – Here, you choose what microphone device you want to record audio from.
You can go even more advanced, but this will be beyond the scope of this tutorial. These settings should be more than enough to get you started.
Test Your Stream
Always test your stream a few minutes before going live. This ensures that all the video and audio are getting captured correctly.
In Conclusion
This OBS Studio Tutorial should have you all set for your first live stream or video recording with OBS. You will always be able to tweak the settings and improve your streams with time.