How do you change your username on Twitch? It is actually very easy to do! A new fresh username can represent your channel better and connect with your viewers.
Before it was not possible to change your username on Twitch, so if you picked some crazy name without much thought, you were pretty much stuck with it unless you created a whole new account. Luckily for everyone, Twitch decided to change that.
Follow this quick illustrated guide to find out how to change your username. We also have some helpful tips for deciding on a new name. Enjoy!
If you want more useful info on streaming, check out our other guides on How to Become a Streamer in 2020, Beginner OBS Tutorial, and the Best Cameras for Live Streaming.
Change Your Twitch Username: Step-by-Step
1. Log in to Twitch and go to Your account settings.
2. Next to your username, click on Edit.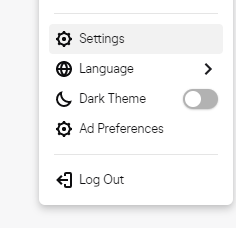 3. Enter the username you want to change to and click on update
4. Verify with Twitch password. And now you are done.
Note: If the username you entered is already in use, you will be notified to try something else. When you see a green checkmark appear, you are good to go.
When you verify your new username, Twitch automatically updates the username and channel URL of your account. You will be sent an email confirming that your username was changed successfully.
After You Have Changed Your Username
Your old channel URL will not redirect to your new username, so you will have to update it wherever you are using it.
If its a big change, communicate that to your audience
Make sure to rebrand the rest of your channel, social media, and merchandise.
Don't Change Your Username Too Often
When you change your Twitch username, you won't be able to change it again for 60 days. This is important to consider when rebranding your channel. Make sure to take your time when picking a name; you don't want to wait 60 days for the next opportunity.
Also, changing your name should not be done regularly. You want to be consistent with your brand. But if you have found a name that you think fits better then go for it.
Using Recycled Abandoned Usernames
Twitch has a system where they recycle abandoned usernames. These are names where no viewing or login activity was associated with the account for at least 12 months.
This can be great as you can get some good names you can use yourself. Unfortunately, you won't be notified when an inactive username is available, so you will have to go back and check regularly.
How to Pick a Good Twitch Username
Your username should represent the brand of the channel you are building. Coming up with a good name can take some time, but it is really worth it.
Reasons to Change Twitch Username
If your name has a lot of random numbers or letters (it will be harder for people to remember)
If your name is very similar to a name that already exists
If your username is hard to spell
A Process for Coming up With Good Names
It can be frustrating coming up with good names, especially since many are already taken. Here is a quick guide you use to come up with some good ideas:
1. Have a brainstorm session where you write down as many name ideas possible on a piece of paper. Then walk away from it for a moment.
2. Come back to your list and read it out loud. You will get a feeling for what sounds right and what doesn't. Keep going until you have a small list of a few potentially good names you can use.
3. Lastly, it is always a good idea to get constructive feedback from friends and family you trust.
Use a Name Generator
One way to come up with new name ideas is to use a name generator. They can help you get some inspiration when you have hit a roadblock.
Use a site like SpinXO or coolgenerator.com to come up with some name ideas for you.

What Makes a Good Twitch Channel Name?
Here is a list of factors to consider when selecting a name for your Twitch channel.
Length – Longer names are harder to remember and less catchy. While they are exceptions, this is generally true. Keep your name short, clean, and catchy.
Random Numbers & Characters – It's not a good idea to use random numbers or characters in the name. While there are exceptions, these names are generally less memorable.
Social Media Availability – This is a big factor that goes beyond just Twitch. Ideally, you want a username that is available on social media platforms as well.
.com Domain Availability – Several streamers have their own websites. It's always a good idea to check that the .com domain is available for the name you want.
Communicate Something – This is a hard one. It's not a must but rather a plus if the name can say something about your channel's content/personality. This could either be done descriptively or just through the "feel" of the name.
If You Get Stuck
People put too much thought into the name. Many channels and brand names did not mean anything before but are huge today. Think of names like "PewDiePie," for example.
So remember that even if a name is entirely random, you can give it meaning.
Common Questions
Here is a collection of common questions people have about changing their username on Twitch.
Will I lose subscribers if I change my Twitch username?
No, you won't lose subscribers when changing your username. However, if you create a brand new account, you will have to start over from scratch.
If you make a drastic name change, people won't know it's you until you go live. This could affect your viewer count for a short while. But its nothing to worry about. To make sure nobody gets confused, communicate your rebranding o your account across social media. More on that later.
Will changing my username affect my ad revenue?
Changing your username on Twitch does not lead to any loss of revenue. However, some types of revenue can be delayed the day you make the change.
In Conclusion
By now, you should know how to change your Twitch username and rebrand your channel. Remember to take your time when choosing a new name because you can't change it whenever you like. It's an important part of your profile and branding.