If you have ever watched any popular streamer, they most likely used a green screen. Using a green screen when streaming allows you to add any background to your scene, making it look more professional. For a beginner, setting this up can be a bit intimidating. But don't worry. We will show you step by step how to set up a green screen in OBS Studio. It is actually pretty easy.
If you want to learn more about streaming, feel free to check out Ultimate Guide to Streaming for 2020.
How to Use a Green Screen for Streaming
There is really no right or wrong way to use a green screen for streaming. The most common use is to have a transparent background for your scene. You have probably seen many gaming streamers use this before. You can also replace the background with something more professional looking or less boring than your actual backdrop.
Whatever you use the green screen for, if you do it right, it will help your streams look way more professional and make you stand out above the competition.
The Best Green Screens for Streaming
First things first; you need a green screen. Removing a background digitally can be done with any color, but green screens have proven to be the most effective.
Green screens come in different forms; Collapsable, Backdrop Stand, or even as Chair Mounts. We have included options for all price points, ranging from about $60 to $100.
Collapsable Backdrops
This is our top pick for streamers as they are portable, and you have to worry less about wrinkles. Collapsable green screens are also straightforward to set up.
Neewer Chromakey Green Chromakey Blue Collapsible Backdrop Collapsible Reversible Background 5'x7′ Chroma-Key Blue/Green
This collapsable chromakey background from Neewer gets the job done through an effortless and portable design. It is also inexpensive compared to other setups on this list.
Julius Studio 4.8 ft.(W) x 5.9 ft.(H) Collapsible and Retractable Green Chromakey Screen with Built-in Aluminum Case, Photo Video Studio, JSAG445
This is the most expensive green screen on this list. It stands out mainly because of its wrinkle-free design and a built-in aluminum case for portability. It can be worth it for someone looking to upgrade their streaming setup.
Backdrop Stands
This kind of setup takes more time to set up as you have to deal with mounts and backdrop stands. Once you have it set up, though, it works wonderfully. If you are looking to create a wide scene for your stream or have more room to move around (if, for example, you are doing VR gameplay), this is the go-to option.
Emart Photography Backdrop Continuous Umbrella Studio Lighting Kit, Muslin Chromakey Green Screen and Background Stand Support System for Photo Video Shoot
As we mentioned above, this a whole green screen studio mounted on a backdrop stand. This means a bit more work to get it right. You also have to make sure to keep the cloth wrinkle-free and light the green screen evenly.
Chair Mounted Green Screen
This is a more affordable option, but you will be more limited in what you can do. For example, you won't be able to turn around with your chair without breaking the illusion. You also have to worry about finding a chair the green screen will fit on, so do your homework before buying.
Webaround Portable Webcam Background, Big Shot, 56″, (Chroma Key Green Screen) (Gen2)
This chair mount green screen gets the job done. It comes with a universal strap that should fit most office or gaming chairs. At about $65, it offers an inexpensive solution for your streaming setup.
Get the Most Out of Your Green Screen
Before jumping into OBS, make sure you have set up the green screen correctly, that you have proper lighting and a good camera.
Proper Lighting
To get the most quality out of your green screen, you need proper lighting. Ideally, you want the subject to stand out in front of a well lit green screen background.
The best way to achieve this is through the classic 3-point lighting technique, where you make use of evenly distributed soft lighting to eliminate hard shadows that mess with the effect.
If you want to learn more about how 3-point lighting works, we have a whole article on it you can find here.
Tip: Keep your green screen clean and avoid wrinkles. It also goes without saying that you want to light both sides to prevent any inconsistencies that break the effect.
Good camera
If you have a bad camera, it won't be easy to get good results from your green screen in OBS. For example, a built-in webcam on your computer might not be the best choice.
Check out our top 10 cameras for streaming. There we cover the best webcams, DSLR and mirrorless cameras for streaming. Whatever option you go with, they work well with green screens.
How to Set up a Chromakey in OBS Studio
Lastly, it is time to configure the settings in OBS Studio. This is done by applying the Chroma Key Effect. We will show you how step-by-step: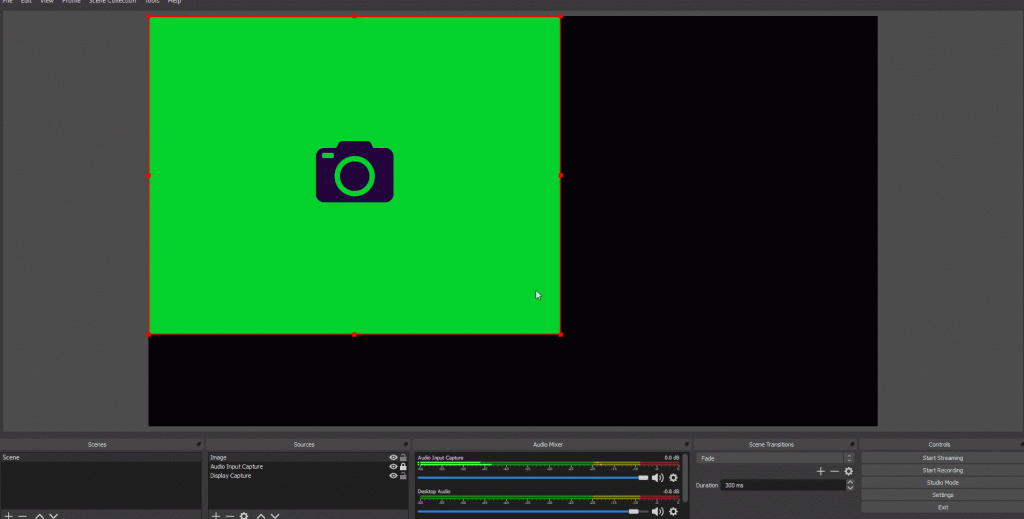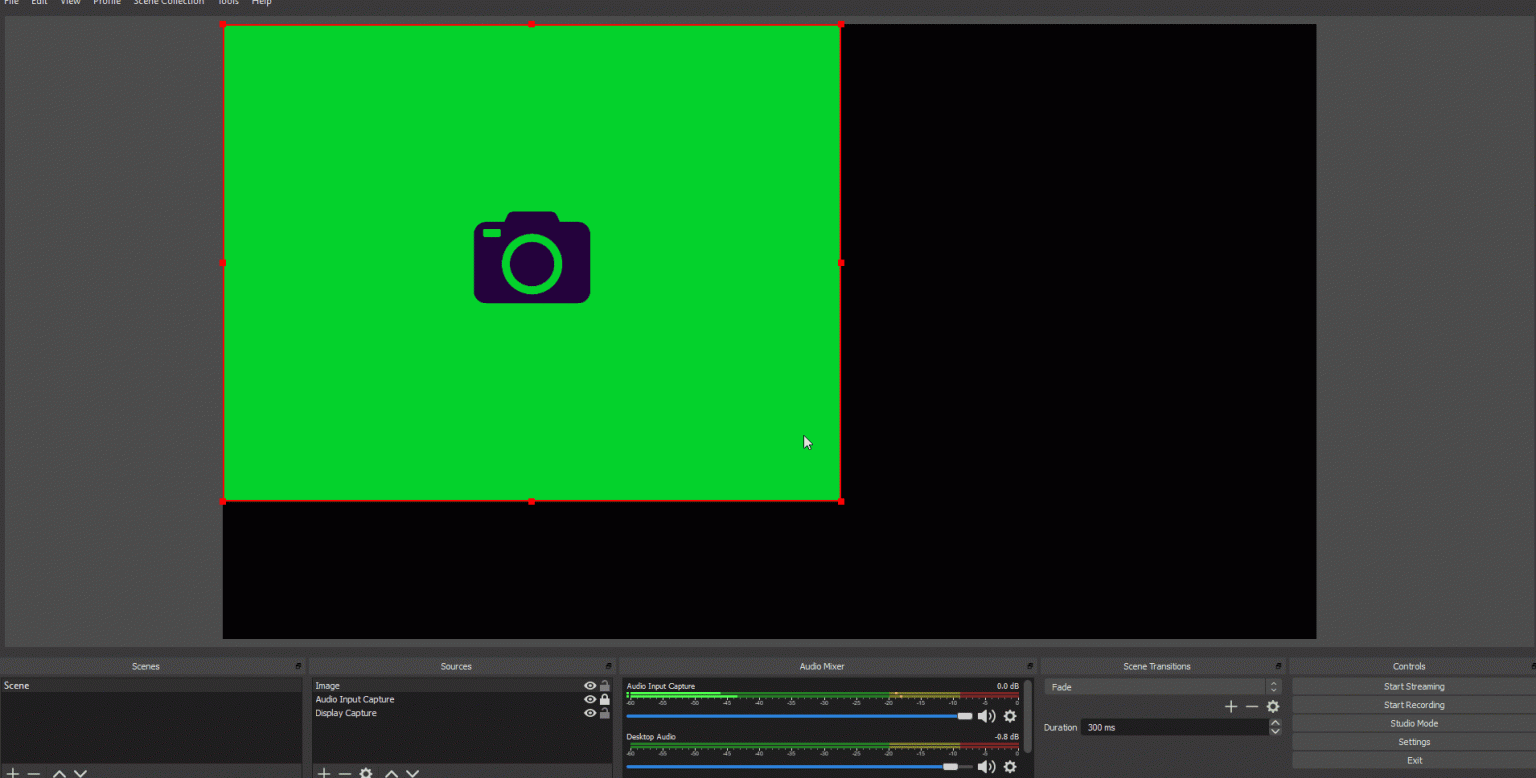 1. First, you need to check if your green screen fully covers your background. If it is not, you can easily crop the video in OBS. You do that by holding down your ALT key and grab the sides of the video in the main menu.
2. Right-click on the Camera Device and select Filters.
3. In the Effect Filters panel, press Add (the + button)
4. Choose Chroma Key, adjust the settings. Then press OK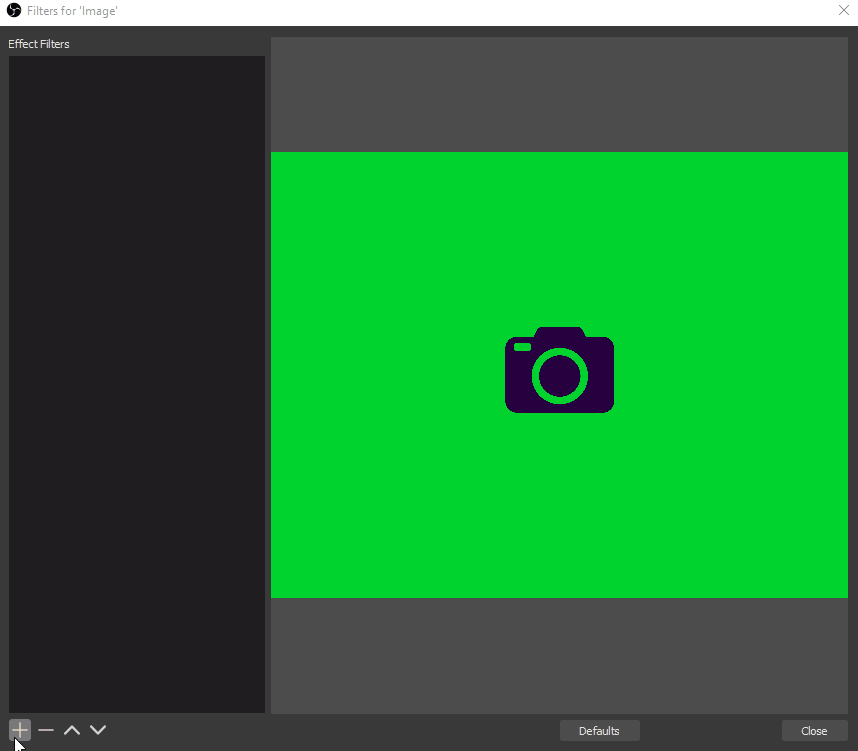 To make it work, you might have to adjust the settings for the effect. Play around a bit with the options and sliders until you find something you are happy with.
In Conclusion
If you want to learn more about setting up a green screen in OBS check out this video from BoxCast which we found very helpful:
Setting up a green screen for streaming in OBS is not that hard Just don't forget to use proper lighting and keep the backdrop wrinkle-free. Always check the setup before going live.